Walking with Sharks
Chris Scott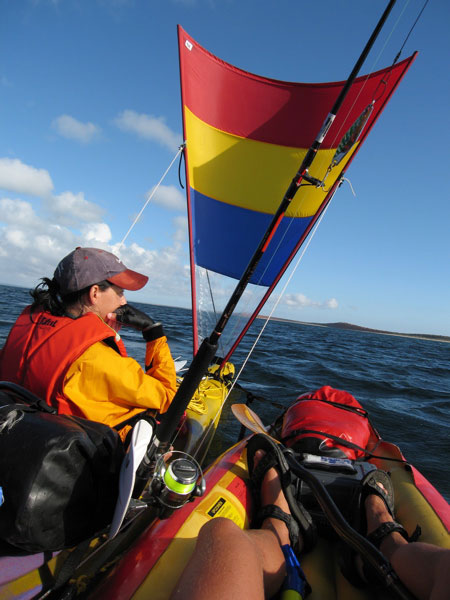 "Why doesn't anyone paddle around Shark Bay, Jeff? It seems like a great place. "
"I think the name puts them off a bit" he replied. "It's famous for big tiger sharks; National Geographic made a documentary there once."

"Oh" I said. "I thought it was just a name..."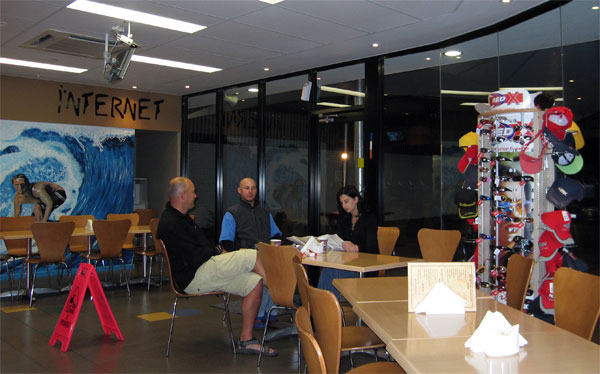 It was 2am in a roadhouse on the Coastal Highway north of Perth, Western Australia (WA). I'd flown in from London that evening with my inflatable kayak rolled up in a backpack and together with Jeff's girlfriend Sharon we hit the road for the 1000-kilometre drive to Shark Bay. The 'bay' actually comprises two thin peninsulas protruding north for 200 kilometres and is best known for the daily dolphin visits on Monkey Mia beach. A regular tide of tourists flows in and out of the resort there, but I suspected there was more to see in the rest of the Shark Bay area than Flipper and the family.
As dawn broke we crossed the 26th parallel with a sign welcoming us to the fabled "Nor' West". Jetlag meant I'd been conveniently alert for the overnight drive, but I still had a couple of frights, swerving around kangaroos – an ever-present menace in outback Australia. The sun rose as we rolled into Denham, Shark Bay's only settlement, a mixture of snowbirds jammed into the caravan park, pristine retirement bungalows and some fishing and tourist operations.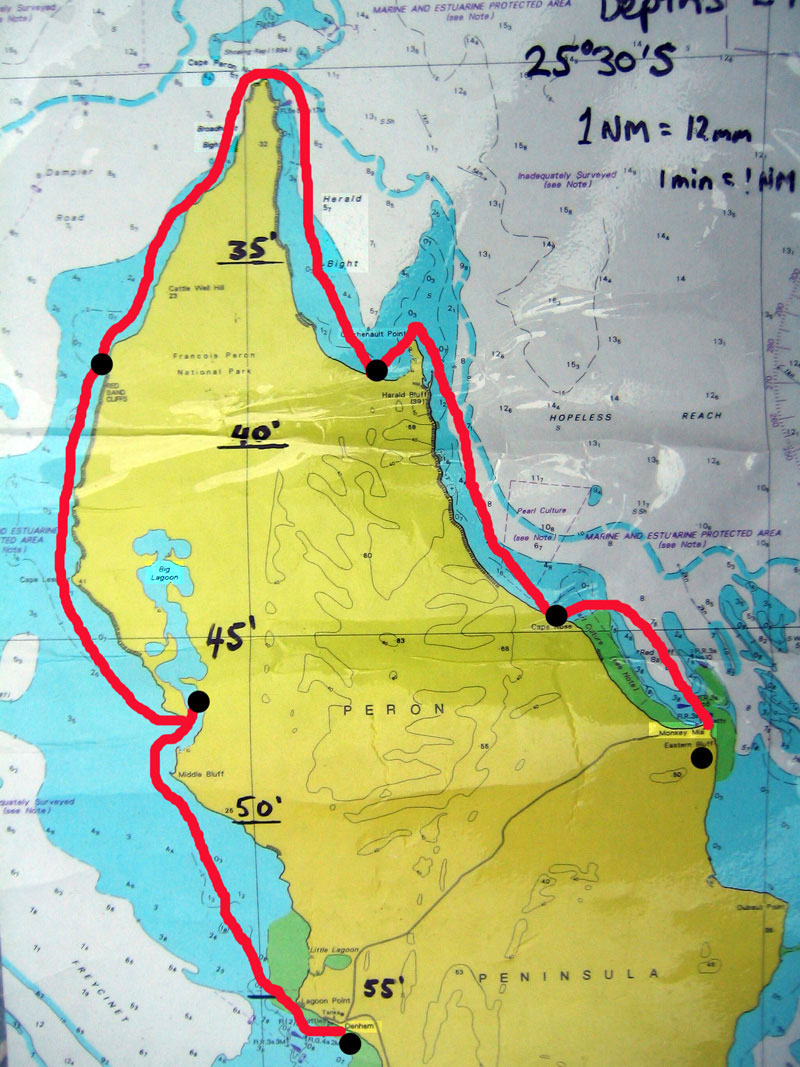 Our plan was not that ambitious. Paddle north from Denham about 60 kilometres to the tip of the Peron Peninsula, round Cape Peron to the east, and paddle the same distance back south to Monkey Mia Resort: about a one-week trip. We aimed to take advantage of the prevailing southwesterlies on the exposed northward stage and deal with the same as headwinds on the more sheltered southbound leg. But first we followed a network of 4WD tracks to the tip of Cape Peron and buried a cache of food and drinking water at our halfway point. There was no water to be had on our route and even the townsfolk of Denham have to pay a premium for desalinated drinking water. Jeff and Sharon's Perception Eco Niizh has the capacity of a sea-going RV but my non-bailing Gumotex Sunny is less of a load-carrier and I was keen not to reduce my freeboard too much.
To the Big Lagoon
With our cache stashed under the paprika-red cliffs of Cape Peron, at dawn the following day we set out to sea: Jeff and Sharon in their tandem hardshell sea kayak and me on my not so shark-proof 'lilo'. The reliable southwesterly pushed us steadily north, but within an hour wind turned on us, obliging us to dig in for what ended up being two and a half days.
We ploughed on, buoyed up by sightings of the extraordinarily rich marine life that gives Shark Bay its World Heritage status. Sharon had a checklist of must-sees: turtles, sharks, rays, dolphins and dugongs (sea cows) – and by our first beach break a green turtle had already passed beneath her bows. The pale green water was often only waist deep up to a kilometre off shore and that afternoon, weary from paddling against the wind, we took to towing our kayaks. As we waded through the shallows, manta rays submerged on the sandy seabed took flight, zooming off as if shot from a bow, their upturned wings surfacing momentarily like twin fins. Strike two for Sharon.
Twenty kilometres out to sea Dirk Hartog Island broke the horizon; the westernmost point of Australia. The eponymous Dutch seafarer recorded the first European landing there in 1616, nailing an inscribed pewter plate to a pole. What he saw of the newfound Terra Australis was uninspiring: flat, arid and dense with scrub. It was another 150 years before Captain Cook mapped Australia's less harsh east coast and brought about British colonization.

Another lone pole marks the mouth of Big Lagoon and as we rounded the entrance a mass of cormorants took flight, the air filling with the whiff of their oily wings. Though we'd snacked on some oysters during our afternoon wade, the hard paddling has given us all an appetite and we pulled in among some mangroves for an overdue feed and a reappraisal. It was already 4 o'clock and with the tide and the wind against us we decided to leave the exploration of Big Lagoon for another day and scooted across the channel to the nearest sandy beach. We were beat but thrilled by our first day's efforts and an hour after sundown were zipped up in our tents and fast asleep.
Walking with Sharks
The lagoon was glassy calm next morning and we set off to make the most of it. Watching our boats glide over the seabed was to be a rare pleasure; round the corner out in the open the northwesterly was waiting for us. Heads down, we worked our way up the shoreline, occasionally man-hauling the kayaks for a change of pace. As we did so tiny fish skimming over the surface alerted us to the distinctive tail and dorsal fins chasing them and soon metre-long sharks began darting between our boats, racing at us then veering off at the last minute in a flurry of spray. We presumed our bulky kayak silhouettes kept them from actually going for us, something which Sharon confirmed as she walked away from the boat - and then ran screaming - for the beach with sharklets homing in for a nip!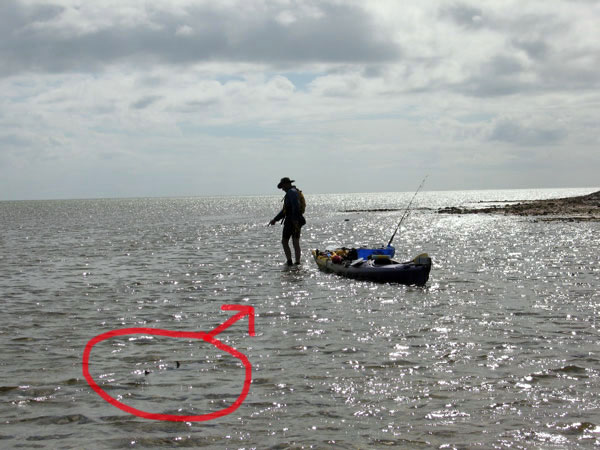 Presently the waters cleared and we hopped back in for a paddle, steering out into the wind around sand banks below a line of ochre-red cliffs several kilometres long. It looked like a great place to camp so we hauled the boats in over the sand flats and with daylight to spare, wandered off up and down the deserted beach in search of firewood. I found a washed-up conch the size of a watermelon while Sharon and Jeff came across a midden of oyster shells left either by 19th-century pearlers or by the Yamatji Aboriginal people who'd occupied the Bay prior to colonization.
Cape Peron
Up with the sun again, but there was no calm put-in this morning. It would be another tough struggle to reach Cape Peron and our cache. By 9am Jeff estimated it was blowing at 20 knots.
"What's that in English!?" I yelled through the spray.
"About 30 clicks!"
Was it possible to paddle against 30kph? My blow-up boat flexed over the swell as the Indian Ocean crashed against the shore. Still, every vicious headwind had a silver lining and as we dug away a pair of dolphins popped up to say G'day. Less than 48 hours into our sea safari and we now had only the elusive dugongs to tick off.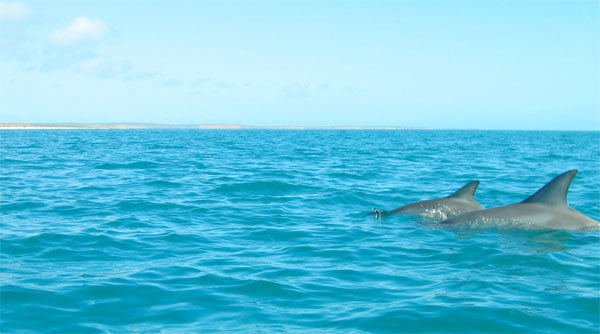 By noon the seas were getting as big as I'd ever experienced but I figured as long as Jeff and Sharon didn't disappear behind the swell it couldn't be that bad. After a quick shore snack we set off across Broadhurst Bight, a punishing slog with confused seas barging into our boats from all sides. Occasionally I had to clip onto Jeff's stern to bail my boat out as the distant shore inched by. Eventually we staggered onto a sandy headland, having covered just five kilometres across the Bight in two hours. The good news was that our morning's efforts had put us just a couple of clicks from our cache at Cape Peron and sure enough, just forty minutes later, with my boat swilling with seawater, we managed to land.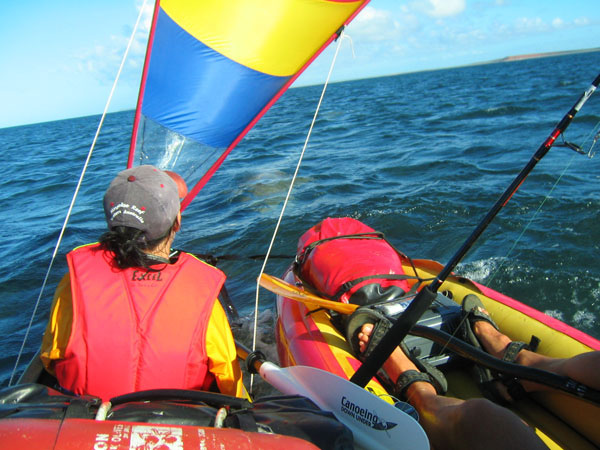 The Cape is one of the few places in WA where you can see the sun set and rise over the sea, but that day it was just too exposed for a camp. Anyway, there was another reason we were keen to keep going: we were turning south and the wind would at last be out of our face! We loaded up the stash, launched back off the beach and, once the two boats were lashed together for stability, Jeff hoisted his secret weapon: a Pacific Action sail which filled instantly with a satisfying slap. Soon we were skimming along at two or three times our paddling speeds, water lapping over our bows, past the lighthouse at Skip Jack Point and southeast into Herauld Bight.
Sailing with Dugongs
We were sitting back, dangling our arms in the water, enjoying chatting without yelling and generally feeling rather pleased with ourselves when the ever-observant Sharon exclaimed "Dugongs!!" Below us three-metre long mud-coloured profiles emerged against the dark seagrass bank on which they were feeding. Before long we were right among a herd of twenty or more sea cows, which had been caught unawares by our stealthy windborne raft. At times our bows nearly ran over them, the water ahead of us exploding as their powerful tail flukes blasted them out of range. Once clear, they'd pop up to catch their breath and take a curious look back at our asymmetric contraption.
The encounter with the strange dugongs was a highlight but after nearly three days with our heads down, sailing was up there too and we wanted all we could get. We pushed on from one cape to the next until we eventually ran into the shallows of Herault Bight. Our unexpected run downwind had doubled our day's mileage but it was already getting dark. I went foraging for firewood while Sharon and Jeff got cooking. Although Jeff had been fishing out of the boat for days, short of the Big Five, we'd not spotted a single mealworthy fish.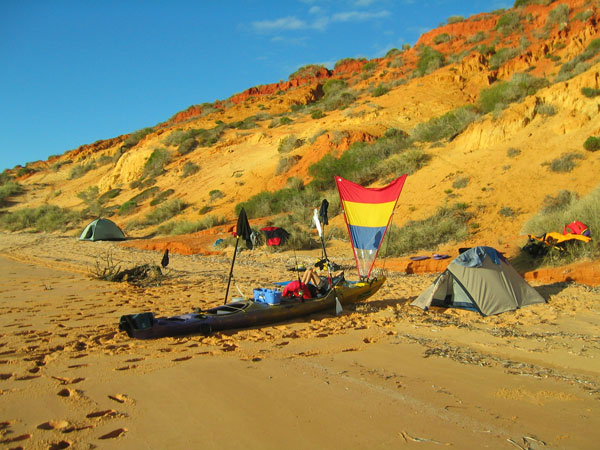 My boat sat on its edge between two paddle shafts, sheltering the camp while the wind fanned the nearby fire. Soon wafts of a gorgeous and faintly familiar aroma began to drift across to us. Intrigued, I walked back to the fire and realised one especially large chunk was sandalwood. A century ago Western Australia had got rich supplying sandalwood incense to Asian temples and the very last reserves were said to be in Shark Bay area. And I'd inadvertently chucked some of it on the fire! We pulled the log off, wolfed down another meal and, with the wind still blasting down the bight, retreated to our tents.
Across Hopeless Reach
That night a storm blew through, filling my fly-less tent with water and turning Jeff and Sharon's inside out. By the time all was dry and packed next morning the tide had come in to meet us and we headed off towards the curious Guichenault Point, a pencil-thin spit that protrudes a kilometre from the shoulder of Herault Bight like a jetty. The west wind was so strong we had to clamp the rafted kayaks close together as we windsurfed the five kilometres to the Point in just half an hour. As we turned the tip of the spit half an hour later, the usual array of cormorants took to the air, joined by portly pelicans rising effortlessly onto the wind.
We were now entering Hopeless Reach, one of many gloomily named bodies of water christened by early visitors to Shark Bay. Fittingly, our downwind cruise came to an end. Though for the rest of the day promising tailwinds occasionally spiralled down from the cliffs, it was back to good old-fashioned paddling, albeit on much smoother water.
We were already nearing Monkey Mia Resort and so decided to string out our time with shoreside excursions up the cliffs, sailing at 1mph for the hell of it and more fruitless fishing. By mid-afternoon we could see Cape Rose a few kilometres from the resort. A pearl farm pontoon was moored up ahead and Jeff was keen not to get too close. He'd once worked on such a platform and knew how edgy the crew could get when strangers approached; guns were often pulled. We paddled slowly by but as we got nearer it was clear it was unoccupied and so we headed ashore to make the most of our last wild camp.
Back on the water next morning and suddenly it was nearly all over. A lone bottlenose dolphin cruised past me and a pod cavorted around Jeff and Sharon as I tried to grab a shot. But soon buzzing outboards and a tourist catamaran took their place as we neared the resort. By the size of the crowd strung out along the palm-lined beach, a ranger-led dolphin encounter was in progress.
We beached the boats one last time and headed to the café for a king-size fry-up before Jeff hitched back to Denham to collect the van. As I washed down my kayak with our excess fresh water another visitation ensued. Sure it's fun seeing a dolphin close up, but the three of us could not help feeling rather smug about our discoveries out in the Bay. They were standing ankle deep with half-tame dolphins but we'd worn the paint off our paddle shafts, sailed with dugongs and walked with sharks!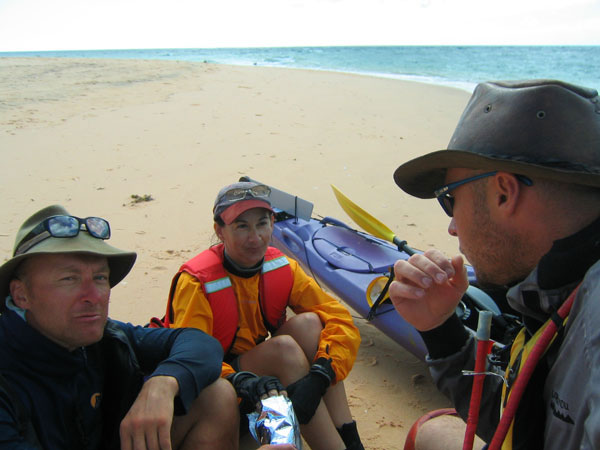 There are more pictures - click here
---
When
WA's west coast is better known for wind surfing and of course scorching summers so the best time to paddle around Shark Bay is the middle the southern winter (our summer) so your water consumption will be much reduced. Winds at this time usually come from the southwest and are managable, as are temperatures at around 25°C in the day and 10°C at night. Cyclones affect the northern coast, especially at the start and end of summer, with the exposed North West Cape especially prone to storms.
Getting there
Shark Bay is 1000km north of Perth along the North West Coastal Highway. Roadhouses are up to 200kms apart and not open round the clock. Besides the already mentioned hazard of night-time kangaroos, triple-trailer road trains should also be treated with caution. Car rental in Perth is among the cheapest in Australia.
Planning
For sea kayak touring you're on your own in Shark Bay; we'd only ever heard of one other person doing it although it's clearly a great location and straightforward to organise. You'll need to bring or rent your own boats and gear although the supermarkets in Denham will have all the provisions you need.
Access
Despite being a UNESCO World Heritage listed site and part of the Shark Bay Marine Park, no special permits are required to paddle Shark Bay. In one or two places there are basic 4WD-access only camp sites which lead back to Denham but all you'll find in these places is a toilet and the odd recreational fisherman.

While in the Shark Bay area don't miss out on a visit to Eagle Bluff Lookout, Shell Beach (made up of millions of tiny shells) and the strange stromatolites. Rock-like lumps of algae, Earth's earliest known life form evolved 3.5 billion years ago and today survive in the hyper-saline lower reaches of the Bay too salty for predators.
Alternatives
Shark Bay's sheltered lagoons make it an ideal introduction to sea kayak touring in WA. Elsewhere the coast is more exposed. You can rent hardshell sea kayak out of Freemantle or Rottnest Island near Perth, as well as on the North West Cape alongside the fabulous Ningaloo Reef, another 500km north of Shark Bay. That's where we're heading for next year.
Health hazards
We stumbled across a relatively harmless shark nursery; bigger tiger sharks tend to stay out in the deeper water where there is more to eat. A much more likely hazard is exposure from the sun, reflected glare and wind. Wear a wide-brimmed hat, long sleeved shirt and sun glasses and use sun block.
Maps
A good marine chart of the Peron Peninsula can be obtained from the Perth Map Centre. 900 Hay Street Perth. Tel +618 9322 5733, This email address is being protected from spambots. You need JavaScript enabled to view it.
Websites
http://www.sharkbay.org gives a full picture of the area's many interesting features.
http://www.topkayaker.net focuses on sit-on-top and inflatable kayak touring.
http://www.canoeingdownunder.com.au/trips.php includes WA kayaking legend Terry Bolland's hair-raising trips along the WA coast.
Equipment
Hardshell sea kayaks are more conventional and can carry a huge load but are very heavy and of course awkward to transport by air. My Gumotex inflatable and associated gear came in under an intercontinental flight's baggage allowance and the very stable boat (made of tough raft vinyl) pumps up in ten minutes.
Gear is best carried in sealed kayaking bags lashed to the boat. Self-bailing inflatables are probably better for rough conditions but IKs can't sink. Any sea kayak with a rudder helps you maintain a course across side winds without overworking one arm to compensate. Once off the water all gear needs to be rinsed in fresh water and properly dried.
Author profile
Chris Scott writes the WA and Northern Territory chapters for the Rough Guide to Australia although he spends most of his time in the Sahara writing Sahara Overland and the Adventure Motorcycling Handbook for Trailblazer Guides. He's just updated Trailblazer's Pennine Way guide due in 2007.

Spending too much time with machines, a day trip on Idaho's Salmon River turned him onto inflatable kayaks. Since then he's paddled among the Scottish Summer Isles and Eurostar-ed down to the Dordogne and Haute Allier rivers in France. In 2008 he plans to return to WA to paddle the North West Cape. His main website is sahara-overland.com