The Sound of Desolation
…sea kayaking without anoraks, British Columbia, August 2003
First published in 'Paddles' Magazine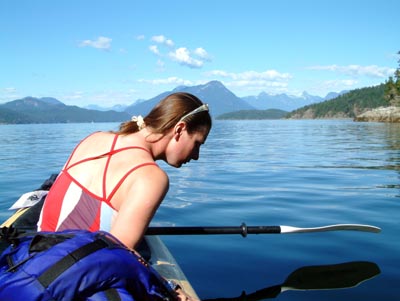 Full Gallery of Desolation Sound photos by Mark Rainsley
"Mark, wake up! There's a bear right outside our tent".
"Don't be silly dear; that's just a seal snoring".
Here in Britain, sea kayaking has a rather sorry 'anorak' image…we tend to associate the sport with unkempt facial hair, boiled seagulls and questionable social skills. Sea kayaking articles in the paddling press don't help; they traditionally focus on such riveting aspects as compass bearings and the inner workings of the Trangia Stove. Whatever the reasons for this image, it does a fine sport no justice at all. My wife and I have learned not to mention our secret habit in civilised company, if we want to be invited on the next whitewater trip. UK sea paddlers for whom this all rings bells, may be surprised to learn that there is 'another place', where sea kayakers can be loud and proud; where 'Ocean Kayaking' is seen as a perfectly healthy eco-friendly lifestyle pursuit, with a multi-million dollar leisure industry built around it. Sea kayaks are sold in High Street stores alongside running shoes and bikinis, and there are more sea kayakers than mountain bikers. Paddlers arriving off the plane from the UK might think that they've arrived on Mars…but they're actually in British Columbia.
A bit of scene-setting. The Pacific coast of Canada is an epic wilderness of mountainous islands and deep fjords, formed by glaciers spilling down from British Columbia's Coast Range Mountains. So…it's very big, it's very wild. But…this isn't going to be a heroic tale of half-starved heroics on raging seas. Heather and I paddled in one titchy and sheltered part of this region, known as Desolation Sound. Nobody suffered, no one even got tired, nothing scary happened, the food was actually rather decent and the distances conquered can be measured in hundreds of yards. It was all quite pleasant, just as sea kayaking should be.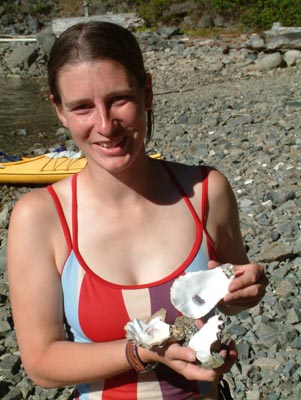 Desolation Sound was named in 1792 when Captain George Vancouver sailed into the area, found absolutely nothing of interest, and went away again. The full title today is 'Desolation Sound Marine Provincial Park', and I'm boring myself just typing it. All you need to know is that it's a protected Park which can only be reached by boat. Designating any single part of the surrounding region as a 'Park' is as pointless as awarding sashes at a Miss World contest, it's all gorgeous! We enjoyed a small snippet of the area but suffice to say, it didn't matter too much, which direction we headed.
Heather and I had been ambling across Canada for over a month, paddling whitewater rivers large and small. We were due to jet out of Vancouver soon, but first I'd promised Heather that we'd dip our toes in the Pacific Ocean. First, we prodded a random place name on the map…'Desolation Sound' had a certain 'buzz' to it. Next, an Internet cafe supplied a solution; I typed the words 'sea kayak rental desolation sound' into a Search Engine and up popped the website for 'Powell River Sea Kayak Ltd.'. I wrote down their phone number and called up to book a double kayak. I believe everything I read on the Internet, but for all I knew I was giving my credit card details to a fifteen year old in Russia.
Getting there was surprisingly unsimple. We returned our longsuffering hire car and stashed our creek boats at Vancouver Airport's left luggage office (buying new boats would have been cheaper). Next, we caught the only bus to Powell River. This took six hours including two ferries up the coast, before we were dropped off in an unprepossessing shopping mall. We were indeed in the town of Powell River. The catch was that 'Powell River Sea Kayak Ltd.' were based well, somewhere else. We weighed ourselves down with food supplies at the Megamart and made the next hop, a taxi ride thirty kilometres north. A night of camping, a last supper at 'Laughing Oyster' restaurant (bizarrely luxurious, given that it's located somewhere off the edge of most maps) and we were finally ready to collect our kayak.
We'd booked a Current Designs Crosswind, a vast barge of a plastic double kayak. I'd heard that the North American trend was for wider kayaks, but this was practically the Ark Royal. And why not? It was slow, but hugely stable and here was a boat that absolutely anyone could hop into and handle. Here in the UK, we sneer at sea kayaks which aren't narrow and responsive…and then wonder why so few take up our sport. Anyway, the only catch was that this double didn't have a centre hatch for stowing gear. This was a bit of an issue as Heather is, well, a girl. She'd brought enough clothes to sink a Dreadnought and fitting it all in required a subtle combination of lateral thinking and brute force. By the time we'd cracked this puzzle, the tide had receded leaving the boat high and dry, surrounded by large jagged oysters. These, somewhat rudely, kept spitting at us. We had to get help to lift the boat to the water's edge, these doubles weigh some! The embarrassment continued as we weaved erratically up the sea inlet, barely in control; my UK sea kayak conditioning had told me that rudders were a bad thing, so I'd disconnected it. A quick tinker on the shore and it was back in service; suddenly we had complete control and our boat worked like a dream.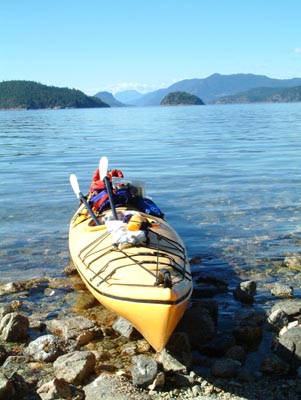 We'd launched onto the Okeover Inlet, basically the back entrance into Desolation Sound. We were against the tide, ferry gliding and eddy hopping upstream until the shores opened out and we entered Desolation Sound itself. We were wowed. Blue water below, blue sky above. Trees shrouded the hills right down to the shoreline, with a backdrop of sharp ice-shrouded peaks. We headed out into open water, with a small group of islands as our target. Leaving the shore behind, something occurred to me…we'd been in the same boat for a few hours now, and we hadn't bickered once. Weird. This state of affairs was to endure throughout our trip. Must be something in the water?
The Curme 'Islands' turned out to be little more than lumps of rock with high aspirations. We chose a rock ledge directly at the water's edge as our campsite and hopped ashore to unload. Whilst I faffed about with the tent, Heather's organisation prior to the trip now paid off; it turned out that we had food, and good food at that. If she hadn't shopped, we'd have been surviving on a tin of curry and a large bag of wine gums. Not only this, it turned out that she'd hidden a pile of tinnies behind her seat. Truly dire Canadian beer, but beer nonetheless. Gotta love that woman.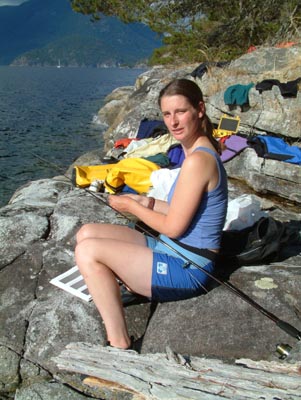 Next morning, we had a lie-in to compensate for a lousy night of sleep. Our rock ledge had turned out to be whatever the equivalent of a nightclub is for seals. Hang about. Seals. Clubbing. There has to be a joke there. Anyway, we'd missed the tide…it was a ten foot drop to the water and loading and launching was a bit of a comedy moment. Once on the water, we crossed to nearby Mink Island and our outing practically ceased motion hereabouts. The woman in the front of the kayak studied Ecology at University and Mink Island's coast was apparently all of an ecologist's dreams come true at once. Every few yards we had to halt whilst Heather pointed out all creatures great and small; deer, seals, gulls various, mussels, a bald eagle, oystercatchers, whacky jellyfish, seals, sea lions, a porpoise, grebes and more seals. Flora and fauna has to try hard to get me excited, but even I was freaked by the starfish and sea stars. These were absurdly enormous, colourful and well, everywhere.
When we finally left Mink, it was mid-afternoon and darned hot. Ice cream emergency! A check of the chart and an hour later, we pulled into Refuge Cove. This was a tiny mooring hidden up an inlet with float planes being the only outside link. When we pulled up alongside the quay, we were redirected…to the kayak quay. I thought we were the victims of a wind-up, until we rounded the corner and found a pint-sized landing stage with a sea kayak already moored. Surreal. Refuge Cove basically amounted to a ramshackle store but what a store; anywhere that stocks thirty flavours of ice cream gets my vote.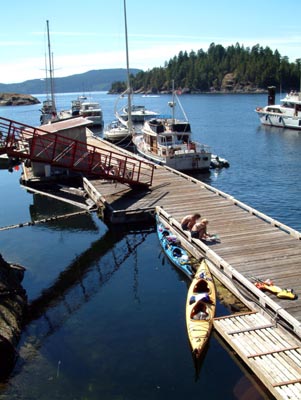 The target for the evening was a campsite at the head of this inlet but frankly, we couldn't be bothered. The sun was shining, the water was warm and lethargy hit hard after we left Refuge Cove. The first beach we saw was good enough and we sunbathed and swam until the sun went down. Ancient logged trees formed a natural table and chairs to enjoy a spectacular sunset.
The stars came out and utter darkness ensued. Something wasn't right. The sea looked…wrong. We skipped stones out onto the water and, bloody hell! The sea lit up. Phosphorescence. We had seen this phenomenon before in British waters but only as a mild sparkling effect. Here, it was, whoa, who switched the headlights on? We hopped into our kayak and paddled out into the black. Incredible, our paddles generated luminous swirls of plasma in the water. Green, pink, blue. Most astonishingly, long glowing tunnels appeared in the water around us…fish swimming! I don't hold an ecology degree, but I can hazard an explanation; the sea in this part of the world is warm (79F) and utterly dense with teeming life; every inch is crammed with plankton and microscopic jellyfish. When this lot lights up, you get a lightshow that makes November 5th look lame. We've been around a bit and seen a few things…but we will never forget what we saw that night, let alone find adequate words to describe it.
In the morning we locked and loaded, and headed out again. Our pressing need was for fresh water, and we were able to find a lone house across the way on Cortez Island with a tap and an obliging owner. Plodding back into Desolation Sound, we made an open crossing and eventually made landfall on a beach at the head of the Malaspina Peninsula. Hilarity ensued when I realised that we'd left the tent poles behind at our last campsite. Well, I thought it was hilarious. Heather seemed to believe it was entirely my fault and wasn't especially appreciative of my 'Blue Peter' attempts to keep our flaccid tent erect.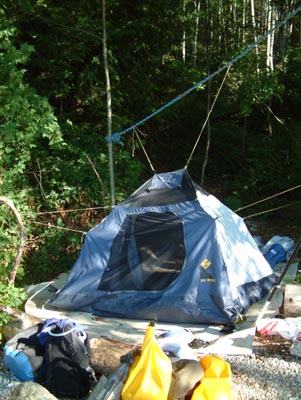 Our beach was back on the mainland, but a long way from any MacDonald's. Heather now produced a mysterious bundle from a deep recess in the kayak; it was a fishing rod, bought in a moment of (presumably) complete insanity. We paddled around in circles near our campsite. I provided the propulsion whilst Heather fumbled with the rod in the front. Neither of us had fished before (and proud of it!) so a modicum of incompetence ensued. Eventually the line went taut. I laughed my socks off…of course she had snagged the hook on the bottom. But she hadn't. A rather peeved looking rockfish popped up and was bagged. The hook went back into the water, and another fish emerged, in under a minute. And so on. It was ludicrously easy, the fish were practically jumping into the kayak. How can this be sport? Back in camp, it turned out that knife-wielding Heather knew how to convert these unfortunate fish into food. The things I don't know about my wife, you could write a book. Dinner has never tasted better. So, you heard it here first; fishing is great fun. From now on, you can find me on the riverbank, hurling abuse at paddlers and claiming to own the place.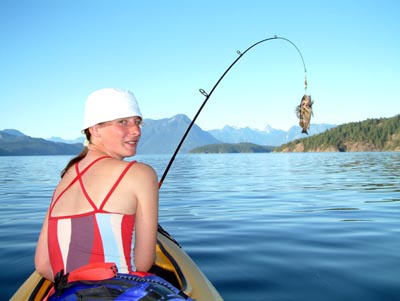 Our final morning saw an early start; we were on a schedule to reach Vancouver that night. Suddenly, we seemed able to paddle like we knew what we were doing; a bit of co-ordination and we ticked off the miles effortlessly. Our barge seemed to have become a much sleeker craft (because I'd finished all the wine gums?) and we literally shot along south. We passed the length of the 'Copeland Islands Marine Park' in pretty much the amount of time needed to say that, pausing only to note that it was a reserve for the protection of rockfish …oops, at least they had tasted good. The scenery was grand, an open vista past innumerable islands right across to the far glaciers of Vancouver Island. We were winding up our trip, but all we could see in each direction was more trips; we'd barely dipped our toes in the region's possibilities.
As we pulled into the harbour of Lund, we really did not want to finish. We returned the kayak to Powell River's offices there, and stuffed our gear into rucksacks. We'd been privileged to glimpse one of the more beautiful corners of our planet. Not only that, we'd briefly existed in a parallel universe where sea paddling is…well, cool. Our fantastic voyage had ended far too soon, but now we had a plane to catch. Could we be in Vancouver before nightfall? We stuck our thumbs out and mission impossible commenced…
Mark Rainsley thanks Perception Kayaks and Nookie Equipment for their continuing support.
Further info… http://www.bcseakayak.com - Powell River Sea Kayak and Rockfish Kayak companies; they hire equipment and organise guided trips. http://wlapwww.gov.bc.ca/bcparks/explore/parkpgs/desolation.htm - Official bumf on the Desolation Sound Marine Park.
Full Gallery of Desolation Sound photos by Mark Rainsley
Mark Rainsley.