IMAGINED ISLES
Sea Kayaking Brittany, Summer 2004
by Heather Rainsley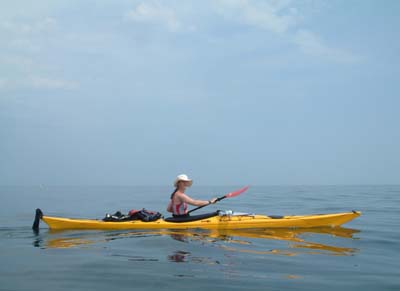 Heather in her new Capella
Have you ever found yourself doing something amazing? Something new and special, that you'll always remember. The exceptional thing for me about sea-kayaking is that this seems to happen almost every time I load up my boat and head out. On the water, the memories are there for the taking. The little things…like the smell of the ocean, how the light shines on the water when the sun's going down. The big things…long journeys, exploring new places, meeting new challenges. This summer was no exception.
Mark and I were in France with our sea kayaks, lots of food and even more camping gear. We had driven from the UK with a variety of maps and charts and a vague idea of spending the next two weeks exploring islands. Now we had arrived randomly on the shores of Brittany's Gulf of Morbihan. If you are familiar with Dorset's Poole Harbour, then you should find it easy to imagine this much larger natural harbour with its numerous sandy, tree covered islands. In addition, this boating paradise is well equipped with many of the fantastic bakeries and cafés that are such a staple of French holidays. We eagerly set about exploring the astonishing number of islands that are crammed into the Gulf. Every island was different; secluded beaches, ancient monuments, beauty spots and tourist honey pots. The waters were bustling with all manner of craft making their way between the islands. Locals were fishing and collecting oysters and generally enjoying life on the water. In the afternoons, the tide livened things up by making some fun waves and eddies between islands as it ran out.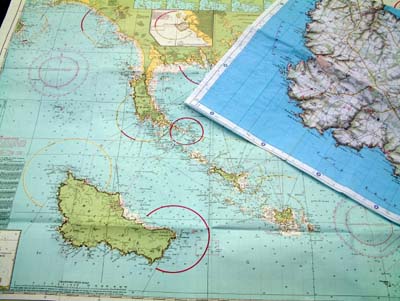 The general area
Eventually, we started to feel crowded by all the other boats and longed for seclusion and the open sea. Peeking out of the entrance of the Gulf, we could just make out three islands on the horizon. Our chart told us they were Ile d'Houat, Ile d'Hoedic and Belle Isle. At thirteen miles, the shortest crossing from our camp site was to Ile d'Houat. We really wanted to go. But there were problems; we needed a falling tide to drag us out of the Gulf and propel us on our way across the ten miles of open sea. However the falling tide was in the afternoon when it tended to get windy and choppy.
"That's OK," said Mark "We'll do it tomorrow night."
Now perhaps I had a touch of sunstroke but at the time, it made perfect sense. Spend tomorrow packing the boats and then go to bed early, get up at two thirty am and set off. I think the sun must have really affected my normally timid spirit because part of me was pretty excited about making such a big (for me) open crossing in the dark.
The alarm went off; I was sleeping so deeply that its loudness seemed to hurt me physically as well as assaulting my eardrums. I like my 'eight hours' in a night and rousing at half two in the morning is very painful. Before we could change our minds, we packed our sleeping bags and tent. At the water's edge we shoved them into the already packed boats; which were waiting where we left them, an agonisingly short time earlier. The tide was just starting to fall and there was a soft warm breeze blowing off the land. There is something a bit special about being up and about when everyone else is asleep; although I have to say I wouldn't do it often. Time to set off. We startled lots of fish as we paddled out over the dark water…and one or two of them startled us too, as they bumped against the bottom of the boat or jumped up right beside us.
As we approached the mouth of the Gulf, the tide picked up and we were zipping along. Before we knew it, we had been squirted out of the Gulf and were on the open sea. The wind was behind us, a little brisker now but helpful. The journey had begun in earnest. The only sounds were those we made as we twisted and paddled and as the boats sliced through the water. We could see little outside the circle of our head-torches other than the distant lights we were aimed towards. I fell into a steady rhythm, probably pretty close to sleep and on we went. I can't remember why we decided to turn off our torches but we did and then there was more magic on this strange dreamy night. The water lit up around us as we moved through it. This bioluminescence, as scientists call it, is made by tiny living things in the water. I wondered what people made of it before scientists put a name to it. I was awed and strangely comforted by these stripes and patches of light that we made as we went along in the dark. Fish that crossed our path made glowing green tunnels in the water and I didn't tire of looking at it. Whenever we turned on our lights to check our charts or because we'd heard an engine, I was always keen to turn them off again as soon as possible so I could see the glowing water.
The lights that we were heading towards gradually brightened and we were beginning to be able to pick out individual points in what had seemed one faint haze. Off to the East, the sky was starting to lighten and sadly the phosphorescence faded from view as the sea changed from black to grey. The offshore wind that had been helping us along was stiffer now and at times we were surfing along on small waves. Part of my mind felt I should be anxious about this, but I was comfortable and relaxed and my Capella was running smoothly so I just plodded on. Eventually, the horizon was filled with our island and the sky was light. The sun wasn't up yet and we were nearly there. We paused to check the chart and Mark spotted a beach where we could camp. The feeling of arrival after a journey like this is almost indescribable. In the soft light of dawn we approached the island, the first fishing boats were setting off and an old chap in a smock was out checking his lobster pots. He asked us where we had come from and there was a real pleasure in pointing back to the distant smudge and telling him. The sun came up as we landed and Mark whipped out the camera to record this crossing that we both felt so pleased with. At the time, I felt elated and thought I was grinning from ear to ear. Later, looking at the photos, I realised I just looked really weary. No surprises there.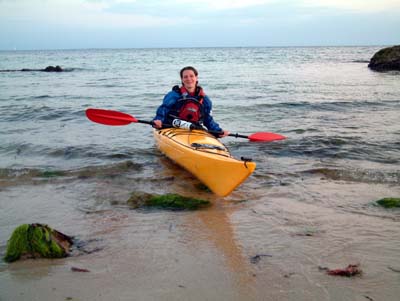 Landing at dawn after the overnight crossing
We pitched the tent in some dunes on a long empty beach of pure white sand, ate breakfast and fell asleep. When we woke again, the beach had been transformed. There were yachts out on the water and people sunbathing and promenading along the strand. We wandered along the shore, enjoying the holiday mood and still feeling smug about our special arrival. The rest of the day, we explored Ile d'Houat; its sandy beaches seeming endless. When the evening came, most of the other visitors went home on the ferry, leaving the beaches to us again.
Another day, another island. A much shorter crossing this time took us to Ile d'Hoedic, a rockier and wilder feeling island whose granite bays made me think of Cornwall. We had lots of time to explore the few streets and the path round the island before finding a bar and enjoying café life French style. We were planning to cross to the largest island in the group next - Belle Isle - but it had been a while since we had seen a weather forecast and the weather seemed to be getting colder and windier which was a bit of a worry. Now, our French is not good. Neither of us studied it at school and what we do know has been picked up from one travel cassette and various menus. This is not the kind of vocabulary one should bring to a French weather forecast. Picture the scene; two strangely dressed tourists standing outside the town hall on an isolated island. They are huddled around a piece of paper pinned to the notice-board.
"There's a depression over the island."
"This island?"
"No, hang about; there's a depression over Iceland."
Luckily for us, we eventually found a weather report - specially designed for stupid tourists - that supplied us with symbols and numbers. Fortunately, the forecast showed the outlook improving; the conditions would be comfortable to cross to Belle Isle if we launched that afternoon. Another open crossing… piece of cake.
We arrived on Belle Isle after sunset and once we'd camped and eaten it was too dark to see our surroundings. The following morning was foggy. Only after an hour on the water were we able to actually see the coast we were paddling along! Now there could have been no more perfect illustration of the meaning of the two words making up the name 'Belle Isle'. It simply was…a very beautiful island. We were paddling along the Cote Sauvage - the wild coast – another perfect vocabulary lesson. The tall cliffs were sculpted and twisted into amazing shapes.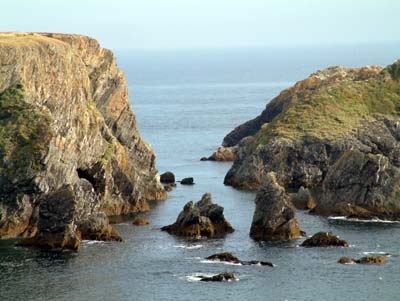 Cote Sauvage
Over two leisurely days we explored the inlets, caves and spires along the Cote Sauvage. This exploration began calm and settled and we were bemused to find that we were rarely alone on this exposed coast. Fishermen had scrambled down near vertical cliffs to fish from dauntingly exposed ledges. Snorkellers in wetsuits were fishing with harpoons in vast numbers...Frog-men! Families in fancy yachts and battered launches were gliding and puttering up and down the coast. We were met with nods and smiles and felt very much a part of this life on the water. As the coast curved northwards, it became more exposed to the Atlantic. A large swell was humping in. Paddling a mile off from the shore, we felt honoured to be there on the ocean. Feeling its rise and fall beneath us and hearing it crash on the cliffs to our right made us nervous and awed at the same time. An exhilarating day! As we rounded the Northern tip of the island – Pointe des Poulains - we noticed a lighthouse on the point. It seemed familiar. It is the subject of one of those ubiquitous 'exploding wave' lighthouse posters. And we have paddled round it!
Days of Island exploration followed and suddenly it was time to think about making tracks to the mainland. We started our final four hour crossing in bright sunlight, early one morning. It was with sadness that we left Belle Isle behind. Glancing over our shoulders from time to time, we saw it shrink; at first filling the horizon and then getting smaller and fainter until eventually it disappeared altogether into haze. Finally we landed in the busy port of Quiberon and set foot on the mainland. At that very instant; fog descended and the wind got up. It was as though someone had been waiting for us to arrive and could now slam the door firmly behind us. Within minutes of our return to shore, it was as if we had only imagined our isles.
Heather Rainsley - 2004.
Click here for the full picture set from Mark and Heather's trip.