Costa Brava
Phil Quill - 2000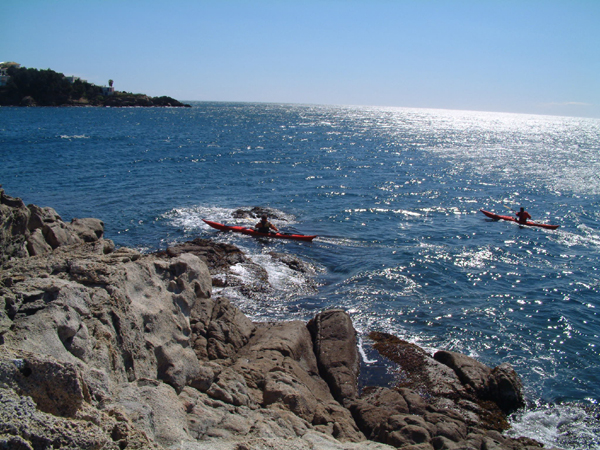 Last year I spoke to some sea paddlers who were clearly of the opinion that the Mediterranean Sea was a kind of big pond surrounded by sandy beaches full of tourists. Furthermore an absence of tides meant no currents and only calm water – think again guys!
I'm reminded of this conversation as I battle my way around a rocky headland off the Cap de Creus on northwest Spain's Costa Brava. There's around 60 knots of wind blowing and Toni, Cesc and I are working hard in our sea kayaks despite the fact that we're actually quite sheltered here under the cliffs, nevertheless it's a relief to reach the bay and better protection from the wind. I'm supposed to be putting Cesc through his Three Star test and it has to be said that conditions seem a touch excessive! Cesc is a good paddler so the real test is much more of my Spanish than his paddling skills.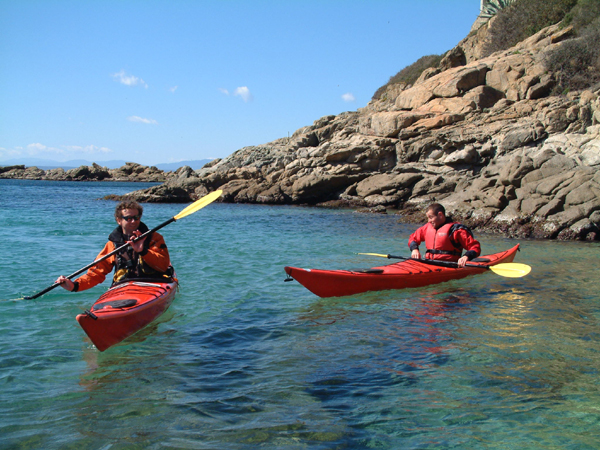 Cesc works for Toni at Kayaking Costa Brava, the biggest hire operator of kayaks in this part of Spain with a shop in L'Escala and bases in Port Lligat, Cala Montgo, Tamariu, Platja de Castell and S'Agaro. While Toni's main business during the height of the summer is getting out enough sit-on-tops for the considerable number of tourists that flock to the beaches in August his passion is undoubtedly for "real" sea kayaking. There's a strong tradition of sprint and marathon racing in Spain and over the last 10 years white water paddling has seen a real boom.
It seems strange then that the Spanish public have been quite slow to pick up on sea paddling. "Isn't it dangerous?" is the most common question locals ask Toni. Perhaps this in part explains his policy of usually using a support boat – although there's also the small matter of satisfying the requirements of the somewhat bureaucratic Civil Guard.
If Toni is passionate about sea kayaking he's also hugely enthusiastic about this coastline. Nobody knows it better than him and he's keen to share the real delights of the Costa Brava with other paddlers. The next day he and I meet up at his shop in L'Escala. This is very different from most canoe shops, stocking only sea kayaks. With boats from Valley, Perception, Rainbow, Prijon, Nautiraid and more there's a huge choice. I'm particularly impressed by some glass sea kayaks from Fun Run, a Spanish manufacturer I'd not heard of before. They've a range of boats, all good value at not much more than 1,000 Euros.
We set off for Tamariu for one of Toni's favourite paddles. Once in our kayaks we head north from this gorgeous little bay and rock-hop past the rose coloured cliffs. Immediately there's a narrow cave to explore, then on through a narrow cut in the rocks. There's still a strong wind blowing today so it's worth using the shelter of the cliffs. Here is proof that the Med does has a tide, albeit a small one, the water's undoubtedly lower than normal and we have to time the waves in order to cross a barrier of weed covered rocks. Even with the wind and despite the fact that it's only mid-march the sun is still pleasantly warm.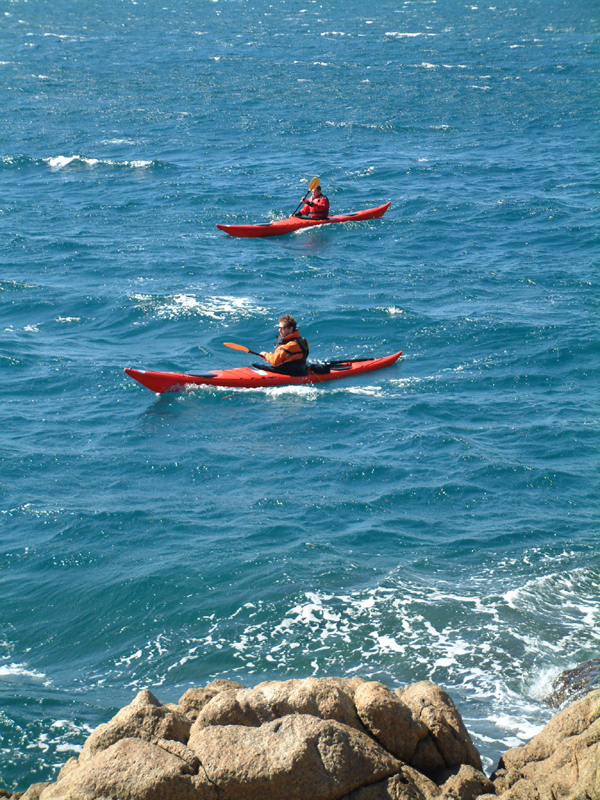 We make our way up to Aigua Xelida, literally "frozen water". Here, there are loads of fresh water springs, some of them underwater. While swimming or snorkelling you can feel the sudden variations in temperature. Our next cave is larger, much deeper and with a wider opening that then narrows into a second chamber. This is Cova D'en Gispert, at around 150 metres deep it's probably one of the most spectacular on the Costa Brava. East facing it's at its most impressive on the two or three mornings of the year when the dawn sun completely illuminates the entire cave. It's still pretty impressive today, looking back from the second chamber with surging waves booming around us, the light seems to be almost projected onto the calcite deposits here at the back of the cave.
Over lunch on the beach at Aiguablava Toni enthuses about the paddling to be had here on the Costa Brava. I'm in total agreement, having previously paddled most of the coastline, it really is sensational. There's always something of interest and with water this clear, weather this good and even if it is windy there's always somewhere sheltered. For paddlers from the UK I'd recommend allowing five or six days to explore the coastline of the Costa Brava. Starting in the north, from the French border down to Roses is all stunning paddling, especially with an overnight bivvy in the refuge at Cala Culip in the heart of the Natural Park of Cap de Creus.
You wouldn't be missing anything then if you skipped the Golf de Roses but put back in at L'Escala to paddle past the high cliffs and down to the next conservation area of Illes Medes to the south. There's then interesting paddling to be had all the way down to Blanes which marks the southern end of the Costa Brava. It's worth taking a mask to use for some superb snorkelling and I'd also recommend taking a climbing harness and stop off at Sant Feliu where they've installed a Via Ferrata on the sea cliffs just to the north.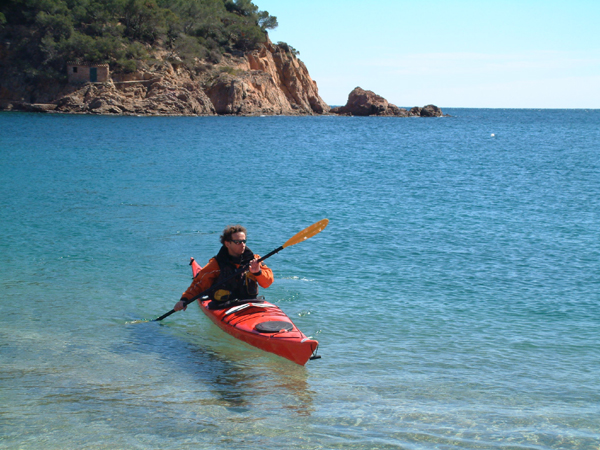 Cut-price flights to Girona from London, Birmingham and Bournemouth make it incredibly cheap to get to the Costa Brava. For my last couple of trips it cost more to park the car at the airport in the UK than the cost of the flight itself. Get a small group together and Toni can provide help with the logistics and hire you good quality sea kayaks and kit, making it easy to organise a great trip. I'd avoid the peak August period, probably best is the spring or autumn, when you'll have the coast largely to yourselves. Even early in the spring the water temperature never drops below 12 or 13 degrees while day-time temperatures in say April or October are up around 18 to 22 centigrade. Enjoy!
Phil Quill - 2006
For further information contact Toni at Kayaking Costa Brava on tel: 00 34 972 773 806 or fax: 00 34 972 775 394. Website: www.kayakingcb.com or email This email address is being protected from spambots. You need JavaScript enabled to view it.
( First published in Canoe & Kayak)