Brittany September 2003
by Jim Krawiecki
This northwest corner of France is a bit of a hidden gem for sea paddlers. I have already explored some fantastic areas. This does not mean that I have seen it all; indeed I may well have missed the best bits! The coastlines are varied and beautiful like the West Coast of Scotland, Anglesey and Pembrokeshire with the added advantage of warm weather, excellent food and fine wines. I have been to the Quiberon and Morbihan area before but this time I really wanted to have a closer look at the islands of Houat, Hoedic and Belle Isle.
Presquille de Quiberon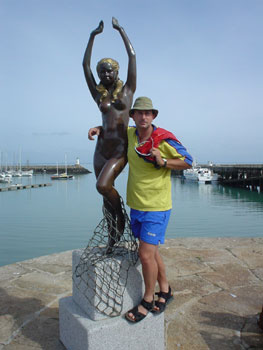 The idea was to head south to Port Haliguen on the Quiberon peninsula where there is a good campsite and a marina where good five-day forecasts are available. The end of the Quiberon Peninsula has at least 7-8 miles of intriguing rocky coastline with a dash of sun-soaked sandy beaches. The local wildlife is as varied as the coastline, all of the seabirds you'd expect with a few added extras such as Egrets and a variety of Terns that I couldn't identify. The edible wildlife is splendid! But if you'd rather just look you can feast your eyes on Mussels, Winkles, Oysters (l'amor, toujours l'amor!) and the fishing is good too.
Armed with a sea kayak each and all of the associated clutter Chris (my brother) and me stole into "Camping du Conguel" undercover of darkness and began to make plans to investigate the local coastline and nearby islands. Soon after daybreak a breakfast of fresh coffee and croissants was heartily munched (civilisation achieved!) and before we were paddling to Port Maria and Port Haliguen for any local info we could think would be useful. The marina at Port Haliguen has an office with friendly staff who will photocopy a detailed, five day, inshore waters forecast for the princely sum of 20 cents. There is also an atmospheric hostelry called "Café du Midi" where we bought startlingly strong espresso and obtained local tide tables! Port Maria is the downtown happening district with a fishing port, ferry terminal, and local shops all within 45 minutes (quality) paddling time from our campsite.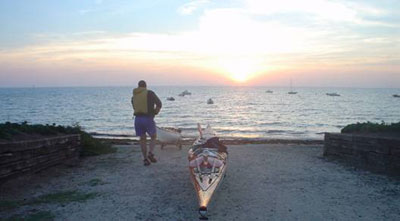 Ile de Houat (translates from breton as "duck")
Houat lies about 5 miles south west of Pionte de Couguel and is less than 3 miles long. In order to get some tidal assistance we left base camp shortly after 8am leaving Pointe de Conguel and Phare de la Teignouse well off to the right as the ebb stream would be going South during the coming hour. Despite paddling into an easterly force 3-4 it took us just under 2 hours to reach Porh Halai where we took a short break before continuing on to the harbour at Port St Gildas. We were hoping to find a place, which displays a current forecast at the harbour but having found nothing we continued up the short hill into the village. There is a post office, a general store, a couple of hotels and a town hall but we didn't find a forecast. What we did find was a picturesque, busy but somehow peaceful village, possibly trapped in a time warp. Small stone built houses mostly painted white with small gardens infested with terrific flowering bushes were the norm. The only motor vehicle we saw looked as if it dated from the 50s and I doubt it had an MOT!
Although downtown Houat was scenic, there didn't seem to be much to keep us there so we decided to paddle on. The Eastern extremity of Houat (En Tal) is made entirely of sand! Quite rare! I can't think of many, if any headlands, which aren't made of harder stuff. Just round the corner lies Treac'h er Goured a lovely long beach upon which we decided to have lunch and plan our crossing to Belle Ile.
Belle Ile en Mer (The beautiful island in the sea)
Our crossing of 6 miles or so took 2 hours in some of the calmest sea paddling conditions I have ever seen, fish were jumping frequently almost as though it was too hot even in the water. I was glad to reach the sandy bay of Port an Dro and jump right out of my boat and into the water for a well-earned soothing dip! This charming little bay has a convenient municipal campsite with showers, toilets and a helpful monsieur du camping who used his internet access to find a weather forecast for us. A cup or two French wine soon had heads down. Wilderness adventure has never been so civilised!
Belle Ile is 12 miles long and less than 5 miles at its widest and is littered with hamlets and small villages. The south and west coasts are characterised by high rocky cliffs with deep gullies, caves, rock arches and stacks. The Northeast-facing coast has more in the way of sandy beaches and civilisation in the way of Le Palais, which is the main town and harbour and to the north, the smaller port of Sauzon.
The next morning brought us a good force 4 blowing from the East so we packed our boats and headed for the sheltered coast and the cultural delights of Le Palais. Initially the journey is an interesting paddle with 100 ft rocky cliffs and inlets but the sandy beaches that adorn the majority of this stretch held little interest for us on the day so we paddled directly to Le Palais, beneath the grand Citadel and into the inner harbour.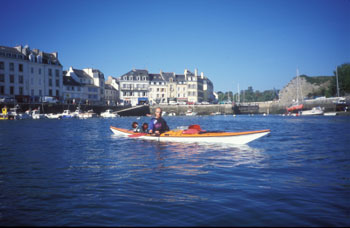 Le Palais - has everything a tourist would hope to find in a busy port. Car, moped and bike hire; plenty of shops cafes and restaurants, and a market. There is also the aforementioned Citadel, parts of which date from Roman times. From a seafarers point of view it is worth mentioning that the Capitanerie (harbourmaster's office) next to the ferry ticket office displays a 3-5 day forecast in the window.
On the way to Sauzon we explored caves and gullies and discreetly investigated possibilities of bivvying/camping in some of the inlets and bays. The access to campsite that we were looking for was from a small marina half a mile up the inlet from the harbour entrance and there was not enough water. We investigated by foot! We discovered that Camping Pen Prad was only 200 yards from the slipway at the marina but it would be at least a couple of hours until we would be able to paddle there. This left us with an ideal opportunity to visit the most northerly point of the island, Pointe des Poulains. It didn't take long, merely half an hours paddling brought us to a lovely shingle beach, the headland and its stunning cliffs just around the corner. Being here really gives a feeling of being exposed to the might of the Atlantic, although conditions could not have been more benign, the little swell that there was felt quite awesome. This headland looks well battered. Pointe des Poulains would make a spectacular spot for wild camping but we had already set our sights for the comforts of the municipal campsite at Sauzon.
Sauzon - is the second largest town on Belle Isle and has a wealth of bars and restaurants along the quayside. The character and beauty of this place is stunning. We took an evening stroll to Pointe de Cardinal and witnessed yet another spectacular Breton sunset. We wandered back to the marina by our campsite to drink wine and watch the tide go out! The evening should have been perfect. Little were we to know of the disturbed night that lay ahead of us.
I woke to the sound of some quality partying a short way down the site. A sufficiency of alcohol within my bloodstream enabled me to turn over and go back to sleep, but not for long! A short while later I woke up once again, the party grown louder and had taken on more of an aggressive tone, some furniture outside unoccupied caravans was being trashed and I could hear arguments. I was to keep an eye on what was going on without drawing attention to myself, perhaps it wasn't all that bad but without really understanding what was being said, being in a strange place and not being able to see much made me feel quite terrified. It wasn't long before the gang's attention was drawn to our boats! I listened to two, perhaps three guys discussing what fun they could have with these boats. I stayed huddled in my tent, silent and wondering what, if anything could be done. I wasn't confident that anything I could do would have a positive outcome, utter despair! Fortunately, just in the nick of time a fight broke out between some of the revellers and some poor man who had the misfortune to be camping right next to their sound system. I think we had it bad. The fight didn't seem to come to any sort of conclusion but seemed to do the trick as with regards us, and our boats. Things gradually began to calm down but it was almost daybreak before I felt truly relaxed. Given that we had not slept well we decided to take it easy. We paddled back to Le Palais and returned from there to Quiberon on the car ferry.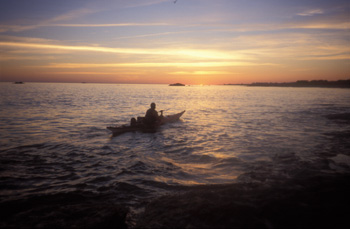 The slow trek north! - We chilled out by the seashore for much of the next day and spent a couple of hours picking mussels from rocks which made for a splendid feast later that evening. We made plans to visit the dramatic coastline around Point du Raz. Further north the weather was less inspiring and we did very little paddling, I have paddled around some of these dramatic headlands before though and I mean to return soon. I see the Breton coastline as an area well worth exploring and it seems that very few British paddlers make it there which seems odd to me because the opportunities for adventure are vast and it costs relatively little to get there.
I regularly contribute to the Northwest Sea Kayakers website www.nwsk.org.uk where we exchange ideas for forthcoming trips and welcome new paddlers to join us.
Jim Krawiecki.