Bears, Mist and Xtratufs ~ the Behm Canal explained
Tim Dawson - 2004
"That's two hundred and ninety two dollars and sixty four cents. I guess you guys aren't off the cruise ship."

Shopping is, even at the best of times, a stressful business in my opinion. Not least when preparing for 15 days away from any kind of supply. We'd bumped into Kim Kirby, the forthright Aussie from whom we'd hired our double kayak, in the supermarket. Looking in our trolley of food, she'd said: "Jeez, is that all you guys are taking?!"

Round the aisles again and then the big bill, a taxi to take it all away and so the floor of our hotel room becomes invisible. Where will it all go? How are we going to keep it from the bears? Are we really up to this?
Ketchikan, the southernmost major settlement in the tangle of fiords, mountains, rain forest and islands that is south east Alaska, part of the 17 million acre Tongass National Forest which covers most of the so-called "panhandle" of the south east. To visualise Alaska, hold your right fist up in front of you. The back of your hand is the interior of the state, your left pointing index finger makes the Aleutian island chain stretching to Russia, and your downward thumb forms the south east. The whole state, six times the size of Britain. Population 635,000 people, 40,000 brown bears.
We relieve our stress in the bars of this waterfront town, towered over by the cruise ships that release overfed, under-exercised people to waddle a few yards to tacky jewellery shops selling tanzanite ~ what is that? But this is to devalue a place of straightforward, helpful and naturally courteous people who are rooted in fishing. A strong taste of this in the Potlatch Bar by Thomas Basin - noisy, smoky, pool table and full of fisherfolk, recognised by the ubiquitous Xtratufs, neoprene-lined wellies which no self-respecting Alaskan would be without in Ketchikan's massive annual rainfall. One of many wonderful barmaids. That recognition that we're here to experience the real south east (or just eccentric) recurs: "You guys are not off the cruise ship, are you?"
The following day, the first of June, we'd planned to be off with the early morning flood tide to send us north west up Tongass Narrows. It's doesn't work out. 1 pm sees me catching a taxi to dump our land luggage after a last minute hitch, then I return to John trying to load the kayak from a pontoon in Thomas basin - he's never packed a sea boat before. Somehow we squeeze everything in and the wind, if not the tide, is with us as the journey begins. The Behm Canal ~ a clockwise 150 mile circuit of Revillagigedo Island on which Ketchikan sits, taking in the 2 million acre Misty Fiords National Monument, home to old growth forest, whales, waterfowl, otters, beaver … and bears.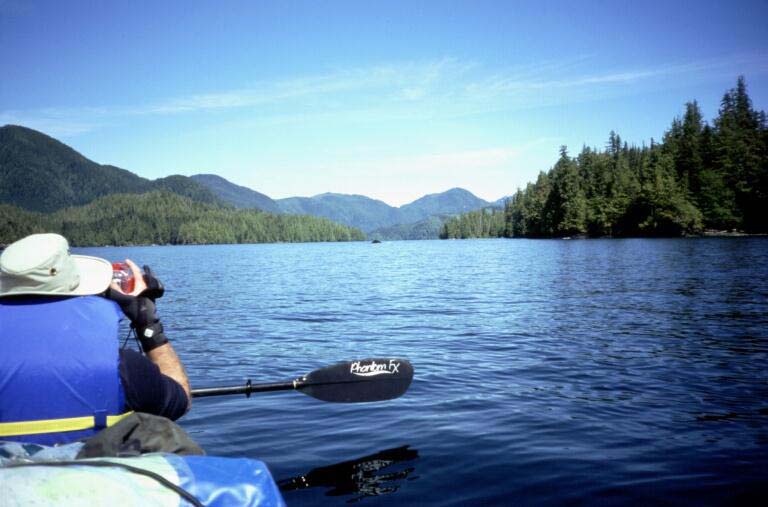 Humpback whale in Traitors Cove
Passing the mouth of Traitors Cove on day 3, a humpback surfaces 500 yards from our kayak. John and I have learned to tap on the hull so that the huge crittur knows where we are. We're fairly drumming the Edinburgh tattoo! The whale comes closer, waves its tail flukes out of the water 100 yards away as if to say: "Hey guys, seen any krill?" then passes south, blowing audibly more than a mile away.
We're entertained again that evening as we eat dinner overlooking what comes to be known as Bay of the Yellow Plate (because we lost it there). A colossal warty head points skywards and then sinks amidst a chorus of blows.
Day 4 and we're on our way early, keen to reach the Lake Shelokum trailhead and wash in the hot springs. Oh, the luxury! To prunify feet and fingers in a hot tub big enough for three people, surrounded by steaming forest and muskeg, algae the colour of pink coral in a stream that is just off the boil. Then to wind back over the tottering boardwalks, brushing fragrantly through skunk cabbage and past the spiny devil's club underlying huge sticks of spruce, hemlock and cedar, ever giving the warning as we approach a bend in the path: "Hey bear, ho bear!" You don't want to take a bear by surprise.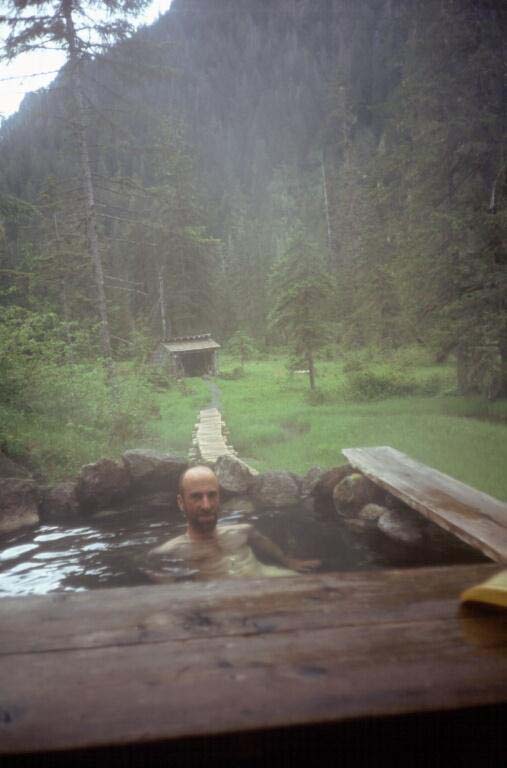 Tim enjoying the Shelokum hot springs.

The wildlife that night behaves as if we're not there. A hummingbird buzzes under my bent legs as I sit minding the stove. Two river otters crouch and stare at John a few yards away on the shore. A couple of mink chase each other past me as I cook, too busy with their own affairs to notice.
Leaving Bailey Bay and the Shelokum trail head, we point our vessel left and into Bell Arm, the wind and tide both helping us along this ever narrowing passage. The rhythm is with us now. I'm becoming used to the back view of John, who is quite short, and appears disjointedly as a wide brimmed hat on top of a buoyancy aid, muttering about treacly water whenever I take a break from paddling behind him. It's a sharp right into Anchor Pass, and a foul current forces a brew stop in the rain. Not long though before we're away again, and in the distance a bear swims across our path with disarming speed.

"Hey bear, ho bear!"

We find the Forest Service cabin unoccupied at 6 pm. More luxury; the woodburner is roaring within minutes and our clothes, washed in the hot springs, are soon dripping on the floor.
The morning of 7 June, after sleeping under a tarp in a spooky wood, tucked well in away from any bear path, we paddle south down the inner arm of the Behm, followed by a large school of Dall's porpoises. We head left and east into the mouth of the Chickamin River,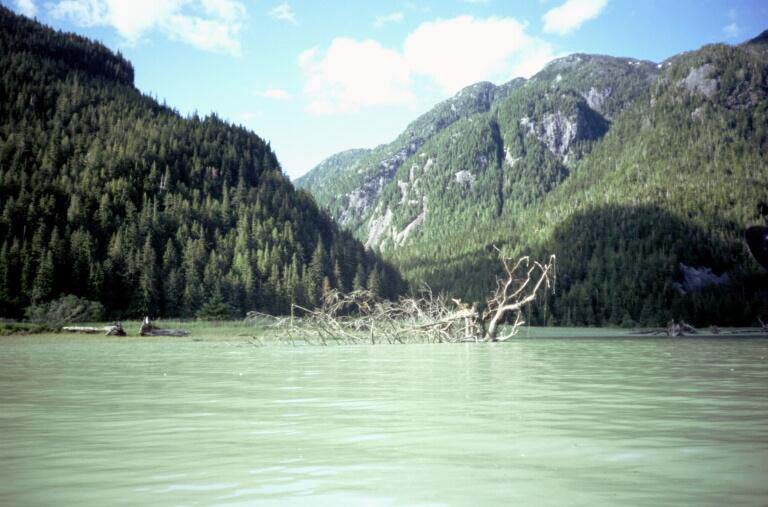 Chicamin Delta

working up through a delta of islands and skeletons of trees to a hunter's cabin. A scrawled message on the table reads:
"Word on the street. Beware crazy man."
Maybe just a tactic to keep us away. It works on me and one night is enough.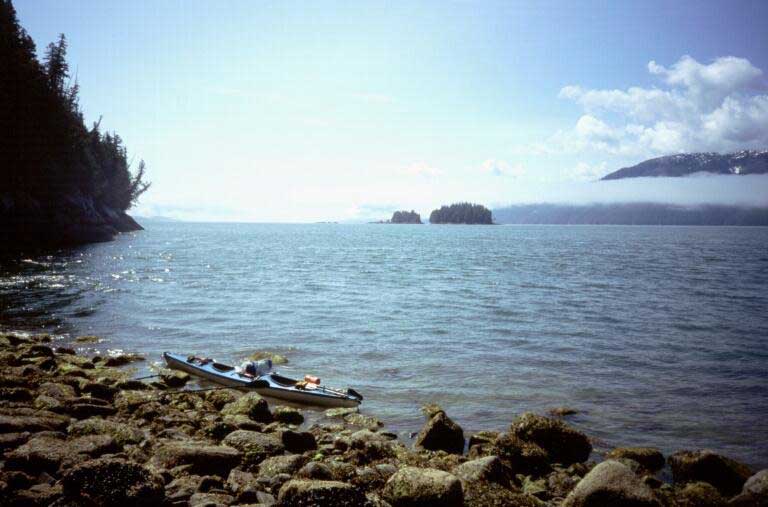 Channel Islands

At a river mouth south side of Walker Cove, John and I have a long conference before establishing our camp. We're now well into Misty Fiords and this is serious bear country - fresh scat and prints in the sand. We opt for the textbook triangle – tent 100 yards from our cooking place, bags hung in trees close by. No sound in the night, but paw prints in the intertidal zone tell us that big bruin has paid us a visit. John fishes the morning away and sees him eating sedge away upstream.

A rest day and fresh pink salmon cooked on an open fire, where the tide will wash the smell away. "Hey bear, ho bear!"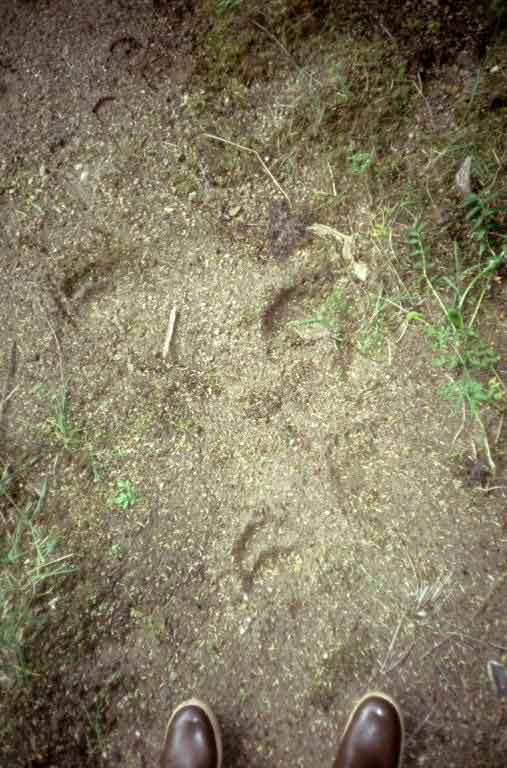 Bear Prints and Tim's boots.

The low, sheltered bowl of Manzanita Bay contrasts with the verticality of Walker Cove. Loons, diving birds with arty plumage, wail out on the open water. We make ourselves at home in the three-sided Forest Service shelter, smoke from the fireplace finding its way out (mostly) through the gap in the offset roof ridge. Next morning we paddle our kayak a few hundred yards to the start of the Manzanita Lake trail, three wonderful miles of beaver ponds, boggy muskeg and tree life. It takes a long time to travel such a distance in this terrain.
Punchbowl Cove in Rudyerd Bay gives us the first face-to-face human contact for 8 days. I meet Doug returning from the Punchbowl Lake trail. He's from Ketchikan and has brought two friends out in his small cabin cruiser for the weekend. Later we paddle out to the boat and share some beer and rum with Doug, Mike and Joe. Mike has a gorgeous strip-built kayak of maple and mahogany. We take leave when it has nearly gone dark, and make a surprisingly steady and straight passage back to our camp. We're immersed in this immense land now, at home in the soft Pacific north west rain and decorative mists, and ever glad of dry feet in our Xtratufs and the wide hats that keep the water off our balding heads.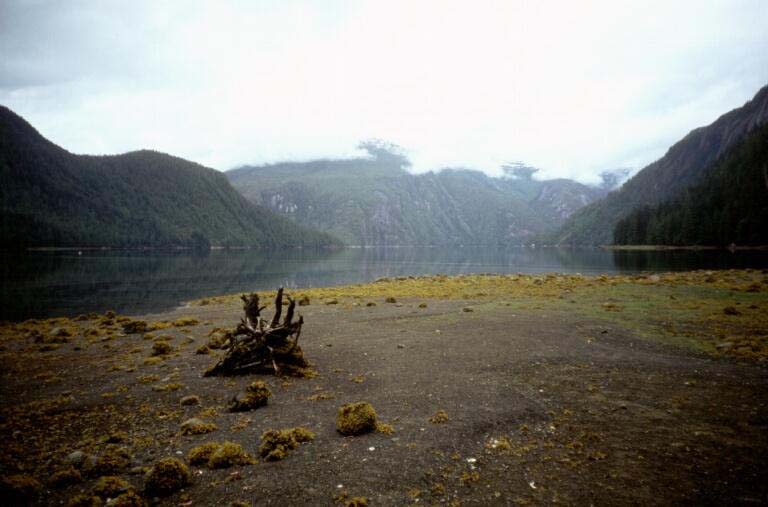 Low tide at Punchbowl Cove
A damp night forces us up earlier than we would like on a "rest day". We burn our hands once more hauling food bags into the trees, then head steeply up the trail to Punchbowl Lake, clapping loudly over the thundering waterfall:

"Hey bear, ho bear!"
Arrival at the lake brings a shelter, a skiff and, best of all, a canoe, new wooden paddles recently provided care of the Forest Service. J stroking through glassy water makes a change from the weighed down kayak. We visit the lake within a lake – a beaver pond on the big island – then drift silently as John fishes the depths, unsuccessfully this time. Through steep rock slabs dropping into the water on our right, runs a vegetated, diagonal runnel. Within it, a black bear is feeding, oblivious of our presence. We watch him for an hour as he tries to walk along the bottom of the slab.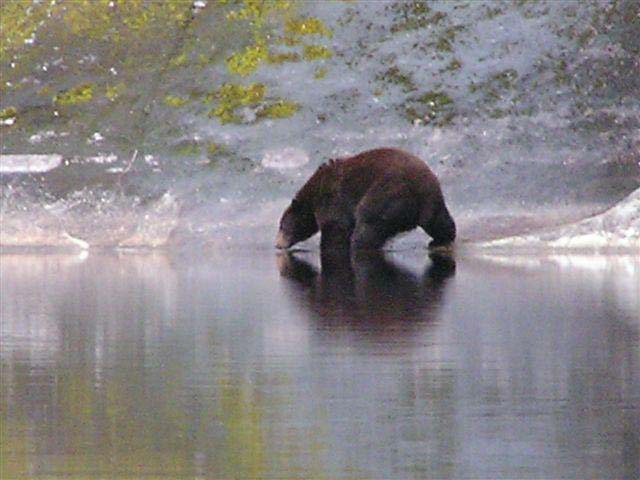 John's bear!

He obviously doesn't fancy a dip, though as we've seen a few days previously, bears are brilliant swimmers. In the end he gives up and returns to his green prison, no doubt longing for the salmon to run and the berries to ripen.

"Hey bear, ho bear!"
Next day is our last of paddling. We finish in the bizarre setting of a wooden float in the southern arm of Rudyerd Bay, stringing our tarp over two wheeled gangways and cooking a Dolly Varden charr that John caught this afternoon in Nooya Lake. The following morning, the huge catamaran Majestic Fiord arrives to carry us, all too fast, to Ketchikan and the long journey home.
Tim Dawson, 2004