Lleyn Peninsula Easter 2002
We started our trip from a Campsite by Gyrn Goch (grid ref:486401) 2 miles northeast of Trevor. Paddled to Bardsey Island and then on to Llanbedrog (grid ref: 313333) in two and a bit days.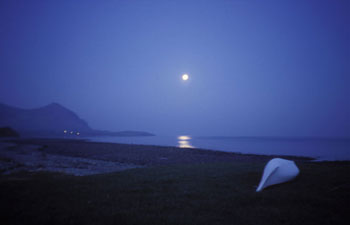 Friday 29th March
Just as planned, we launched at 9-30 just before high water and began to leave the mountain and village of Gyrn Goch behind us. The weather was fine with only light, variable winds and plenty of warm spring sunshine. Ahead of us was a whistle stop tour of the North coast of the Lleyn, in order to get to Bardsey (Ynys Enlli as I would prefer to call it) we would have to paddle more than 25 (statute) miles. Passing Trefor and Yr Eifl was heartbreaking I was longing to explore the cliffs and caves but I guess they will still be there for another trip. By the time we came bearing down on Porth Dinllaen It would have been a waste to go with my original plan and stop for a pint! We were getting about 2 Knots of tidal assistance, so we carried on.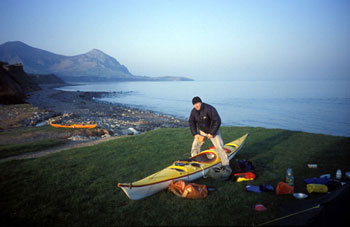 We paddled from headland to headland finding small overfalls with each; Porth Oer was a long time in coming. We eventually stopped at a smaller, south facing bay a mile or so to the North of Porth Oer called Porth Iago. Porth Iago is a narrow bay/ inlet with a pleasant sandy beach, its Southerly aspect was important to us as a westerly breeze had built up and we wanted a sheltered, sunny spot for lunch whereas Porth Oer is North facing and "Oer" means cold in Welsh. Once we had eaten, there was time for a quick game of "Frisbee" and then off to Bardsey sound on the remainder of the ebb to help us on our way. Once again, I feel I should mention that this entire coastline is well worth much more attention than we gave. A day trip from Porth Iago or Port Oer to Aberdaron would be well worth the effort.
We Reached the final headland of Braich y Pwll and gazed across Bardsey Sound to our goal for the first time. The ebb stream was still running strongly and we weren't sure how much we would be taken East into the sound. We had two options; the first was to head straight across to the middle of the island and allow the ebb stream to carry us to Cafn Enlli and the slipway. The second and more difficult was to make for the Western end of the island, which would involve some paddling against the tide. We naturally went for the second and more difficult option after all why make life easy! We didn't lose much ground on the first part of the crossing but as we approached the channel between the island and Maen Bugail we found it more difficult to make good progress. The yachting pilot did advise against this! However we made good use of the eddies close in to shore and the extra effort became well worth it as we paddled into still waters and past the rocky Southern shore of Bardsey. We had hoped to find a landing a little further along but our plans were scuppered, the beaches are only accessible from the sea at high water and there are treacherous rocks below. We paddled on but having paddled over 30 miles we were getting weary!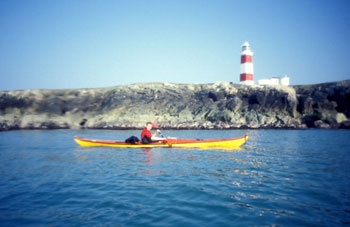 We had originally hoped to sneak on to the island and do a sly bivvy sort of a thing but by this time we had arrived close to Cafn Enlli and the slipway. We were greeted by a small group of day trippers waiting for a boat to take them back to Aberdaron, so much for our "stealth" approach! We landed and started to explore the possibilities of bivvying close to, but out of sight of the lighthouse buildings when the islands "Health and Safety Officer" approached us perched importantly upon his fine tractor.
"You can't camp on the island, we don't allow it." A short exchange followed but rules are rules. The Health and Safety Officer said we couldn't camp! He drove away leaving us to stroll solemnly back to our boats. When we got back to the slipway we found our boats nearly afloat so we started to make plans for a quick dash across Bardsey Sound to Aberdaron, we were less than amused! It was just then our luck was to change, a woman who introduced herself as the farmer approached us, she offered the barn loft for us to sleep in which was excellent news!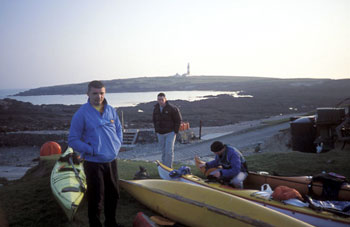 We hurriedly unpacked our sleeping bags and food and left them in the loft above the barn, then we scrambled up Mynydd Enlli to watch the sun go down whilst helping Tom empty his bottle of whiskey. The summit of Mynydd Enlli makes a great vantage point for observing the quirks and charms of the tidal streams around the island.
Saturday 30th March
I got up early to have a stroll around the island taking in the bird observatory and ruins of the old abbey but it wasn't until about 11 o'clock that we left for Aberdaron. High water was at about 9.15 but slack water in Bardsey Sound doesn't occur until 2 hours after. We paddled away from Cafn Enlli to the sound of a fiddler playing, I was sad to leave Bardsey but I will return. The crossing to Aberdaron was fairly straightforeward; we were swept slightly to the West by the last of the flood but close to Pen y Cil we were carried easily into Aberdaron Bay by the new ebb stream. It is usually easier to approach Aberdaron by paddling close to Ynys Gwylan Fawr before heading for the pub as an eddy stream runs South along the Western side of Aberdaron Bay.
Once landed at Aberdaron we sat in the sunshine drinking Guinness and eating baked spuds. and after a quick trip to the local Spar shop we headed South East towards Porth Neigwl (Hell's Mouth). Our campsite that evening would be at Porth Cerriad, which left us with fifteen miles of paddling to do in an increasing force 3-4, the sun was still shining but the beam wind was making the going a little tough
Trwyn Cilan is a very impressive headland and forms the Eastern end of Porth Neigwl, it has several seabird colonies and interesting caves which would be well worth exploring on a calm day but we stayed at least 100 meters offshore to avoid breaking surf and clapotis. Once round Trwyn Cilan we were in Porth Cerriad.
Porth Cerriad is not the Ideal Sea Kayakers campsite because of the high cliffs between the beach and flat ground. There is an official campsite but this is another quarter of a mile hike up the hill, so we sneaked a roughie between some gorse bushes at the top of the cliff (naughty naughty!)
Easter Sunday 31st March
Porth Cerriad is better known as a Surf Beach and on this particular morning there were some kayak crunching five footers dumping onto the beach, there was nothing to do but go for it, which I did twice before making it beyond the break (quite scary in a fully loaded boat)! Once beyond the break we turned North towards Llanbedrog via St Tudwalls Road . This next stretch of water provided us with more big scary waves one of which picked me up and sent me hurtling out of control towards the cliffs. My spontaneous surfing gave my compatriots much amusement whilst giving me one of those quiet hopeful moments! Once the fun and games were over and done with we simply had about a one-hour slog to Trwyn Llanbedrog with shelter and a calm finish to our amazing trip. I can heartily recommend the bacon butties here and there is a pub up the road that sells Robinson's bitter!
I regularly contribute to the Northwest Sea Kayakers website where we regularly exchange ideas for forthcoming trips.
Jim Krawiecki