« Cwm Pennant Sea Kayaking Festival
Cwm Pennant Festival - Abersoch trip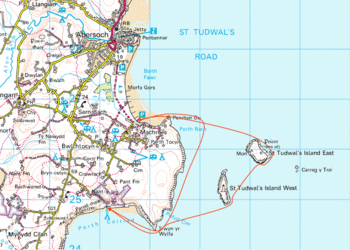 We pushed off from the beach at Sarn Bach, just south of Abersoch, in scorching sunshine with the dark mountains of Snowdonia looming up across the bay to the east. We were the last group of paddlers to set off and, led by Dave Evans, about twenty of us paddled south, around the cliffs towards the headland of Trwyn yr Wylfa and around to the beach at Porth Ceiriad. On the way we spotted a porpoise, easily distinguished from a dolphin (after the lecture we had received on Saturday) by its triangular dorsal fin. The conditions were ideal with little wind and calm, clear water but we did experience a lot of wake from the numerous jet skis and speed boats.

Despite being the last to set off, we were the first group to arrive at the beach as the others were making the trip around St Tudwal's Islands. There was some breaking surf on the beach and those who landed first stood by to help the rest in. Having hauled the boats up on the sand we sat down to enjoy our picnic.
If the other people on the beach had been surprised to see twenty kayakers arriving, they must have felt they were being invaded, when, twenty minutes later, the rest of the paddlers began to arrive. From our picnic spot we were entertained by some spectacular surf landings and soon the number of boats lined up on the beach had grown to sixty five - an armada!
While the others were finishing their lunch I had a refreshing swim and we all then got back in to our boats and headed off to explore St Tudwal's Islands, the site of the sixth century saint's hermitage and a well known seal colony.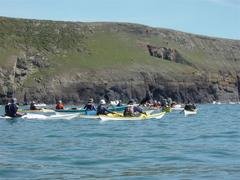 We paddled past the southern end of the west island and across to the east island where we rested for a few minutes to explore the caves and admire the scenery. I saw only one seal as we rounded the south east corner of the island.
The eastern side of the island is evidently a popular spot with locals as lots of boats had dropped anchor there and people were swimming or lazing on deck reading the Sunday papers. We paddled through the boats and straight back across the channel, delighted to find that an ice cream van had arrived at the car park!
Total trip distance 11km.