Anglesey and the Lleyn by Kayak
Words by Jim Krawiecki, photos by Trevor Shepherd and Jim Krawiecki
Originally written for the WCA's "Ceufad" magazine
December' 04 edition and also posted on
North West Sea Kayakers
web site.
Most of my paddling trips have some sort of a plan which contains a degree of organisation, this one however was to be a little different. The planning on this trip didn't even require the use of a torn up cigarette packet. The basic plan was for me and my partner-in-crime, Trevor to paddle from Llanfairfechan, which is on the North Wales coast between Conwy and Bangor, to Pwllheli on the south coast of the Lleyn Peninsula. We planned to take 5-6 days, meet up with other paddlers along the way and to drop in on some friends whilst in their neighbourhood. Trevor is a teacher from Derbyshire, a sea kayaker who lives up a mountain with an extraordinary willingness to go with any of my ideas. I always ask Trevor first, despite his modest five and a third foot vertical dimension!
Llanfairfechan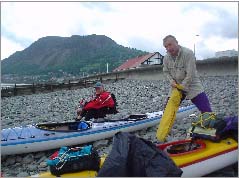 For tides to work in our favour we needed to start early, early being 6am. We did ourselves no favours by attending a party in Manchester the evening before. We finally left the party rather later than planned and woke to the awful realisation you get when you sleep through the alarm on a Monday morning. Arriving at Llanfairfechan only an hour and a half late didn't seem so bad; after all I had a monstrous hangover to keep my spirits high.
We found Dave, a senior paddler who has the annoying habit of leaving me standing in aquatic races for the pub! Dave had been waiting for us faithfully since the previously agreed 6am, oops, sorry!

Llanfairfechan has much to offer as a starting point for a sea kayak trip. The promenade with its large car park is just a short hop from the A55 expressway but don't even think about trying to use it when the tide is out, unless you like mud! The weather was better than expected and soon boats were packed and we were off!
The wind rapidly increased as we set out across the mouth of the Menai Straits towards the Lighthouse at Penmon. In a force 4, which was building from the south, I tried to convince myself that when a trip starts as badly as this, things could only improve. On hearing the ominous clang of the bell from the lighthouse my spirits might have sunk further if it wasn't for the shelter offered by the cliffs at Trwyn Dimor.
The going quickly got easier and prettier when the sun put in an appearance as we crossed Red Wharf Bay. In starting so late we had already missed the best of the Ebb stream, which so we decided to rest, drink tea and eat cake before rounding Point Lynas.

Point Lynas and the North coast of Anglesey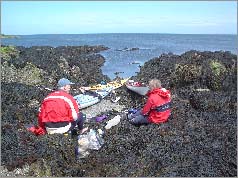 I have often charged past this rather special part of the coast whilst on some sort of a mission. With wind and tide against us and ever increasing, we were forced to keep close to the shore. I had never suspected how stunning and varied these often forgotten shores were. Caves, arches and inlets gave us shelter from the wind and provided us with numerous back eddies but the going was still tough as we passed Bull Bay and Porth Wen.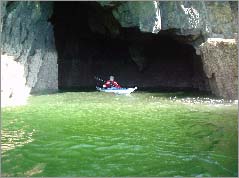 Conversation was getting thin and I detected potential for sense of humour failure. Dave chose to put in at Porth Llanlliana, Trevor and me followed without question. The welsh sun was still shining and ruins of the old boot factory sheltered us from the unrelenting wind. I made best of the opportunity and made a quick hot snack whilst Dave got a brew together.

Cemlyn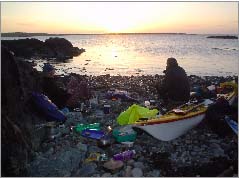 With renewed energy we paddled on past Wylfa Head but the sun was getting low in the sky so we entered Cemlyn Bay, found a quiet spot and made camp for the night. We found a small, west-facing beach just out of the wind with driftwood and space nearby for our tents. There was just enough warmth from the setting sun to dry kit off whilst we rewarded our aching limbs with a hearty meal and a beer or two. Arctic Terns from their nearby breeding colony kept us entertained with their antics as they fished for their final meal of Sand Eels before dark. Finally as I got into my sleeping bag I caught sight of the Skerries lighthouse, I shall return to this spot again.
Carmel Head and a lazy day in the sun
The next morning we had arranged to meet with some friends. Emyr from Caernarfon had arranged to paddle with us for the day and some whitewater junkies from Manchester were expecting us for lunch. I owe Emyr a great deal because his knowledge of local history feeds and inspires me to share these experiences. Paddling with him is like having your own tour guide, a story behind every headland.

The conditions had improved dramatically overnight, the wind had abated, the sun was shining and the sea had become a fairy tale blue. The second hour of ebb tide carried us neatly from the bay and round Carmel Head towards Porth Tywyn-mawr and the Sandy Beach campsite. A school of whitewater paddlers known as "The Zoo" welcomed us ashore and treated us to a smoky barbecue with plenty of greasy burgers which set us up nicely for a lazy afternoon of sunbathing and tall stories of the previous days adventure. We could have been tempted to stay the night but the site was overcrowded, dusty and noisy.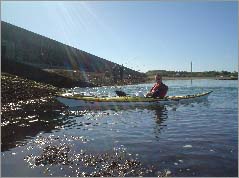 Rather than be predictable and paddle the classic route around North Stack and South Stack (again) a short cut through Stanley Embankment and the Inland Sea was our preferred option. As we arrived at the tunnel water was still ebbing from the inland sea but it wasn't long before we could paddle through into the last short, easy stretch to Four Mile Bridge. Four Mile Bridge is at the southern entrance of the inland sea and carries the road from Valley to Rhoscolyn.
The campsite is not well known and as a result, fairly quiet, but has the advantage of a good pub nearby so we left Emyr to pack his things and drive home to his family. We sat outside The Anchorage Hotel drinking a pint or two of soothingly cool Guinness whilst watching the sun go down.
Curiosity at Four Mile Bridge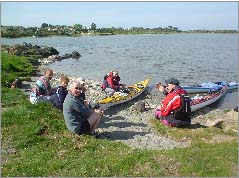 Amongst the numerous attractions to a journey by kayak one of my favourites is experiencing the curiosity of others. We had pitched our tents close to a caravan in which a family with some friends were spending their Whit break. They had watched us arrive, unpack and pitch out tents with great restraint and a friendly "Hello, nice day for it!"
The next morning was a different story. I guess they were quite amazed when we packed our tents and associated clutter into our kayaks, "How far?"…."What does that do?"…."Is it dangerous, do you ever get scared?"
Anglesey south coast
Our new found friends waved us off as we paddled with the Ebb as it winds its way out of the Cymran strait past RAF valley and on, towards Rhosneigr. Once in the open water we lost any signs of tidal assistance and so our attention was drawn to exploring the coastline. There is a lovely spot for Seal watching at Ynys Meibion an a little further to the east is a unique little church which was built on an island which you can walk to at low tide.
The old church of Llangwyfan has been in existence since 1254 and services are still held at Easter, Christmas and other occasions by request. Our lunch stop was just a little further beyond Aberffraw. Porth Cadwaladr is one of a series of small sandy bays with low cliffs and sand dunes along a 2-mile stretch of coast between Aberffraw and Malltraeth.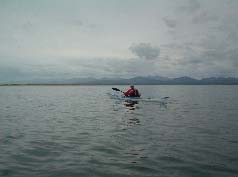 By early afternoon the sunshine was getting a little hazy and signs of bad weather began to appear on the horizon. A short spell of nasty weather was forecast for late afternoon and to continue overnight. Dave was due home that evening, Trevor and me were expected by our friends Brian and Sarah who live a couple of miles south of Caernarfon. Our plan was coming together nicely! We landed just in time to avoid getting rained on and when we arrived at their house; Brian had already blown the froth off a freshly poured beer and Sarah had lit the rainproof barbecue. Trevor warned me to expect a warm welcome.
My friend Ray, a marine engineer from the Wirral came to join us for the next part of our journey. Ray is a man of Mammoth proportions, he reminds me of the Vikings depicted in history books. With his red beard, rough voice and phenomenal presence. I feel less harm will come to me when Ray is around, just as long as I don't upset him. We had not seen each other for a while so there was plenty of catching up to do, food to be eaten, wine to be drunk! This was to prove to be a long, wonderful but difficult night. When morning came it was still raining and I had yet another hangover to deal with.
North Coast of the Lleyn
We resumed our journey 8 miles further south by the village of Gyrn Goch. The nice people at Aberafon campsite are very helpful and have always made me welcome. There is good access to the sea and they allowed us to park our cars for a couple of days. The previous nights weather had made the sea choppy but the wind had died down a bit and the rain had eased to a fine drizzle. The Lleyn is more sparsely populated than Anglesey and has a wilder feel, making this peninsula a must for sea kayaking. We paddled southwest towards Trefor and the Rivals, an imposing set of hills that rise dramatically from the sea. The cliffs below have seabird colonies and steep storm beaches.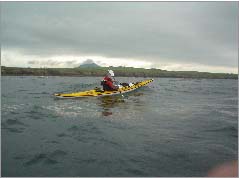 The weather was a bit grim, we felt so small in such a wild place! Once past another set of imposing Cliffs with Thousands of seabirds we made for Ty Coch, a lovely pub at Porth Dinllaen, for elevenses! We sat down to a much-needed brew and tried not to look at what we had just been paddling on. Ray was counting the whitetops and having doubts about proceeding so we studied the map reassuring ourselves with various escape plans.
We paddled on. The ebb flows southwest along the coast creating overfalls just off Trwyn Porth Dinllaen. Trevor and me crashed through, Ray took a smoother line closer in to shore but the sea beyond was definitely becoming more imposing. I put my camera away! For a while the going was rough with showers and a cold wind but clearer weather was slowly creeping in.
Porth Ysgaden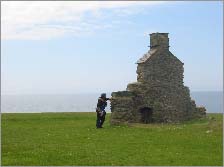 We spotted a curious ruin on a low headland and according to the map there was a beach on the far side, just as we landed the sun came out and the wind began to ease, perfect! The Headland with its little beach is called Porth Ysgaden. I tried to find out more about the ruin on the headland but to no avail, I only found that Porth Ysgaden's history was mostly built on Herring fishing but there is also mention of the import of Horse manure from Ireland. There is access by road and a campsite near by, perhaps a place to note for future trips.
By the time we were back on the water, the tide had turned and we realised that the further we went the more it would be against us. We stayed close in to shore at Porth Colmon, as the sun was shining once again and the sea was getting comparatively smooth. Our aim was to get to Porth Oer (Whistling Sands) by the end of the day so we hurried round any headlands and paddled deep into bays in search of back eddies, we kept ourselves entertained by rockhopping and playing hide and seek with Seals.
Porth Oer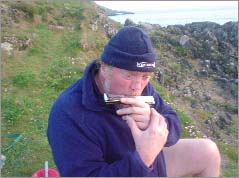 Landing at Porth Oer was a delight; golden late afternoon sunshine and some gentle surf made this a rewarding end to what had been a tough day. Once we had landed, we were quickly tempted to the beach shop for ice cream and a drink. As the sun was setting, we pitched our tents and I lit a small fire upon which we toasted marshmallows as Ray played us a tune, which he claimed was the Brazilian national anthem, on his harmonica. Despite Ray's best efforts we weren't alone on the beach, quite a number of people had come to see the sunset and there were fishermen beach casting well into the night.
Bardsey Sound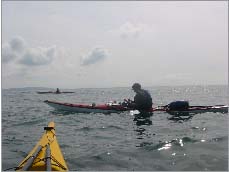 We left the next morning shortly after high water so as to catch the ebb stream along the coast towards Bardsey Sound. The cliffs are imposing here reminiscent of those close to Trefor. The closer we got to Bardsey Sound the swifter the current and the greater the swell, paddling here really gives an enhanced feeling of being at the end! Tidal streams are swift in the sound, I've heard that this is not the place to be on a windy day, on this fine morning the progress was easy and quick and it wasn't long before we were enjoying a cool beer and lunch, on the terrace of The Ty Newdd hotel in Aberdaron. After lunch it was time to say farewell to Ray and then on towards Hell's Mouth but not before nipping into the general store for a few more supplies.
It was now down to me and Trevor to complete the journey, so we decided to take it easy and head for Hell's Mouth. We took time to explore small caves and gullies and found some intriguing rock formations. The final mile or two into Hell's mouth was on glassy flat water, the still summer afternoon seemed timeless.
Porth Neigwl (Hell's Mouth)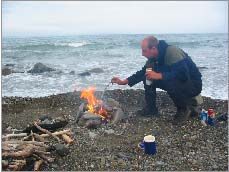 We landed at the western end of the bay near to a boathouse used by local fishermen. As it was low water we left our boats and went on foot to find a good camping spot. There is a very scenic campsite at Treheli Farm run by Mr & Mrs Williams who are delightfully helpful and really laid back; they allowed us to use one of their lower fields. We pitched our tents, then waited until high water to bring our kayaks from the boathouse.
The Area around Hell's Mouth and the village of Rhiw is well worth exploring. Plas Yn Rhiw is an old house with ornamental gardens and an arboretum. The village post office is charmingly old fashioned and the crags that dominate the area give Phenomenal views across the whole of the Lleyn. Trevor and me spent most of the following day exploring before descending to the beach to collect driftwood in preparation for a long pleasant evening by the fire.

Round to the South Lleyn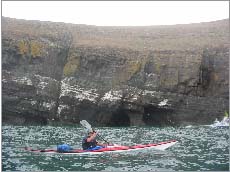 Our last morning began with setting a bearing for the far headland Trwyn Cilan. It takes over an hour to paddle the whole width of the bay; the morning mist and slight drizzle made it seem longer. Upon arrival at Cilan I was amazed at the enormity of the place and so full of life. We saw Porpoises, Seals and thousands of seabirds. Paddling on we passed Porth Ceiriad, which is as popular with surfers as Hell's mouth. St Tudwals Road with the islands of the same name led us neatly to Abersoch. We were definitely winding down towards the end of our journey as we sat by the harbour eating pie and chips from the take away in the town. Just across the water is Trwyn Llanbedrog and our finish on the other side.
Llanbedrog is a pleasant place to end a trip because there is pleasant café/restaurant to wind down and wait for the shuttle. Although we had finished a couple of miles short of our original target, Pwllheli, the journey was complete. We had enjoyed the warmth, suffered the harshness and mingled with the people of Anglesey and the Lleyn by kayak.
I'd like to express my thanks to: Brian and Sarah for their help and hospitality; Ieuan & Megan Williams at Treheli Farm Campsite for their support and to Trevor, Dave, Ray and Emyr for their company on the trip.
Words by Jim Krawiecki, photos by Trevor Shepherd and Jim Krawiecki.