An introduction to sea kayaking ~ Part 2 ~ a weekend in the Sound of Arisaig!
Helen McKenna, June 2004
Ok – since my first report I've been out a few more times – this is mainly due to the fact that Tim invested in a new boat and his old boat (a Sea King) is on long term loan to the Club – unfortunately there is no room in the Club Shed so it is having to live in my garage!! Very handy and a fact I tend to keep very quiet!
Anyway – I've been out about 3 or 4 times in slightly better conditions than my first sea paddling trip! The next step was a sea paddling weekend. When Mike emailed with details of a wee weekend trip Cathy was devising round the Sound of Arisaig area I was all for it. I should add here that the last time I went away with Mike and Co it was November and they hired a luxury mobile caravan complete with double glazing, heating and all mod cons! Kitchen included – but the less said about that the better (puts Mike in a very MCP light!!) In all fairness they did try and tell me that it wasn't always like that but I didn't believe them!
Ok – back to the weekend! No luxury caravan! Mike pointed out I would need a tent and other campingy type things. I camp out every few years and usually swear I'll never do it again! Loch Ken in the pouring rain and Tyne Tour one November! Enough said! Thursday saw me in Argos checking out tents – I bought a lovely wee tent – green it was – for £20 which palled into insignificance beside Mike's palatial 4 man job! Anyway – as I'm not the most practical of people I decided I'd better try and put it up so Thursday evening saw me giving it a go in the back garden. Very straightforward – not a problem – nothing to this camping lark is there! Except it was light!
By the time we reached Arisaig, after 5 ½ hours on the road, met up with Kathy who had come over from Newcastle earlier that day, and had had a few drinks in the pub, it was dark by the time we reached the campsite ('The Croft' at Back of Keppoch). Just meant it took slightly longer to put up my tent and get organised. Good pub though, just before the site, Internet access is a wonderful thing and Mike and Cathy seemed to spend hours looking at some swirly stuff they said was a "weather forecast" – Saturday and Sunday should be ok, but Monday wasn't! North Easterly force 6 was mentioned.
Saturday dawned bright and sunny and we got our first look at the glorious white sandy beaches that are typical of the area. We had decided that we would head up the coast – towards Mallaig for a while and then come back down and look around some of the wee islets dotted about the Sound of Arisaig. First though there were the kayaks to pack! How difficult can it be for goodness sake! Mike, Cathy and Kathy have all done this before but it was a huge learning experience for me. For a start the Sea King's hatches are not very big and my sleeping bag did not want to fit in. After much faffing around and a lot of experimentation I eventually managed to fit it into a dry bag and had to put it in the cockpit – NOT ideal – so obviously I now need a new sleeping bag – one that will fit!
After a lesson in packing from Cathy and Mike I eventually managed to fit everything in. There – ready to set off – but wait a minute – where was the sea? Hand me the binoculars someone! Ahh – yes – there it was. Hmmm – heavy loaded kayaks – big expanse of sand – this was going to be hard work! Luckily Mike had bought the wheels! (love you Mike!)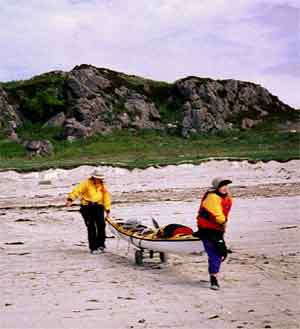 Team work!
On the water at last! What a perfect day – we headed off in the direction of Mallaig and after ¾ of an hour found a beautiful white sandy beach on which to have a wee stop and a bite to eat – this is a laid back – go with the flow weekend – so I am led to believe! Am obviously not ready for solo sea paddling yet as I need help to put my spray deck on – well – it is tight – and you wouldn't want me to break my nails would you?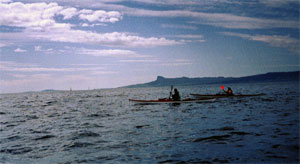 The ladies on the water.
We set back off – down the way towards the wee islands opposite Arisaig – I was very disappointed that I hadn't seen any seals yet. Ooops – spoke to soon – 'They're behind you' says Mike. Sure enough the wee darlin's had popped up behind me. The first of many! They are just so cute – and those puppy dog eyes do it for me every time. I couldn't get enough of them – however, old sea dog Mike is not impressed unless they are somersaulting while juggling fire balls! There is much to be said for naivety!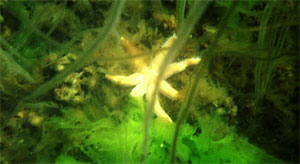 Ok, not a seal, but a nice wee beastie anyway.
OK – what we need now is a camp site! 23k paddling and I am starting to get tired (Ok – am pathetic female – no stamina!). We round a corner and WOW – the perfect site. White sandy beaches, azure seas, flat ground to camp, driftwood on beach, island with a stone age fort opposite. Just perfect. In fact Cathy says I was spoiled and it's not always like this!!! Can't believe that! The perfect end to a perfect day! A driftwood campfire, wee dram and good company. Oh yes – and the ceremonial burning of my Take a Break magazine (NOT before I got some incriminating photos though! – watch out for Mikes piccie in the mag – fee (if published – NO – strike that – WHEN published) will be donated to next trip fund – prob bottle of malt whisky!). Who wants to paddle with us?
| | | |
| --- | --- | --- |
| | | |
| Does it get any better? Probably not. | Looking South over the Sound of Arisaig - on my first ever sea-kayaking camp! | There is a kayak in there, somewhere. |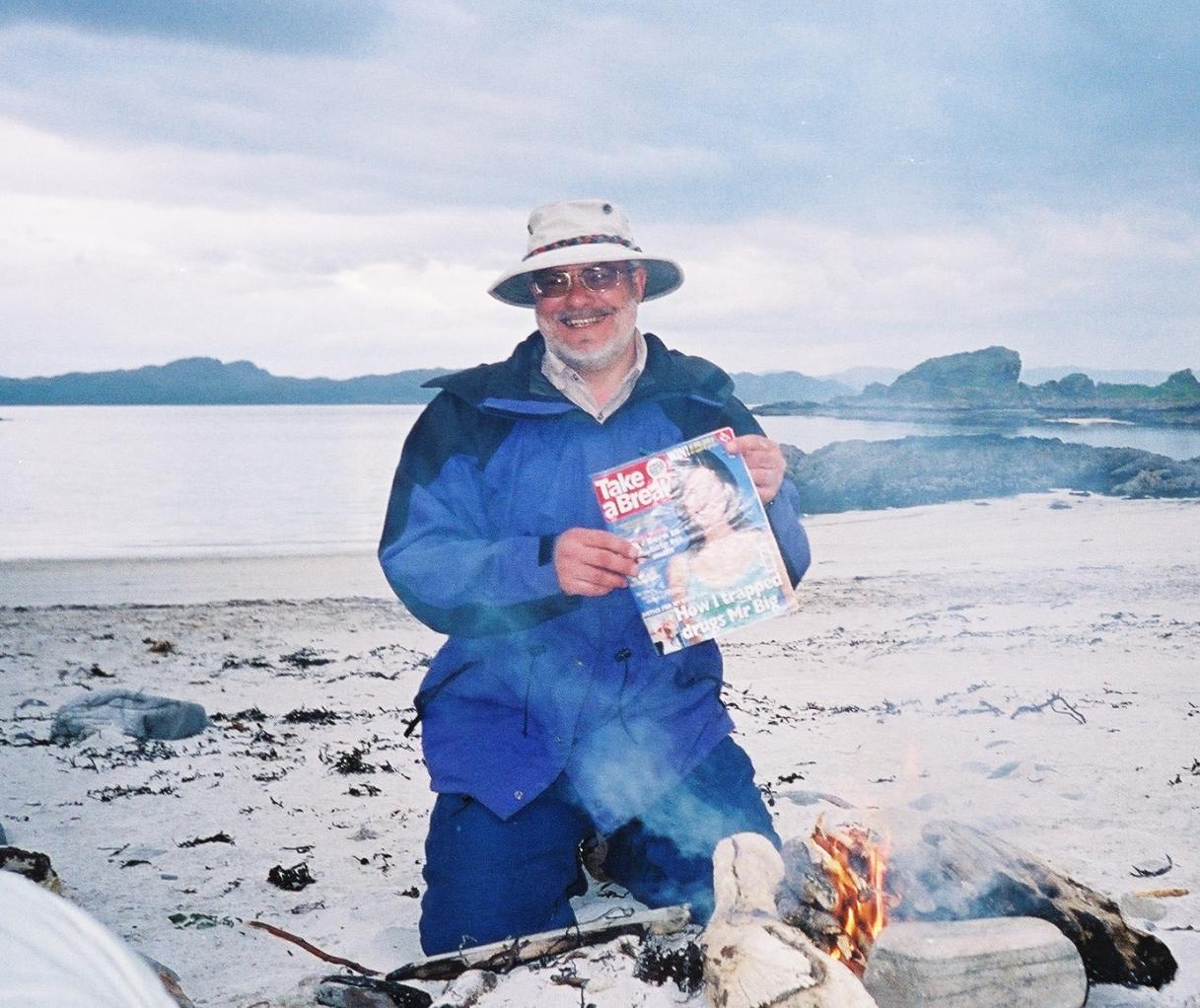 Intellectual reading material for Mike - the things he'll do for money.
(Site of stone-age fort in the background, over his left shoulder.)
Idyllic setting it must be said. We wake in the morning to 'RAIN'. Luckily a passing shower. Breakfast – packing and … we set off. Hmmmm … conditions are not quite so favourable as yesterday. Wind is up! Waves are sidey ony! NOT good for me! I don't like it! After pep talk from Cathy, Kathy and Mike I feel OK to continue. Not comfortable BUT we find a nice wee beach for lunch – take a wee visit to Prince Charlies Cave – found it eventually! Very compact and scary! Mike volunteered to do 'boat watch', otherwise known as "extreme lounging", and seemingly involved much lying in the sun. Tide was incoming! Also found a nice wee Roman Fort – fantastic views.
Decided to paddle round the headland to Loch Ailort and camp overnight – weather forecast on the VHS was not good for next day. Gale force warning … Mike did not want to be anywhere exposed that we could not get out of. Some big swells going into Loch Ailort – once there quite calm. After a wee recce found a nice island with a beach we could camp on. Bit midgey! Need a midge net!!!! But OK! The mussels we found in a rock pool were OK too once they had been steamed for a minute or so, and if the big bloke didn't snore so loudly, it would have been a peaceful night.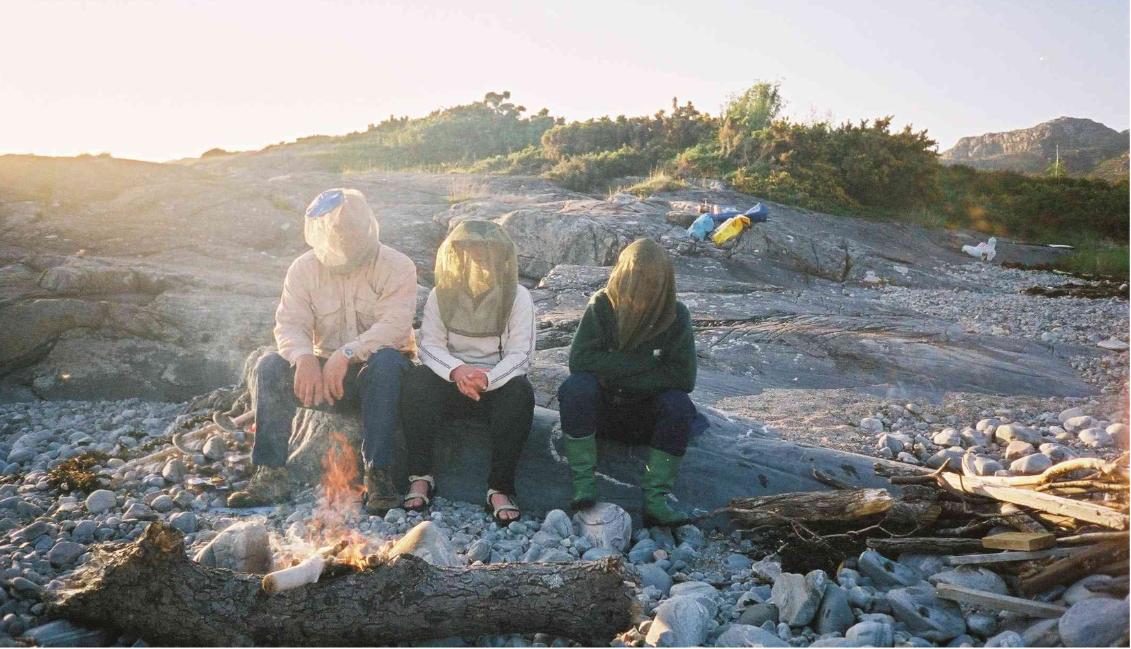 Mike, Kathy & Cathy - on an island in Loch Ailort - either that, or three Martians - - - -
The gale never materialised - morning forecast on the VHF made no mention of it, and suggested sunshine and force 2 to 3 was the order of the day. Typical! Newcastle Kathy took the opportunity to paddle back to Arisaig – she had several more days holiday – Mike, Cathy and I took the head of the Loch option and paddled off in search of a get out point and a lift back to civilisation and the car.
Cathy and I hitched on the basis that we had some chance of getting a lift, whereas the bearded one had none! He volunteered to do boat watch (or more extreme lounging). Took us half an hour to get one! We probably weren't looking our best after 2 days wilderness camping! An aging hippie in a 4x4 with Pink Floyd blasting out took pity on us!!!!! That was another experience entirely! Learned a few hitch-hiking tips – thanks Cathy! Managed to get back to campsite – think we were ripped off there! It cost £5 for the 3 of us for a night! Very expensive!
Anyway – what can I say – fantastic weekend – great company – good craic – AND a couple of driftwood fires. Will take some beating!
Ta Mike, Cathy and Kathy …
Adieu … I'll be back … this sea kayaking lark is addictive. Till the next time
(Part 1 of Helen's introduction to sea kayaking is here)
© Helen McKenna - 2004.