A Ring of Bright Water Beckons – Easter 2005
Helen McKenna - 2005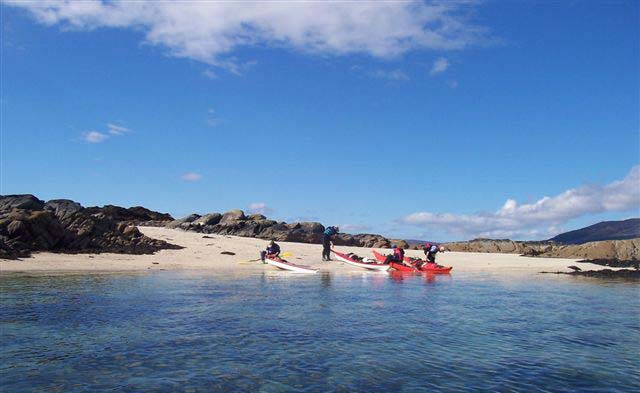 Landing on the Sandaigs
Easter! It seemed so far away in February when we were planning the trip - sat in a cosy pub snug, log fire burning, maps on the table, tide timetables printed out and a laptop loaded with Memory Map. A decision as to the general area we would be paddling was reached fairly quickly – the exact details were left open to allow for adverse weather window conditions – one of the problems of sea paddling in the UK! However, we felt we were prepared for all contingencies – by starting from Dornie, we had sheltered paddling options and, should the weather be more amenable we had a sort of plan. (Hmmmm – I know it doesn't sound very organised – but it was – really!).
The 'sort of plan' involved paddling from Dornie through Kyle Rhea and down to the Sandaig Islands where we planned to camp. This is where Gavin Maxwell wrote 'A Ring of Bright Water'. Once there we could see what the weather was going to be doing and plan the days paddling accordingly.
The group of paddlers included Mike, Tim, Les, Cathy, Dave and myself. This was to be my second longer sea kayak camping trip – the first one being to Arisaig last year. I was going to be paddling the Feathercraft with my partner Dave this time – we've only had the boat since December so we've only packed it for day trips – although we've managed a fair few of those throughout the winter.
We'd all planned to meet at Dornie on the Thursday night and set off at about 10ish so that we made the narrows at Kyle Rhea on the outgoing tide. Tide was due to turn at 1230 so we needed to be through by then. What could be simpler!
Mike, Les, Tim and Cathy made the campsite at Dornie Ok but I hadn't factored a 'Domestic Emergency' into my planning schedule! All I can say is thank goodness for paddling pals! Rab rushed to the rescue (after prioritising and going paddling first that was!) when all the electrics in the house fused and a loud bang was heard coming from the direction of the kitchen. The cause of the problem was soon identified (someone had recently put up cup hooks in the kitchen and they had gone through the electric cable causing a short!). Dave says it was an accident!
Time was now getting on and we made the decision to get up early and travel up the next morning. Great plan at the time – not so good at 0330 in the morning when you have to put said plan into action! On the plus side there was very little traffic on the road and we made good time – on the minus side Dave arrived shattered having had to drive up. We arrived at 0915, met up with the others and set about packing the boat. We eventually got on the water at about 1045 and ended up sprinting across the bay to get to Kyle Rhea before the tide turned. We made it with minutes to spare and were barely through the channel before the tide turned. Most of us were shattered now but lunch at Glenelg beckoned so we pushed ourselves that extra bit and stopped for lunch. Apparently Glenelg boasts a nice pub, however we were destined not to visit it on this trip! Oh well – there's always next time.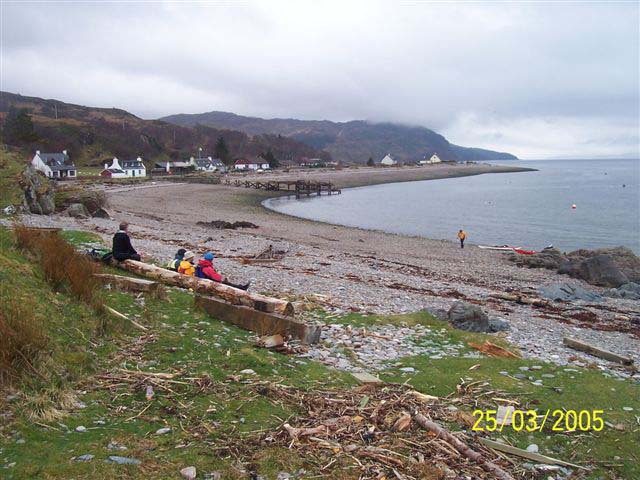 Lunch stop at Glenelg
Refreshed we set off for our base for the night – the Sandaig Islands. Wind was blowing up the loch and yes … we were headed down it – into wind and against the tide! That was the story the whole weekend – it didn't matter what direction we decided to travel in! Wind against tide all weekend.
It was a relief to round the headland and see our destination in sight. Making for a white sandy beach with a grassy knoll on top we beached the boats and set about the task of picking the best camping spot and pitching camp. Maybe Mike, Dave and myself were being a bit oversensitive but we got a bit upset when the others walked to the other end of the island to pitch their tents. (OK – in all fairness the island wasn't very big at all and mutterings of 'getting a good nights sleep' were distinctly heard from a couple of members of the group – they must have been referring to Mike and Dave's snoring cause I'm sure I don't snore!).
After putting the tents up we explored the island and collected driftwood for the fire. People drifted off to do their own thing before meeting round the campfire to break out the wine/whisky/beer and plan the following days paddle. Drink flowed freely (too freely in my case!). I woke the next morning to a wee hangover (ouch!)!
| | |
| --- | --- |
| | |
| Looking back towards Kyle Rhea | A general view of the Island |
| | |
| Skye in the background, looking towards Ornsay | Same view, the previous evening. |
Saturday saw us head off into Loch Hourn. Paddling with a hangover is not fun, or recommended and I received very little sympathy. Thanks for the hug Cathy and the Lucuzade Les! We stopped for lunch on a wee island – lovely views of Knoydart surrounded us and, had it not been for the wind, it would have been perfect. Refreshed (I was almost feeling normal by this time) we set off up the Loch to Arnisdale (half way up the Loch) where Dave assured us there was a tea shop at the very end of the road (and civilisation as we knew it!). Everyone was very sceptical – even more so when we arrived to a few houses dotted about and what looked like a barn and derelict buildings at the end of the road. Dave went up to see if it was open and, surprise, surprise, it was! It was the first day of the season.
| | |
| --- | --- |
| | |
| The "Tea Shack" at Corran - rather nice in reality! | Dave with Beinn Sgritheall in the background |
Boats were abandoned on the shingle and we made our way up to the tea shop (literally a wee hut attached to a house). Home made goodies temped us and we were soon sat in the garden eating/drinking and keeping one eye on the tide that was incoming at an alarming rate! Suddenly Dave jumped up and started to run down to the shore. Tim's boat had decided to take a wee trip of it's own – minus Tim! Luckily Dave mounted a rescue and the boat was recovered none the worse for wear. This was obviously the cue to start the paddle back to the island where we'd left Cathy resting. The Loch was a bit bumpy but we managed to catch a fair few surf waves. Even so it still took quite a bit of time to get back to the island.
That evening the wind picked up and it was decided that Sunday would be spent heading back up towards Dornie, camping there overnight. An early night beckoned for the group as not only were we all shattered but it was also very cold and windy!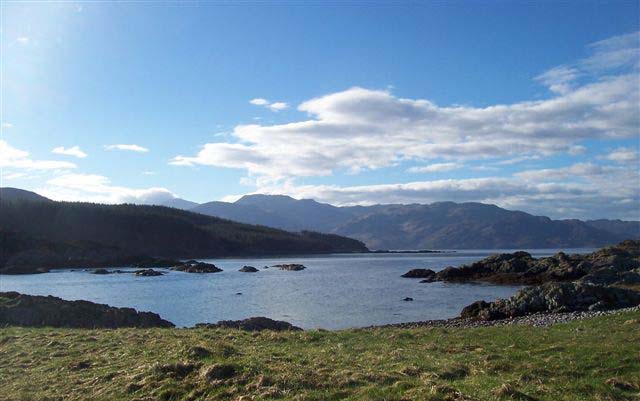 View towards Loch Hourne, from the Sandaigs.
Sunday dawned and, as I peeked out of the tent to survey the weather, I saw an otter running along the opposite shore. I ummm .. alerted others to this fact by shouting quite loudly 'there's an otter'. Les managed to spot it too before it ran off in the direction of the rocks. I'm ashamed to admit it but I've never read 'A Ring of Bright Water'. However, I intend to remedy that very soon as, on my return home, I managed to find a copy on Ebay and have promptly bought it! Otter gone my gaze shifted to the water. Yes – it was still windy and the water was looking bumpy. This was going to be a long, hard slog back!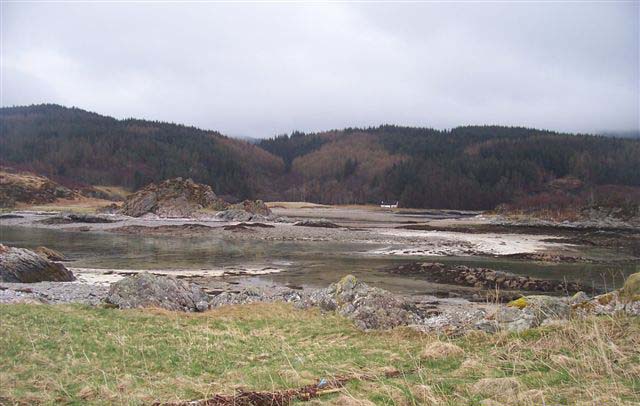 Looking over to the mainland, where Gavin Maxwell's cottage used to be.
It wasn't long before all signs of habitation had been removed and loaded boats littered the water. As always time was an important factor in the calculations. We had hoped to be on the water at 10.00 but in fact it was nearer 11.00 (this would have been achievable if someone hadn't decided that we all got an hour less in bed today – yes BST begins!). I wasn't at all surprised to find that the tide was going out and the wind was against us for the return trip. It was bumpy and very hard work. Dave and I had a slight advantage as there were 2 of us paddling. We've managed to get into a good rhythm and the boat fairly flies (just wait until it has the sailing rig up!).
The thought of lunch at the pub at Glenelg kept me and some of the others going, however, on our arrival Les informed us that the Kyle Rhea would be starting to run at 1430 and we could only afford a quick snack before setting off again. There was a bit of a discussion and the upshot of it was we had a quick snack and set back off again! Dave did manage to make it to the pub for ciggies where he met up with Claire who had come down to find us on Saturday morning. She had emailed me through the UKSKGB on finding out that we were going to be in the area – she'd rented a cottage there. It was nice to put a name to a face – sea kayakers are lovely people.
By the time we set off again the wind had dropped slightly and we wondered what all the fuss had been about. We made it through the narrows with no trouble, however an overfall had started to form at the entrance. We pulled into the bay for a proper rest before the final leg over to Dornie.
Wind had got up again when we decided to set back off and Loch became bumpy. Things were fine until we got to the island and had to cross another set of narrows. Tide race down narrows, wind up! Hope you're all getting the picture now! Les disappeared off to 'play'! I was fine until I saw him 'disappear' down a swell and realised that it was very bumpy out there. Told Dave I wasn't going across and was told in no uncertain terms that I didn't actually have a choice! By this time Les and Mike were bouncing up and down in the race.
Cathy and Tim were close by. It probably wasn't the best of times to fall out with Dave but fall out we did! He accused me of not having paddled all weekend and I took exception to the fact – after all I had the muscles and the blisters to prove it! We were all tired and paddling for 20 minutes in confused bumpy water and making only 20ft did not help matters! Eventually we made it to the other side and edged down the side of the coast, round the headland and into the bay. Dornie was in sight. Considering it looked so near it took us forever to get there.
Boats were carried up the beach quickly, unpacked and tents put up. Yes – we were all tired – but Dornie has a pub and we'd decided to treat ourselves to some much needed TLC after paddling wind against tide all weekend!
Good food, beer, live music and great company and craic – what more could we ask for.
Monday dawned – cold and windy. Mike, Tim, Dave and myself had had enough of wind against tide for one weekend and decided not to paddle. Cathy and Les thought about it – but eventually decided not to as well – so it was off to Eilean Donan Castle for coffee and the obligatory tourist piccie and then … home.
A magic weekend – thanks everyone.
Helen McKenna – 2005