Red Sky at Night!
Helen McKenna - May, 2005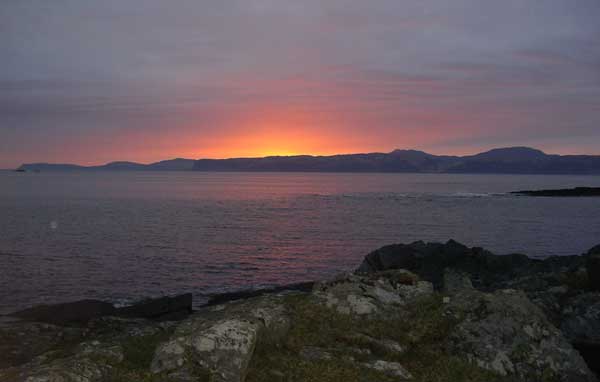 Another long weekend – another decision as to where we were going to paddle – weather permitting. This time there was only Dave and myself going as everyone else seemed to have commitments. Still this wasn't a problem – no time restrictions – we could just go with the flow.
We'd decided that we'd head for the Oban area – loads of options there. What we did once we got there would depend on the weather. Obviously we'd been keeping an eye on the forecast in the week leading up to the trip – but I kept getting varying reports. Monday's forecast said it was going to be windy, wet and miserable. Dave checked on Tuesday and there seemed to be a 'high' over our intended paddling area by the weekend, Wednesday the promised 'high' seemed to have disappeared. Thursday predicted changeable weather, Friday it was just miserable and rained! Weather forecasts – don't you just love em!
Saturday dawned – clear blue skies and little wind (well in Dumfries anyway). We had also acquired another paddler as Kathy had phoned looking for paddling pals – we were meeting her at the Divers campsite in Oban at noon! After a good run up we arrived at 1210 – 5 minutes after Kathy. The Puffin Dive Centre were very accommodating and we left two cars there for two nights for the princely sum of £4.
All that was left was to check the weather forecast at the dive centre, pack the boats and head off. Forecast for Saturday was good – when we asked one of the diving instructors for the rest of the weekends weather we were told it would be better tomorrow and same as Saturday on Monday. Looks like we'd found ourselves a nice little weather window.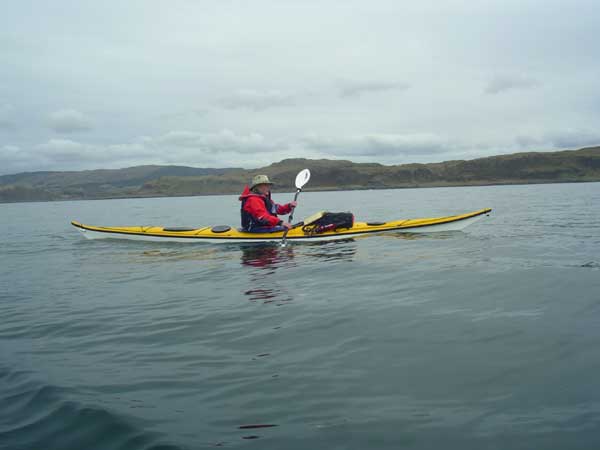 Kathy.
Boats were eventually packed and we headed off south down the Sound of Kerrera. First stop – Easedale for tea and scones. Sea state was flat calm slight cloud cover – life was good. Around the headland just before Easedale (Sound of Insh) the swells started to pick up more – but it was still calm. We hugged the coast and just marvelled at the scenery. After a couple of hours paddling we were more than ready for tea and scones – and they were GOOD! Over refreshments we made the executive decision to head over to the north end of Luing and camp just round the corner from Cuan Point.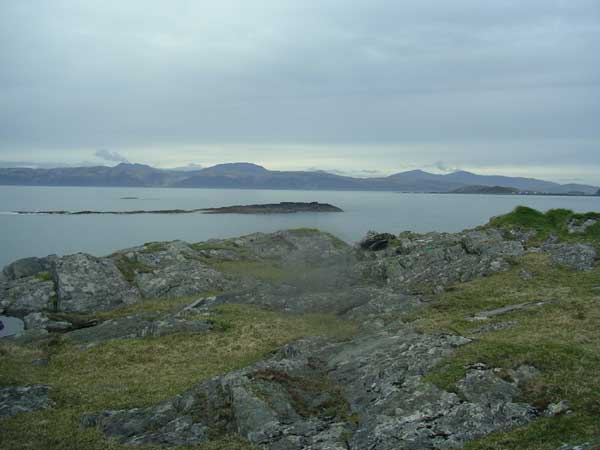 View from the end of Luing towards Mull.
We found a great camp spot – the views were just amazing. There was plenty of wood for a driftwood fire and that, BBQ and wine set the scene for the evening. By now the sun was going down and the sunset spectacular. I knew it would be a good day tomorrow – Red Sky at Night, Shepard's delight. Nothing to this forecasting lark is there!
Hmm … woke on Sunday to the sound of rain – and not just a little bit either – a torrential downpour! This wasn't supposed to happen. We decided to stay in the tent and wait it out – luckily it didn't last long. We got up to a grey, cloudy sky – but on the plus side the sea didn't look too bad. We had planned on going out to the Garvellachs but the weather looked like it might just close in – and Dave and I had to be back at work on Tuesday. Plan B sprang into operation – out past the Fladda Lighthouse, over to Belnahua to look at the slate quarries and then back across to Luing round the coast and over to Shuna to camp.
Boats packed – we set off. The sea looked quite calm – but the current flowing up from the Sound of Luing made for an interesting crossing over to Balnahua and our lunch stop. (I know – not a long paddle – but hey – we were hungry – and it had started to rain!) Dave put the tarp up and we all huddled underneath it. We peeked out at regular intervals to assess the state of the weather! Luckily it proved to be just a passing shower and we looked out just in time to see an otter diving around in the seaweed just in front of us. It played for a few minutes before disappearing – a magical moment. We took the chance to have a wee explore of the island – I told Dave I couldn't have lived there – there weren't any shops!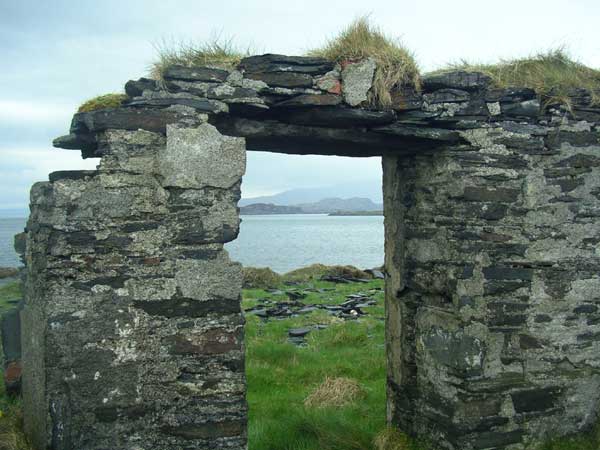 Ruins on Belnahua.
Anyway – time and tide and all that dictated that we made a move – so – off we went. Headed over towards Luing again. Sea was bumpy and confused and a paddle steamer was headed our way – I honestly swear every boat I see is on a collision course with us. I was all for paddling like hell to get out of the way and Dave was getting out the video camera. He muttered something about the Waverly – very nice I'm sure but I was too busy trying to paddle the double by myself to care. It's very difficult paddling a double by yourself! Anyway – next instruction from Dave is to PLH to get out of the way of the wash! I wish he's make up his mind!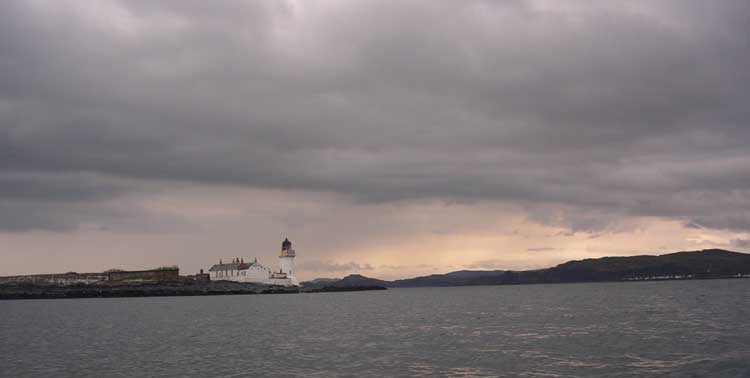 The lighthouse on Fladda.
Anyway – we made it safely over to Luing and continued down the coast. In an effort to make a short cut we tried to get through the channel at the bottom of Luing – but missed the tide window by 15 minutes. A tea stop beckoned and we met up with another couple of paddlers who'd been out to the Garvellachs and back that day.
Things took a turn for the worse when we set back off and rounded the top of Luing into a Force 4+. Hmmm … beam sea, followed by a quartering sea – boat started to corkscrew. I wasn't happy! Normal state of affairs then! Dave told me later he hadn't liked it either!
What I needed was somewhere to land and camp. Everywhere I suggested was rejected. Kathy wanted to head over to Shuna – I wanted to stay this side of Luing – we stopped this side of Luing but there was no driftwood for a fire and land was boggy! On the plus side while waiting for Kathy to catch up I spotted an Otter and sat and watched it for 5 minutes. Off we set again – wind had died a bit by this stage so I was happy to head over to Shuna. There should be a new Olympic Sport called 'campsite hunting'! You wouldn't have thought it could be that difficult. Do you 'just make do' or do you go for the 'the perfect spot'!
After a wee bit of … umm … discussion .. we headed down Shuna. We could always camp on Torsa if need be – but heart was set on Shuna. I was getting tired and grouchy by now – Yes – I know it's hard to believe! Luckily we rounded the south end of Shuna to find a wee natural harbour – and signs of other habitation – yes – a group of 6 other paddlers. Of course we gate crashed their party – we were desperate! I just wanted to break open the wine again! Luckily there was plenty of room for everyone – and they were happy to share – although they did get a bit jittery when Dave took the Machette (followed closely by the axe!) out of the boat!. It's OK – I'm a people person – think I reassured them.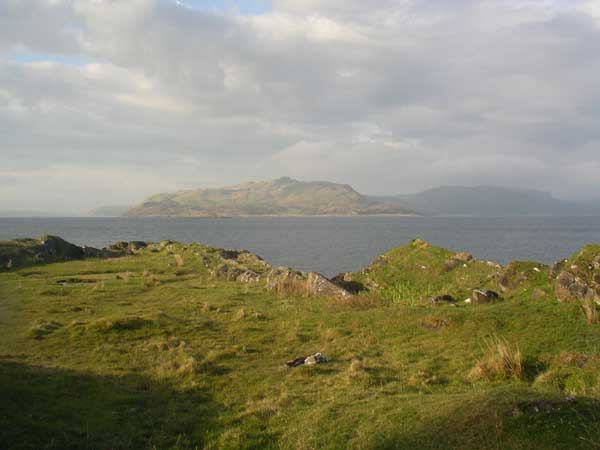 Torsa.
Anyway – we pitched camp – Dave made me tea and then we set about making a camp fire. Had a very sociable evening with the other group – ummm .. wine, whiskey … amnesia! Enough said.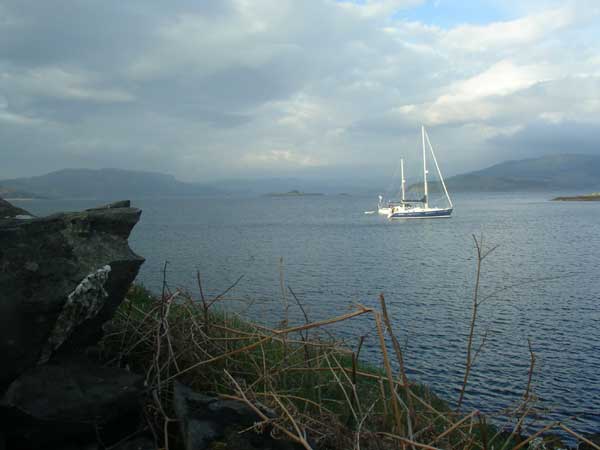 View from the campsite on Shuna.
Next morning … raining! Luckily this was not the order for the rest of the day. It was glorious. So why do we cut things so fine! Needed to be up at Atlantic Bridge by 1330. We made it by the skin of our teeth! Talk about cutting it fine … made Atlantic Bridge about the same time tide turned. LUNCH – at the pub. We had a great paddle back to the Dive centre – am sure that's were I got sunburnt!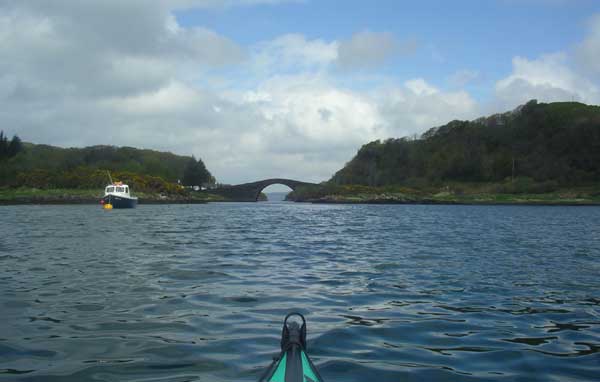 Approaching the Bridge Over the Atlantic.
All in all a great weekend – got home at 2200.
Am thinking about a career change … an internet website with psychic weather predictions – just out of interest how would I stand if I predicted it wrong? What if I just did doom and gloom forecasts? Then I could guarantee getting it right ¾ of the time – maybe more! I could charge vast amounts of money for the service. Maybe something to think about for the future.
Till the next time .. Helen .. signing off - x