More Experiences from an In-experienced Paddler
(Or the Damsel in the Double)
by Helen McKenna
~~
Sunday 30th January 2005
It started with Mike sending a 'Cabin Fever' email. He's been forced to spend a few weeks eating fine food and socialising/networking/training for his new job and was feeling a wee bit confined. Plan for today was to meet at Largs Marina and paddle round Cumbae. OK – we've cracked and left the boat assembled. Dave has been trying to fit the sailing rig – needs some fine tuning before we test that! We manage to load the boat on the roof rack and set off at about 8.00am. Good job Dave has a big car because we've managed to fill it – think perhaps we've gone into overkill mode because we're only going for the day and we're prepared for all contingencies!
We meet up with Mike at 10.00 at Largs Marina – Les and Cecilia are close behind. We battle against the wind to open the car doors and all stand looking at the white capped sea in front of us. Yes – it's windy! We venture a few short steps to peak around the corner and struggle to stay upright! After a wee deliberation we decide that more sheltered water would be a better prospect. But where? We made a surprisingly quick decision – Loch Lomond it is then!
Loch Lomond looks to be a lot calmer – much to my relief. Dave and I still lag behind a bit as although the boat is assembled the seats weren't in place so we had to sort them – we will get organised one day guys – honestly! We decided to head for the islands as they would provide some shelter at least from the wind that was stirring up the water in the centre of the Loch. It was a lovely day – a leisurely paddle and chat seemed to be the order of the day. Mike and Les were obviously having a riveting conversation because all of a sudden Cecilia took off in the direction of the bank to enthuse over blueberry bushes much to the guys consternation. Ah well – better luck next time guys. (There is a wee story there but it's not one I can repeat in public – you'll just have to ask Mike or Les about it when you see them!) Next stop – lunch. We stopped on a sandy beach on one of the islands – life is good.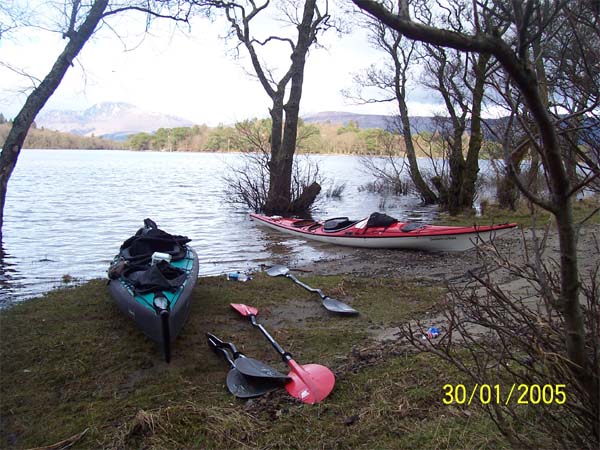 The return journey shouldn't have been a problem. And everything went well until we reached the top of the islands and had to cross an exposed bit of open water over to Luss. The wind was driving the waves down the Loch and the water got quite bumpy. The wind was cold too! However, I had my nice furry hat on to keep me warm! The source of much amusement that was! Les spent a good 10 minutes playing in the bumpy stuff. Now things were fine until we got half way across to Luss and the wind started to gust from the west.
Now we have waves coming down the Loch and gusty gales coming across – they cancel each other out and the water flattens out a bit. OK – no waves to contend with – however, the wind is something else. Both Dave and I were paddling the double and getting nowhere! I was holding onto my paddle for dear life. It took us forever to reach the shore, and safety! Once back on dry land I could relax. I switched off – until I heard the conversation between Mike and Dave – Force 7! OK – it was only for a very short while – and it was certainly an experience – not one I want to repeat in a hurry though!
Next stop – tea and cakes – then home. Thanks guys – another great trip.
Sunday 6th February 2005
A good weather forecast and a few paddling friends – what more could a girl ask for! We're getting really good at this decision making lark and arrange to meet at Rockcliff for a wee paddle out around Heston Island and up the coast. Dave and I met up with Mike and Cathy at 10.00. Tide was in – sea was flat calm – all was well in the world. Dave and I were, as usual lagging behind somewhat. We really must try and be more organised. We had to sprint to catch up with Mike and Cathy who were specs in the distance.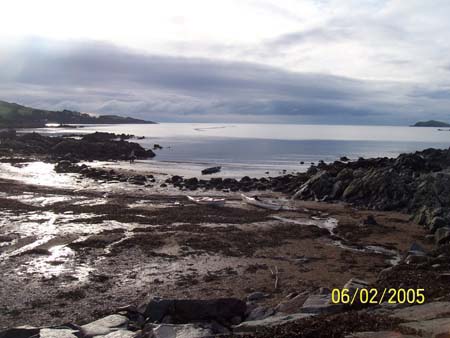 Now anyone who's done this paddle knows just how pretty it is around the Rockcliff area. Plenty of interest for sea kayaks, caves to explore, rock hopping etc. We set a fair pace along the coast stopping at intervals to poke our noses into caves. The sea was flattish and I was enjoying the trip.
Scary caves (well, not that scary!)
Lunch! We stopped on a small rocky beach with boulders of granite hewn into different shapes by the action of the sea. Cathy and I added to our pebble collection. We found some amazing coloured ones. At the minute I can remember where each and every pebble is from but Mike assures us we'll soon get to a stage when we can't remember. I have plans for my collection and I think Cathy is going to do something Andy Goldsworthy in her front garden. She'll need some more pebbles for that though so we'll obviously have to do a lot more sea kayaking!
Pretty beaches - complete with seat shaped rocks and smooooooth peebles.
Refreshed and keen to explore more we head off again along the coast. Soon it's time to head back. Hmmm …. Wind against tide again! Those words are the bain of my life! It was a wee bit gusty here and there but nothing I couldn't handle. We caught up with Mike just in time to see a sea otter diving down into the water – another first for me. On the way out I thought I saw some puffins – OK – Ornithology isn't my mastermind subject. I was soon put right – they were oyster catchers. I remember muttering something about orange beaks and was told that puffins beaks drop off during winter. Poor birds – how on earth do they survive if they can't eat. Anyway – enough of the nature lesson.
We soon saw Rockcliff … and then the reason we don't paddle out of there often came flooding back! The tide goes out a long, long way! And we arrived back at the bottom of the tide. A mile long walk back over sinky mud pulling a heavy kayak is not my idea of fun – or anyone else's for that matter. It took us an hour to get back up the beach!
A nice 1.6 km walk to get back to the car! Don't try this trip unless you have wheels or come back on the top of the tide!!!
I certainly knew I'd been for a paddle that day – Don't know about Mike and Cathy but Dave and I were exhausted! Good day though – Thanks guys/girls.
The full pic set (with a couple of extras) is here.
Helen McKenna - Feb 2005