Jura & the Corryvreckan ~ tales and legends from an Easter Expedition in 2004
Story - Mike Buckley
Pictures - Tim Dawson, Rob McKenna & Mike Buckley
Jura is FANTASTIC, truly stunning! It lies off the West coast of the Scottish mainland, with Islay to it's South West and Mull to the North. The general area contains some of the finest sea-paddling in Scotland and also some of the most ferocious tidal streams to be found anywhere in the world, notably in the Corryvreckan. There are decent flows in The Grey Dog, Cuan Sound and in the Sounds of Jura & Luing. But don't let that put you off as they can all work to your advantage - do be careful of the Corry though.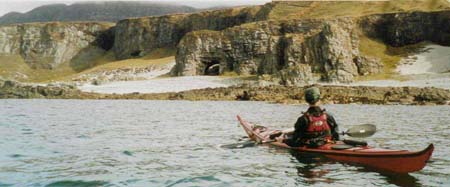 Spectacular scenery on Jura's West coast.
Jura itself is mountainous, boggy and beautiful. It's an ancient landscape, with standing stones, deer and one or two midges (in season). It also has a lot of ticks and a very nice malt whisky.
This is the tale of an Easter outing, in 2004. A tale of stunning scenery - a tale of legend - and a tale of some great paddling.
To understand the area, this reading list will help:
OS Land Ranger maps - 55 Lochgilphead & Loch Awe and 61 Jura & Colonsay.
Admiralty Charts - SC 2326 Loch Crinan to the Firth of Lorne / SC 2169 Approaches to the Firth of Lorne
Admiralty Tidal Stream Atlas - NP 218
The Yachtsman's Pilot, Clyde to Colonsay, Martin Lawrence.
Scottish West Coast Pilot, Mark Brackenby.
Clyde Cruising Club Sailing Directions West Coast of Scotland.
The Scottish Islands, Hamish Haswell-Smith
Tidal constants with respect to Oban:
Sound of Jura: flood (north flowing) +05:45 Oban; ebb (south flowing) -00:15 Oban. Rate is 3-4 knots in the central region of the Sound between Skervuile and Ruadh Sgeir.
Gulf of Corryvreckan: flood (west flowing) +04:30 Oban at springs, +05:15 Oban at neaps; ebb (east flowing) -01:45 Oban at springs, -01:00 Oban at neaps. Rate is 8+ knots.
UK Hydrographic Office website (links in the Almanac) provides tide information, as does Laver's "Greenock Oban & West Scotland Tide Tables". The timings for the Corry are critical to success.
I'd strongly suggest you have a look at the discussions linked from the "Local Info and Community Discussions" section of the Sea Trips - Scotland page where you'll find advice and comment about tidal conditions in the Corry, and also links to other trips in the area. Douglas Wilcox has transited the Corry many times, and this article on his blog will also be helpful.
Campsite locations you'll have to work out for yourself! There are lots of good spots along the coast of Jura and on Scarba. Please tread lightly.
Coastguard / weather
Our Coastguard friends like to know you're out there and also provide weather updates at regular times on marine VHF. Contact by phone on 01475 729988 or VHF on Ch16, although there are coverage gaps, as outlined later, and neither VHF nor mobile can be relied on, as with all remote areas.
MSI / Weather: See here for broadcast times
Other useful contacts
Duncan, who runs Farsein Cruises can be contacted on 07880 714165 - as he provided us with water-taxi services on this trip he allowed us to leave cars by his private pier. (Please note that this was a favour as customers and it would be politic not to abuse the privilege.)
Oban has an excellent chandlers and various outdoor shops. The marina at Croabh Haven aren't amenable to kayaks being launched from there. Some basic camping is available on the Lunga Estate - 01852 500531 - and they have been known to allow a few cars to be left nearby.
The Lord of the Isles pub at the marina offers very good food, beer and a warm welcome. They sometimes have live music of an evening. There is a nice wee coffee shop in the village. The Loch Melfort Hotel also provides excellent food and good beer and is a couple of miles up the road towards Oban.
Petrol is hard to find in the area - fuel at Lochgilphead or Oban as there's nothing in between although there is a pump at the hotel/pub at the Bridge Over the Atlantic if you are going that way to Easdale.
The Isle of Jura website has a lot of information about the island, including several thousand images! Well worth a look. (Thanks to Tony Page for the link).
One final note - be careful on the roads in the area, especially in the wet! The road north from Lochgilphead gets very twisty and there are some sharp bends and negative cambers which can catch you out! The road south from Oban has a bad reputation as well and when we were there again in September there was a nasty head-on near Arduaine and apparently there had been another one the previous week.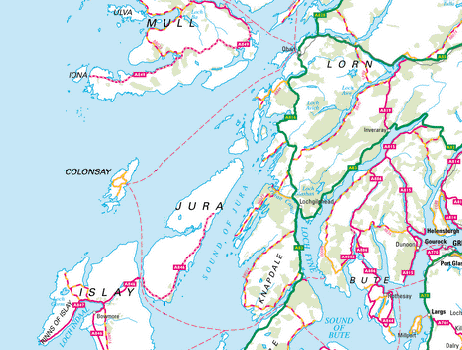 General map of the area - the red dotted lines are ferry routes, not our trip! Click the map to go to Multimap.
---
It was a very mixed bag of paddlers who took part. Rob and his fiancée Jenny - a charming lady from Arizona on her first ever proper kayak trip (although we gather the "proposal" was made on an island on Loch Lomond, so in reality she'd been in a kayak at least once before), they were paddling a Calypso double on this trip although Rob usually flies a Jubilee Nordkapp; Kathy from Newcastle in a Valley Skerry; Tim from Dumfries, in his Valley Nordkapp and myself, a P&H Quest paddler, also from Dumfries.
(Thinking about the "happy couple" for a moment, one wonders who was the bravest? Rob for taking her on what was planned as a 5 day expedition round Jura and the immediate area, she being a native of a state where the only water comes from a tap. Or was it Jenny, for accepting the challenge so bravely and going away with a trio of total strangers and her beloved, at Easter, in Scotland, in one of them thar Eskimo kayaks?)
Liking our home comforts, we started in an appropriate manner by staying in a B&B near Arduanie where there is a good pub close by at Craobh Haven and as we wanted to finish the trip back at Craobh, we'd booked one of the local tourist boats as a water-taxi across to Craighouses at the SE end of Jura. This saved a nasty boring crossing and (more importantly) positioned cars at the "end". This worked out only a little more expensive than using Cal Mac to get to Jura and having to do a shuttle if you don't return to the ferry's departure point, but that was of course split between 5 of us.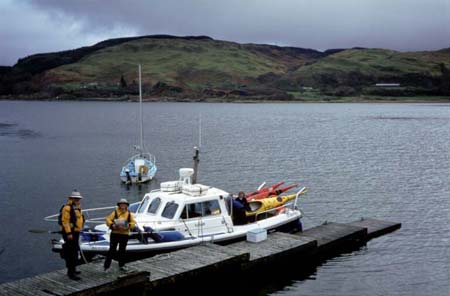 Farsein preparing to leave Craobh Haven, 1 double and 3 singles on board.
Duncan, of Farsein Cruises, operating out of Craobh Haven, is well worth contacting and he knows the area well, so could give us some valuable insight and also (as it turned out) was a great back-up when plans changed. Farsein is fast and comfortable, coped with the double and three singles lashed to the rear deck and could probably handle five or six singles if necessary. He took us over on Thursday morning and the crossing allowed us to celebrate Rob & Jenny's engagement in an appropriate manner. Champagne at 16 knots is rather nice.
| | |
| --- | --- |
| Oooh - scary! Champers at 16 knts. | Jenny & Rob |
Weather on the Thursday was not good (strong NW'ly) so after unloading the boats onto the water from Farsein's stern at Craighouses (there's no slip and the pier is too high to load onto) we land on the beach and decide the hotel is as good a place as any to start the trip proper. A beer and sandwich later, and bemoaning the fact that the distillery is closed, so no guided tour, we had a pleasant afternoon paddle round into the Sound of Islay. The wind and tide made it a bit of a slog but it's a pretty coastline. As the afternoon draws to a close and evening creeps closer we found a campsite with plenty of wood and water. It's lacking shelter from the wind, but we pitch tents and spend a cosy evening round the campfire.
There is no mobile phone or VHF coverage in the Sound so I've no way of getting in touch with Clyde Coastguard for a forecast update - a situation resolved by the passing Cal Mac ferry who very kindly responded to my contact and gave us an update on the weather. We're ok for a few days, but it's not going to be fantastic by Monday.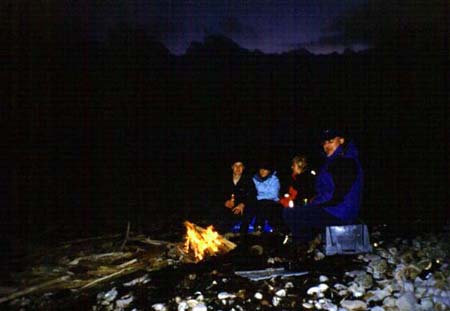 Cosy campfire on a dark night in the Sound of Islay, Jura shore.
Friday saw us heading on through the Sound, against the tide again, with a lunch stop on Islay and a visit to the hotel at Port Askaig (would you believe - is this a pub crawl?) for refreshment. There is a beautifully maintained RNLI life-boat stationed there, together with ample landing although actually getting across the Sound against the tide warrants a bit of work and you'll drop down quite a way before grabbing an eddy on the Islay shore if you don't get the ferry-glide right as you approach the Islay side. Also watch for the Cal Mac as she doesn't have much room to move in these waters on her way to her berth and she's got the size advantage!
By the time we've rested and warmed up with soup and sandwiches, the tide has turned so we launch again, waving to the ferry passengers on their road to the Isles, before carrying on through the Sound under the watchful eye of something large and feathered circling the misty peaks of Jura at a great height. A sea-eagle perhaps - or merely a buzzard? Or was the Witch who guards the Corry checking us out for later?
| | |
| --- | --- |
| Port Askaig on Islay. | Heading North up the Sound of Islay - on the flood. |
Onwards we speed, flying along on the tide now, which is a nice change, quickly turning North round Jura and marveling at the coastline with it's unbelievable features, to overnight in a lovely bay at the entrance to Loch Tarbert. It's a bit breezy, no wood - no water, and a very long slog across the sand to get to the machair seeing as how the water's all gone in the wrong direction again. It's a pretty location none the less. The large and imposing stalking lodge just out of "shot" tells of the sort of folk who normally stay here - deserted when we were there, but perhaps wise to pay due respect to the owners if anyone was in residence. I suspect a boat (or a helicopter?) would give fair warning of habitation so that you could be discrete if necessary. There are plenty of other camp spots in the entrance to the Loch and indeed one walker has got himself into a cosy neuk at the base of the cliffs although exactly how he got there isn't obvious. So far, he's the only person we've seen all day since leaving Port Askaig.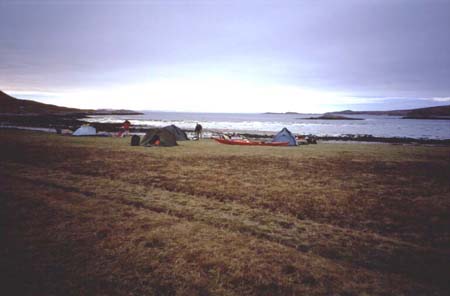 West Loch Tarbert, looking West. Very cold and windy.
Heading into the loch gives us an interesting lesson in the visibility of kayakers - Duncan had been talking about how difficult it was for boatmen to see kayaks, especially in any sort of a sea. He'd like us to carry radar reflectors. Kathy is paddling with Rob and Jenny and Tim and I are a km or so behind. Rob and Jenny are wearing blue cags and can't be seen. We know they are there somewhere as we catch the occasional white flash of a paddle. Kathy however is wearing a bright yellow Knoydart cag which stands out easily. Apparently the color is known as "yum-yum yellow" on the basis that sharks are attracted to it - - - - . Personally I'll take the chance as I've not noticed too many Great Whites out here, but plenty of boats.
That evening Rob and Jenny decided they needed "out" the next day (it was really cold and windy - coming from Arizona only three days earlier probably hadn't helped and Jenny was suffering from the temperature difference - she was wearing every bit of spare clothing she had, and some of Rob's as well apparently). They went up Loch Tarbert on Saturday and portaged across to Sound of Jura from whence Farsein came and got them the next day - ace! Mobile phones are such great inventions. They said the run up was wonderful and the narrows at the head of the Loch were great. The portage across the Tarbert is rough! A trolley job for sure.
Tim, Kathy and I carried on North up the coast on Saturday morning - it is fantastic - but, don't be there if its nasty as it is exposed to the prevailing SW'ly and there isn't much to stop the swell and waves. Landings are limited and the coastline is rocky and rough. The raised beaches are phenomenal and there are sea-arches, cliffs and quite fantastic scenery. Looking at the height of the debris field at the top of the beaches (maybe 10 meters?) gives some idea of what conditions can be like here.
A short day was had as we found a pleasant campsite in the early afternoon and after a wee debate, opted to lie in the sun enjoying life, doing Timotei impressions in the waterfall and generally chilling - just enough wood for the evening fire, a tune on the tin-whistle from Tim, and watching the sun set o'er the islands of the west while enjoying a wee dram takes some beating. There was a price to pay for this, as we shall see later! But patience, dear reader.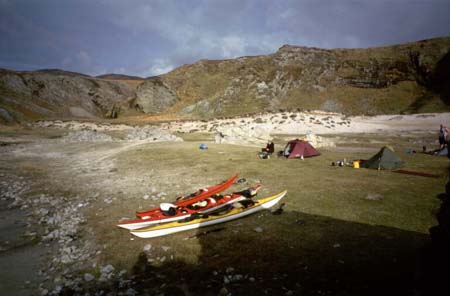 Fabulous campsite on the West of Jura. An early stop and a wonderful afternoon & evening.
Sunday saw us heading up the sound, well out in the middle heading for Scarba - 17 kms open paddling with views of Mull and the Garvellachs providing temptation and thoughts of a detour. It is a wonderful coast and this is deep water paddling at its best - the sun is shining and all is well with the world. There are a few fishing boats around, and a yacht crosses our track but we're the only kayakers and it's nice to be so alone.
Now, our original plan had been to transit the Corry, eddy hopping round Jura and visiting the Bay of Pigs on the way through, but that had assumed we would have been further up the coast when we launched on Sunday, and thus would have been able to get the tide in our favour. Our plans have changed, thanks to that early stop.
So now we are aiming to avoid the Corry by staying well out with the intention being to land on Scarba's NW end and then use the Grey Dog to come home on Monday. Or should we detour to the Garvellachs - they try to lure us across the water, a siren song of delights? The Monday forecast isn't wonderful though, so we are looking for shelter and wanting to be away from the exposed West coast when the weather changes - as it will. With the Corry well on the starboard beam, it seemed a good idea to start to move in a bit towards Scarba but lacking anything to transit from, we found to our slight concern that there is a very nasty race off the SW of Scarba, which sucks you into the Corry. Which wasn't what we wanted, seeing as how we had nearly 3 hours before the bottom of the tide! I can't remember where we were with regards to springs or neaps, but irrespective of that, it was very clear we weren't going to be going up the west side of Scarba.
Beware of it - its not on the chart - if you try this at home, stay well out until well up beside Scarba!! The tidal stream atlas does show it - we found later - ho hum. So we learn the need to plan for all contingencies and not just to study the books at home with only one route in mind. It's calm (which is why we're out here in the first place) with no swell or wind so it's no big deal. We decide to sneak into an eddy and managed to get ashore on the SW tip of Scarba to wait for the tide, rather than battle the flow. Don't count on being able to land though as it is a seriously sharp bit of coast and you wont do it except in calm conditions, even then its far from easy. Getting a loaded double off the water and onto the rocks would have been a struggle and the singles are hard enough to get off the water and away from the fangs of rock and scratchy barnacles which threaten our shiny gel-coat. We wonder how Jenny would have enjoyed crossing the race? Hmmm - great fun - for those of us comfortable in moving water anyway.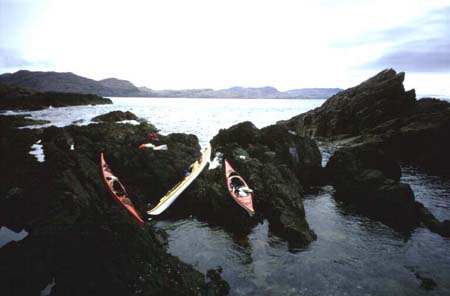 Hauled out on the rocks at the SW end of Scarba, waiting for the tide. View South.
What a superb place to wait out the tide - magnificent views, lots of birds, deer, and lying in the sun made it a pleasant way to kill a few hours. Farsein came through with a boatload of tourists and we had a brief chat with Duncan on the VHF and heard that Rob and Jenny had been safely collected and delivered to Craobh Haven. With an update on the forecast suggesting that staying on the West side really wasn't perhaps the best of ideas, we decided to transit the Corry and when we launched again it was like a fast, wide, bouncy grade 3 river .
But not somewhere to foul up and you do have to get the timings right. There isn't a lot of time between flows (like none!) and the remains of the East going ebb was just right. Being candid, we were lucky - if we hadn't been able to land, we'd have probably had little choice other than to transit the Corry at a less than ideal time and if you're going to do that, only do so with a strong and competent party! Not (all of) us then. A lesson learned.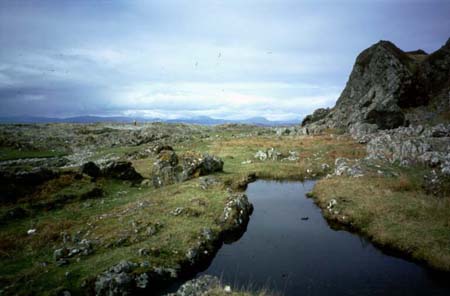 SW end of Scarba, view North toward Mull.
A fast RIB carrying a cluster of orange clad trippers from Easdale hurtles past as we exit the Corry having enjoyed the run through, its paying cargo intent on aquatic thrills in the second largest whirlpool in the world. We've just come through it - how cool is that then? Somehow the place manages to invoke powerful, intimidating sensations, especially from the perspective of a kayak, being so close to the action. It glowers o'er you as it allows you to pass and you do so with respect for the forces at work here. It's starkly beautiful and quite awesome, but with a slightly malevolent feel, even in the sunshine. The wise mariner would do well to heed the stories and tales of the place.
Here's a few of those tales - let us pause for a moment from our paddling adventures.
The local Hag, or Witch ("an Cailleach" in the Gaelic) was reputed to wash her plaids (or her hair, depending on which version of the story you like) in the Corry, hence one interpretation of "Corrievreckan" being the "Speckled Cauldron" and it's a place where it's easy to understand the powers at work in mythology and legend.
~~~~~~~~~
In "The Silver Bough" by F. Marian McNeil we read that 'The Cailleach is the genius (sic) of winter and the enemy of growth. Her chief seat is Ben Nevis. She ushers in winter by washing her great plaid in the whirlpool of Corryvreckan (Coire Bhreacain = the Cauldron of the Plaid). Before the washing, it is said, the roar of a coming tempest is heard by people on the coast for a distance of twenty miles, for a period of three days until the cauldron boils. When the washing is over, the plaid of old Scotland is virgin white.'
This is of course possibly a reference to the enhancement of the whirlpool's roar by the equinoctial gales.
~~~~~~~~~
Legend also tells of one young man who found it's powers would cost him his life - his desire for the hand of a young maiden led him to challenge the Corry, with dreadful and tragic results. For us to follow this tale, we need to travel back in time - to a time when myth and legend mingled with respect for the unknown and where chivalry and honour play a predominant role in life.
We need to suspend reality and forego the knowledge of our modern lives, with our reliance on the wonders of fiberglass, of VHF and mobile phones, of weather forecasts and rescue at the touch of a button. We must go back to a time almost before time and certainly before the time of the monks who settled on the nearby Garvellachs. This is a time of myths and legend, of giants, of dragons and of demons ---
Our journey finds us in Scandinavia, in Norway - exactly where and when is unimportant for we only need to know of a Scandinavian Prince, by name of Breakan. We, as ordinary folk, may not know too much of him, but Breakan is obviously well traveled as he's fallen in love with a Princess of these remote Scottish Islands. Her father has consented to the marriage, on condition that Breakan should show his skill and courage by anchoring his galley for three days and three nights in the great whirlpool of Corrievreckan. Breakan accepted this challenge, for great was his love of the Princess, and he returned to Norway where he had three anchor cables made.
One cable was of hemp, one of wool and one of maidens hair; this being of course from pure, innocent young women. This being believed to be the strongest of all materials from which to craft a reliable cable. (As with all good stories, there are variations on the theme - sometimes the cables are of hemp, flax and maidens hair).
The maiden women of Norway willingly cut off their long hair and plaited the rope for their Prince. It was believed that the purity and innocence of the maidens would give the rope magical strength to withstand the strain. Breakan returned with the ropes and he, his crew and his faithful dog, a massive grey wolfhound, anchored the boat in the whirlpool. On the first day, in strong wind and tide, the hemp rope parted, but by luck and good seamanship they survived the night.
On the second day, the woolen rope parted in a strong wind and a fearsome tide, but again they survived the night.
On the last day they set the cable of maidens hair and all went well until a fierce gale and a spring tide broke the rope.
The boat was sucked under by the currents and Breakan was, tragically, drowned in the terrible waters. A surviving crewman dragged his body ashore and he was buried in a cave, perhaps the cave now know as "Uamh Bhreacain" or "Breakan's Cave" in "Bagh Gleann nam Muc", the "Bay of the Glen of Pigs". When the crewman finally made it home to Norway and told of Breakan's fate, one of the young Norwegian ladies was consumed with guilt, as she was not as pure and innocent as she had made out - and it must have been her hair which weakened the rope! A cautionary tale, if ever there was one.
While the crewman was returning to Norway, Breakan's loyal dog was having his own tribulations - alone, and having eventually managed to swim to land after the boat sank, and not knowing the fate of his master, he ranged across Jura in search of him, his huge paws throwing up the mountains we now see on Jura. Not finding him, he lept the Corry in a mighty bound to search on Scarba. Again, his paws created the hiils of Scarba but not finding his master there, in the twilight of the evening he launched himself across the gap between Scarba and Lunga. Missing his footing on the small island between the two, he fell into the raging tide where he perished in the maelstrom there.
Which is how that particular passage became known as "Bealach a'Choin Ghlais" or "the Pass of the Grey Dog".
And if you doubt my tale, take a look at Lunga - which is flat! Clearly, the Grey Dog never got there!
~~~~~~~~~
In later times, Eric Blair (better known by his pen name of George Orwell), moved to a remote farmhouse called Barnhill, on the northern tip of Jura, where he wrote his epic, "1984". In 1947 he experienced the power of the Corry, nearly drowning when his boat got into difficulty. Many are the tales told of near misses and few who have escaped will tangle with the place again without due respect. Go canny, for the Hag is easily upset and her anger is to be avoided. Today, we understand the geology and the causes of the whirlpool - we can read the tides and use our GPS or our highly detailed maps and charts to find a safe route - personally however I prefer to appease the Hag and seek her favour to allow me to pass. Respect to the ancient lore.
~~~~~~~~~
There is more truth to be found in history - this part of Scotland was home to the ancient Scottish Kings (the Lords of the Isles) and we know the Vikings visited to trade and for other purposes! It is known that many of the Hebridean islands were under Norse control and ruled from the Isle of Man. I believe that the origin of the name Stornoway, on Lewis, is a contraction of the Norse word(s) for "steering oar bay" - which is logical, given that it would be one of the first bays seen from the starboard (steering oar) side of a galley passing Southwards on transit from Norway. The town was founded by Vikings in the early 9th century
~~~~~~~~~
I've also come across a story from Viking times where a local "guide" was pressganged into piloting a fleet of raiding long-ships in the area. He led them into the Corry, whereupon all the galleys were sunk.
~~~~~~~~~
According to the Isle of Jura website, when the cave was excavated in recent times, a stone coffin was found. Was this the coffin of a Prince? No one knows. Another reference to this comes from a blog called LivingMountain.net where W. H. Murray's 'The Hebrides' is mentioned, with a reference to Breacan, a mariner who drowned in the whirlpool.
There are, it seems, a number of legends. In one version he is Irish - in another he is Norse - as in mine. Indeed he may have been a real man. Murray quotes Martin Martin, who wrote in 1695 that the cave contained Breacan's stone, tomb and altar. He goes on to repeat an account by John Campbell, an early Jura schoolmaster, of a stone coffin being exhumed from the floor of the cave, but does caution that, as similar artefacts had been recovered from other caves on Jura's wild west coast, there is not necessarily any link between the coffin and the legend.
We found a stone coffin on one of the beaches we stopped at on the way up the coast.
~~~~~~~~~
Tales of Witches and magic abound in local mythology of course - you decide what you choose to believe, oh brave and fearless mariner. The sea and the islands have been here since before we came, and will still be here long after we have gone.
Just because we can't prove something exists, does that mean it doesn't? And in any event, why spoil a good story with facts?
~~~~~~~~~
Back in the 21st century, snug in our high-tech tents and cosy sleeping bags, cushioned on self inflating airbeds and warmed by fleece, whisk(e)y and good company, and fearing no magic in our technological age, we three know little of the trials and tribulations of centuries old unrequited love (or poor quality rope!) and slumber through the night despite the obvious change in the weather and the rising wind. Is the spirit of the Grey Dog risen from the depths and howling for his master? Or are we just in for what was forecast on the VHF?
Having avoided Breakan's fate in the Corry, we'd come up round Scarba to a sheltered camp on the NE of Scarba for Sunday night. A pleasant spot with ample wood for another evening round the fire watching the lights of Easdale and the reassuring cast of the light on Fladda. Surrounded by Luing cattle who graze the island, we fall into the sleep of the just - and of the very tired!
Monday morning arrived with a significant change to the weather - clearly we've had our fun and now we work for it! Or is the Hag playing with us? We launched into a blustery SW'ly 5 which made crossing the Sound of Luing to the mouth of Loch Melfort just a bit interesting, especially with the tide flooding! And we're struggling into both. Snug in our Knoydart and Kokatak gore-tex, we're protected from the elements but it's still an exercise in fairly extreme and bouncy conditions. Note the lack of pictures here!
Having managed to get round the end of Luing, we recuperate on a wee skerry and tucked into Shuna Sound for a bit of shelter, then crossed Loch Melfort at the top end of Shuna to get back to Craobh. Another "interesting" crossing, but at least we only had a quartering sea and not a full-on beam sea. Cathy said she was a bit scared half way across - I was terrified myself! The crossing was made especially interesting as the local boats just will not give way - and that's despite two of us wearing "yum-yum yellow" cags! I so hate sitting holding station in a big side sea while some fishing boat makes my life difficult as it steadfastly putters past from my port side, oblivious to our need to keep moving if stability is to be maintained and aquatic bat impressions avoided. Those of us with Nordkapps and Skerrys are perhaps a little more vocal in their assessment of the situation but the Quest does the job and I keep breathing air.
There's now an awful lot of air moving around, and paddling is beginning to hurt - is this really water, or treacle? Are we making any progress? Its hard to see sometimes and then suddenly Craobh Haven welcomes us back into its shelter and the trip is over - although the memories will last a while. Duncan ambles down his slip to enquire if we've enjoyed the crossing - maybe we should have called him for a lift, but hey, it was fun. It was very comforting to know he'd monitored our morning call to the Coastguard advising our plans and had even considered calling us to ask if we'd like a pick-up.
If you don't go, you'll never know - Enjoy - but check the weather and the tides and beware the wrath of the Hag. Passing through from the East (going West) demands considerable respect as the mass of water on the West-going flood hits a submerged pinnacle and is forced up from some 120 meters to 30 meters, which is what causes the massive upswelling that creates the standing waves and whirlpools for which the area is famous. However, some research by Scottish Association for Marine Science (Sams) reported in the Herald in December 2012 puts a slightly different interpretation on the cause. This YouTube video provides an interesting 3D perspective of what's going on, and what happens there.
Whatever the cause, there can be some disturbance - mix that with springs, a Westerly swell and wind and you have some serious seas! Get it wrong and you could also end up in the exposed seas outside the relative protection of the islands. Which would be interesting.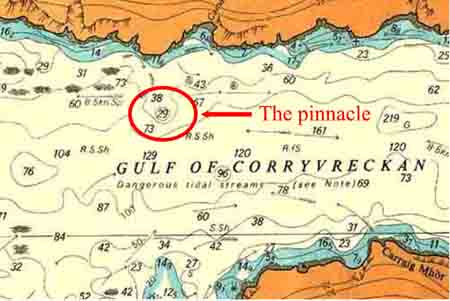 The pinnacle which forms "the Hag" in the Corryvreckan.
I'd strongly suggest you have a look at the discussions linked from the "Local Info and Community Discussions" section of the Sea Trips - Scotland page where you'll find advice and comment about tidal conditions in the Corry, and also links to other trips in the area. There is also a superb website called Whirlpool-scotland.co.uk dedicated to the Corry which is well worth a look. They offer a DVD about it as well as providing a lot of insight into the local myths, legends and tales of this awesome natural phenomenon.
Coming West to East (as we did) on the ebb is less worrying, and staying close to Scarba allows you to grab the eddies if necessary. There are few if any opportunities to land on Scarba though as you come through. Our refuge at the SW is only accessible in calm conditions. There is a bay toward the East end in which you could land and there is also a safe, sheltered bay just round the point on the SE of Scarba where a bothy (private?) stands on the hill. Although I've not been in it, I'm told that the Bay of Pigs on the North of Jura should also offer safe haven.
VHF coverage is non-existent until some way up the West side of Jura, going North. I couldn't get reception until Shian Bay, and then only just got the forecast while standing on top of one of the raised beaches. By Corpach Bay reception was reasonable on the water. Mobiles are not reliable in the Sound of Islay but generally ok (Vodaphone) on the outside of Jura, but not up into Loch Tarbert itself unless you get to high ground.
A fantastic trip, made more so by good company. And good stories. Thanks to Tim, Rob & Jenny and Kathy.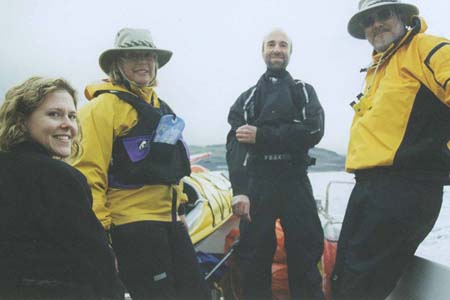 Jenny, Kathy, Tim & Mike - Rob's behind the camera.
The full picture set is here
Mike Buckley, 2004 - updated 15 Sept 2014