England
Sea Paddling trips around the English coast
Details

Written by

Chris Bolton
51°10' North 04°40' West
Paddles Touring Guide – Lundy Island
'There's a feeling I get, when I look to the west and my spirit is crying for leaving.'
Led Zeppelin, 'Stairway to Heaven'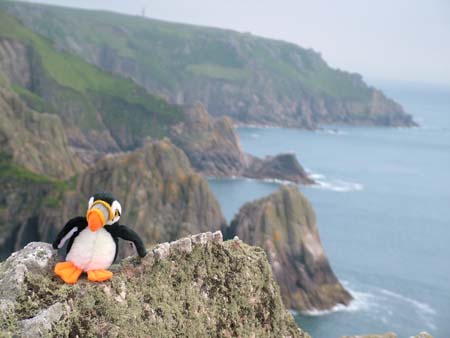 On most days, paddlers surfing at Woolacombe, or exploring the North Devon coast by sea kayak, won't see it. But on the occasional clear day, suddenly it is right before you, impossible to ignore. It fills the horizon, it blocks out the Bristol Channel and it seems improbably, confusingly huge. How is it possible that you didn't spot this before? It is three miles long and four hundred and seventy feet high. It is an enormous block of granite, with lighthouses guarding the northern and southern extremities and a third towering a hundred feet above the highest point. Where did it all appear from? This mysterious propensity to materialise from thin air has lead to identification with the mythical Isle of Avalon, last resting place of King Arthur. We know it as Lundy Island.
A visit to Lundy should be placed high on any sea paddler's wish list. You need to go there. Just trust us on this one.
The Crossing
How are you going to get there? The open crossing from North Devon is an intimidating barrier. Lundy is roughly eighteen miles west of Morte Point and eleven miles north of Hartland Point. These distances are compounded by the very strong tidal flows in the region. Are you up to this trip? Quite possibly you are, as long as you are fully aware of all the factors that need to be taken into account for a safe trip. The main thing to grasp is that a paddle to Lundy requires no heroic paddling ability or outlandish risk-taking, just good planning and common sense. Any group of competent sea kayakers could consider this.
Good weather is obviously a pre-requisite. Look for several days of high pressure and low wind in the forecast, and little or no groundswell (check the surf forecasts). Winds from the east are to be avoided, as they make landing and launching on Lundy awkward. Carry equipment, food and supplies for an extended stay, whatever your plans…the weather can turn on you! Before the crossing and after arrival, you will of course call Swansea Coastguard via VHF or mobile (01792 366534) to notify them of your plans. All of the standard sea kayaking safety equipment will naturally be carried. A GPS with your destination pre-programmed won't get you to Lundy, only your own navigation will achieve that. It may however offer useful reassurance - in those initial hours when you can't yet see the island - that Lundy really is out there somewhere!
The longer of the two crossings is perhaps the simplest to plan and execute. Starting from Lee Bay (or Ilfracombe) the full distance is over twenty miles. With a launch window just after high tide however, the tide flow is almost behind you. You will be slingshot along your course at speeds of two to four knots before you even dip a paddle in the water! The flow drags you slightly south of your destination, so devote a little planning time with tidal flow charts, map and compass to finding the appropriate bearing to compensate. Depending upon the tides and the pace of the group, three to four hours is normal for the crossing time.
The more direct crossing, from Hartland Quay via Hartland Point, is actually a bit trickier to pull off. From serrated Hartland Point and its lighthouse, the tide flows strongly across your path. Although Lundy is closer via this route, a carefully pre-planned ferry glide will be needed to ensure that you don't miss and end up in South Wales! This is clearly a crossing choice for more experienced sea kayakers.
Whatever your chosen crossing, there is only one viable target…the Landing Beach on the Southeast edge of the island. This has a jetty and small sea wall, and is sheltered from westerly and southerly wind and swell.
With either route choice, bear in mind that you will encounter the strongest tides and possibly the most demanding conditions in the tide races (and associated eddies) near the start and finish of your voyage. Your journey back to the mainland? Simple. Reverse the tides, times and bearings. What could go wrong?
A final option is to take the ferry. The MV Oldenburg belongs to Lundy (which, incidentally, belongs to the National Trust), and makes regular crossings from Bideford or Ilfracombe between April and October. Owners of folding or inflatable kayaks could easily transport their craft this way. The Oldenburg doesn't usually carry full-sized kayaks; however they have been known to strap sea kayaks to their decks on the return trip when the weather has unexpectedly turned foul. This will only happen entirely at the discretion and good will of the captain and Island Manager, and after significant money has changed hands.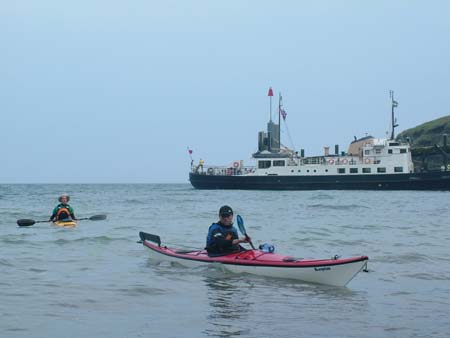 Camping and Exploring
Camping on Lundy needs to be pre-booked (and prepaid) with a limit of around 40 spaces, due to the finite supply of fresh water available at the campsite. Call the Lundy Shore Office (01271 863636) to arrange this. The 2005 costs were £9 a night, plus £3.50 landing fee.
Those wanting more luxury might consider a bit of extravagance…the Landmark Trust (01628 825925) rent out over twenty Historical properties on the Island…why not stay in a lighthouse?
From the Landing Beach on Lundy's east coast, a steep road leads up to the plateau on top of the island. If you are lucky, you and your gear might get a lift to the top from one of the Wardens. If not…it's a long slog uphill when you are weighed down by dry bags. Make sure that you leave your sea kayaks a long way above the high water mark; more than one paddler has sacrificed their boat to the seven metre tides!
Reaching the top of Lundy is like touchdown on another planet. Despite boasting a grand total of twelve permanent residents, Lundy has a small shop and Post Office, a church and possibly the best pub anywhere in the British Isles, the marvellous Marisco Tavern. Lundy even has its own beer… there is no reason to ever leave. Inside the Marisco, seek out the 'Sea Kayaking Book' and record your visit. This tatty tome dates back to the Eighties, and includes many names that you will recognise.
A visit to Lundy isn't complete without a walk around the coast. There is so much to see and explore, it'll take longer than you allow for. Look out for the endemic Lundy Cabbage; it's honestly more exciting than it sounds. Take your binoculars as the wildlife is rampant, from Soay sheep to pygmy shrew to tiger moths, to the ever-screaming seabirds above. If your legs have any strength left, climb to the top of Britain's highest lighthouse. This is long since disused, as it was found that cloud regularly obscured the light from ships at sea level.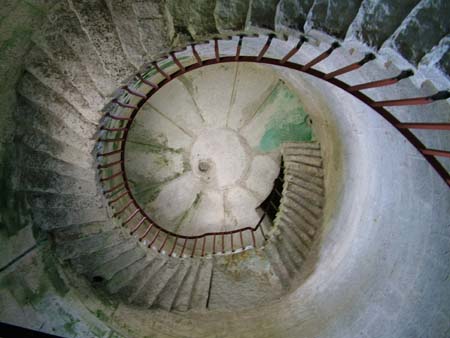 Circumnavigating Lundy
The paddle around the island covers about nine miles if you explore the nooks and crannies. It requires a little forethought for several reasons. Landing is difficult or impossible for most of the trip. The west coast of the island is exposed to the Atlantic swell. The 'Hen and Chickens' tide race forms around the Northern tip of Lundy, whilst, named less ambiguously, 'The Race' guards the Southern edge.
The seas around Lundy are England's only statutory Marine Nature Reserve, with restrictions imposed on fishing and diving. This is because the waters harbour a unique diversity of habitats and inhabitants; Lundy literally teems with life. Encounters with the cetacean folk who feed on this oceanic banquet are commonplace; Lundy's seals are Grey Seals, Britain's largest mammal. Consider taking a diving mask to get the best out of the Reserve…there is an awful lot going on down there.
The bird life is predictably impressive, this being Southwest England's biggest seabird breeding colony and a stopping off point for innumerable migratory species. The very name 'Lundy' derives from Old Norse for 'Puffin Island'. Guillemots, Razorbills and Manx Shearwaters are actually a more common sight as the Puffin population has taken a battering from non-indigenous rats. Puffins are still hanging on in there though and can often be seen swimming and fishing near Jenny's Cove.
It hardly needs pointing out that the coastline itself is something special. A rock by rock description would fill a telephone directory; suffice to say that the smooth granite on the west coast is internationally renowned among rock climbers. Look out for the 'Devil's Slide', a 120 metre high smooth ramp soaring up from the sea…the seal launch from Hell? Lundy has at least thirty-seven sea caves and they are, well, cavernous. One near the north of the island is reputed to extend back more than two hundred metres! Whilst wrapped up in this granite rockhopping wonderland, remember that the seals were here first…explore with care and sensitivity.
The full picture set is here
Further Reading
'Lundy and Irish Sea Pilot' by Imray Norie
Ordnance Survey Explorer 139 – Bideford, Ilfracombe and Barnstaple
'Small Craft Sea Touring Guide: North Devon, Somerset and Avon Coastline' by Nigel Hingston
'The Lundy Companion' by Michael Williams and Peter Rothwell
'Island Studies: Fifty Years of the Lundy Field Society' edited by R.A. Irving
Useful Websites
www.lundyisland.co.uk
www.lundy.org.uk
www.lundy.org.uk/dive/tide.html – indispensible tidal flow charts.
www.crowng.com/lundy - ferries.
www.landmarktrust.org.uk/otherOptions/lundy.htm - accommodation
www.lundybirds.co.uk
www.english-nature.org.uk/virtualtours/Lundy
www.lundyisleofavalon.co.uk/lundy - barking mad, but compelling.
www.ukseakayakguidebook.co.uk
Mark Rainsley - 2005
Details

Written by

Chris Bolton
KIMMERIDGE BAY TO LULWORTH COVE
DATE(S) OF TRIP: We've done this many times.
WHERE?: It's on the Dorset Coast, effectively being the southern edge of the 'Isle of Purbeck'. Map.
LAUNCH SPOTS: You can only get to the sea by road at the beginning and end, and there are few landing spots inbetween.
Kimmeridge - the Bay is accessed via a toll road, although if you are early or late it isn't manned, ie. free! In winter, you can drive right down and park at the water's edge, otherwise you are forced to use the carpark on the cliffs - quite a carry down, maybe dump the boats and then park.
Lulworth Cove - for the colder half of the year, you can drive down to the water's edge to unload. Through the summer, you have to carry boats several hundred metres from the carpark to the water. The carpark is extortionate.
DISTANCE/ TIME: About six miles. About two hours to complete.
LOCAL TIDES: There is little flow...barely noticeable. This is as the trip is sheltered by Portland Bill.
HAZARDS/ PROBLEMS: Just after leaving Kimmeridge Bay you cross the surf spot of Broad Bench, a shallow bedrock reef. This sticks out to sea and if there is swell, may need a big dogleg to avoid.
Most of this trip is through a live firing range. Check firing times.
If the sea is 'lively' and you choose to start at Lulworth, you will be directly exposed to swell and clapotis as soon as you leave sheltered Lulworth Cove.
ROUTE TAKEN: Cross Kimmeridge Bay and work your way around the bedrock promontory of Broad Bench. You now paddle along below the Gadcliff, an impressive overhanging affair.
You then round the little headland of Worbarrow Bay to enter Worbarrow Bay, which is gorgeous. Steep chalk cliffs rise from the water. Immediately behind Worbarrow Tout is a footpath leading a mile to the village of Twynham, evacuated in WWII. A visit is essential.
You can land in the wide bay in many places but the most tempting is at Arish Mell where there is a chink in the cliffs. You can't go far inland; it's a military base.
At the western end of the bay are Mupe Rocks, worth exploring.
From the rocks, a mile of cliffs (look out for fossilised trees) lead to wonderful Lulworth Cove.
EVENTS/ OBSERVATIONS:
OTHER NOTES: Glorious. The south coast's finest scenery?
CONTRIBUTED BY: Mark Rainsley
Details

Written by

Chris Bolton
KEYHAVEN TO LYMINGTON
DATE(S) OF TRIP: I make this trip regularly - all year.
WHERE?: Keyhaven to Lymington (or reverse) in the Solent. Map.
LAUNCH SPOTS: Keyhaven - you can launch and park at Keyhaven itself - you can get in here even at very low tide and flow the main channel toward the castle. You can park further to the west by Hurst Spit. From the middle of the tide on you can launch into the back of the salt marsh. You can carry over the spit and launch to the seaward side of the spit. This is only a good option on an incoming tide.
Lymington - the slipway near the yacht clubs is the easiest, with ample parking and toilets.
DISTANCE/ TIME: 1.5-3 hours - depending on route - about 4 miles paddled straight.
LOCAL TIDES: If you pass through Hurst there is a very strong tidal flow.
HAZARDS/ PROBLEMS: Large waves at Hurst are not uncommon especially with a SW blow on a falling tide. The eddy lines can be quite grabby. Passing close to the castle avoids most of the problems. The back eddies can be 2 or 3 Kts here.
As with any Solent paddle boat traffic in the channel can be heavy (and unskilled)
ROUTE TAKEN: Paddle this one in either direction depending on the tide. If not in the middle two hours of the tide it is easy to touch the island to land. Favourites are at Yarmouth or at fort Victoria.
EVENTS/ OBSERVATIONS: Hurst Castle is interesting with extensive salt mashes on the inside. Fort Albert and Victoria on the island are less impressive. Fort Victoria has a good cafe.
OTHER NOTES: A sheltered paddle possible in quite high winds. Taking time to explore the salt marshes is worth the effort.
Mark Rainsley: 'There are numerous channels through the salt marshes, good fun to explore in any weather'.
CONTRIBUTED BY: Richard Seaby.
Details

Written by

Chris Bolton
JURASSIC PARK!
Rockhopping the Purbeck Coast
Mark Rainsley - 2005
Welcome to the world of rockhopping, slotting neatly into the gap between playboating and sea kayaking. Rockhopping is saltwater paddling in the 'No Man's Land' between sea and shore; short trips and playing the sea, calm or wild. Spectacular coastlines, blue skies, rock gardens, swells, surf, tides and tidal rapids - all combining to create the perfect rockhopping experience. This month we head to Dorset's Isle of Purbeck, part of the Jurassic Park. It isn't an island, and there are no velociraptors.
The area between Poole and Weymouth is known as the Isle of Purbeck, and it's straight out of an Enid Blyton story ('Five Have a Spiffing Time Rockhopping'). This sinisterly quaint region features steam trains, rolling hills, ruined castles, secret caves and lashings of ginger beer. As noted, it isn't an island, but it is surrounded by water and this particular part of England's south coast does spectacular things. The region's unique geology makes for incredibly varied scenery…one sea kayaker having circumnavigated the entire UK, called it "Britain's most interesting coast"! The general splendidity of the whole area was recently acknowledged when it became part of the 'Jurassic Coast World Heritage Park'. For rockhoppers, it gets even better…the local tides literally scream around the Isle, offering some impressively humping races to get the pulses racing. Do you want mellow bimbling, or a mission to take on the ocean's full force? The trips described here cater for both possibilities. What they have in common is awesome locations and some of the best rockhopping anywhere…
Lulworth Cove
Trip duration: 1-2 hours
Character: Possible for all kinds of kayak. Various possibilities from completely sheltered to moderately exposed. Little tidal flow. Cliffs, caves, arches and rock gardens.
Other notes: Some of this paddle is within Lulworth Gunnery Range. Kaboom! If you don't want to dodge incoming ordnance, call the Army on 01929 462721 or read the Range notice boards for firing dates.
Lulworth Cove is a tourist trap and best avoided at the height of the hols. In summer months you have to carry your boats down from the car park, whilst in winter you can drive down the narrow lane to unload…how good is your reversing? Even when the Southwest gales blow, it's worth a trip just to potter around the famous Lulworth Cove. On a finer day however, two short trips out of the Cove can be done separately or back to back.
Heading east (um, left) out of the Cove leads you along sheer cliffs for a kilometre to the distinctive Mupe Rocks. When a swell is running, surfing between the rocks is a hoot! In calm weather, you can land near (or on) the chain of rocks and gawp at Worbarrow Bay. Another option is to go a further kilometre to Arish Mell, the obvious beach in the centre of the Bay. This has some caves to explore beside it, and is the quietest beach in the region. This could be connected to the fact that the Army live here and have tanks. Stay on the beach and footpath!
Heading west (right) out of Lulworth Cove brings quick rewards. A few hundred metres along the cliffs is the amazing Stair Hole, a warren of caves, tunnels and hidden coves. Two kilometres further is the improbable Durdle Door, a massive rock arch looking like a dinosaur turned to stone…Jurassic Park indeed. You can take a break at the beach here, or paddle on to the next visible landmark, the tiny Bat Hole which is a tunnel leading through a monolithic chalk headland. Directly after this are a series of gorgeous beaches only accessible by water…nothing to do with rockhopping, but two different mates of mine have paddled here for some – ahem – 'quality time' with their girlfriends…only to have their fun interrupted by other kayakers arriving!

It's late in the year, and the nights are drawing in. Heather and I skip out of work early, determined to reclaim one last evening from the autumn. At the Lulworth car park we meet Claire, another local paddler.
"I need this", she admits, "I worked a sixteen hour day yesterday."
We're also feeling fried from our jobs; launching into the Cove is cathartic and the day's stresses vanish at once. Heather and I paddle our Rockhoppers whilst Claire has her sea kayak. The sun is blazing, but the narrow mouth of the Cove reveals the real weather…a stiff wind is funnelling in, and waves are breaking over the reef at the mouth. We put our heads down and turn east into the wind. The boats bob over the oncoming swell, and although it's just a short hop to Mupe Rocks, it proves a real workout. I had hoped to get to the rocks quickly and then backtrack to Stair Hole, but the clock isn't on our side…behind us, the sun lowers out of sight behind Portland Bill in a blaze of glory. The Mupe Rocks turn orange, then red, pink, mauve…and as we finally reach their shelter, night is encroaching. Waves surge over the outlying rocks and Heather and I try to pick a moment to ride right over…don't try this at home! As the light fades, I notice that tallest of the jagged rocks has a small dark cave underneath. Whilst the others wait outside, I manage to squeeze within, land the kayak (wonderful thing, plastic) and climb out to explore. Perched on the summit of the rock, I absorb the dusk panorama. Soaring chalk cliffs, overhanging precipices, sandy beaches. Work? It is already a million miles away. But riding the swells below, the women are getting restless.
"Come on Mark, time to get back"
I return to my boat, watched suspiciously by a Shag (it's a sea bird, you know). We paddle out from behind the Rocks and Whoosh! the wind takes hold. For a few embarrassing moments, I veer wildly out of control…then I remember to put the Rockhopper's skeg down. We surf downwind frantically, making the return leg in a fraction of the outgoing time. It's dark as we return to our start point, but Heather wrings one last drop out of our trip; she turns back to surf the wave pulses humping into the Cove.

Swanage to Kimmeridge
Trip duration: 4-5 hours (less with spring tides)
Character: Not suitable for kayaks shorter than 3 metres. Long sections of exposed coast with few landing zones. Large tidal races. Cliffs, caves, rock gardens and surf zones. Overnight camping possible.
This is a classic demanding sea kayak trip in its own right, but treating it as a rockhopping trip adds the X factor to make it into something really memorable. You need to launch from Swanage at high tide or a little while later; if you don't know how to figure this out, this isn't the trip for you. The tide will be flowing with you all the way, often with a bit of 'omphf' to it! As soon as you turn right out of Swanage Bay, you encounter the waves of the Peveril Ledge tide race. It's possible to 'eddy out' here and play, but note that the OAP volunteers manning the 'Coastwatch' station behind will probably have kittens and call out the lifeboats if you so much as wobble…best go ashore and tell them your plans first.
Carrying on south, you cross Durlston Bay to the cliffs below the castle on the headland; this is Durlston Head, the point of no return. There are no guaranteed landing spots for at least ten kilometres. If the sea or the weather doesn't suit your group, turn back before you round the Head. Dolphins are a common sight here, not that we've seen them. The coast from here to St Alban's head is now stunning, sheer cliffs with numerous caves and ledges; mostly formed by quarrying in the last century. Dangling from above are plenty of rock climbers (what is that all about?) and the sea birds dive-bomb you thick and fast, including the occasional Puffin. Your best hope for landing is at the hewn rock platform of Dancing Ledge. If you're in a Rockhopper alongside sea kayaks, you'll become very popular at this point; somebody has to surf onto the rock first to guide the others in! Other landing possibilities exist, depending on the sea conditions and your imagination.
The imposing headland to the west is St Alban's Head. As you near the Head, the sea accelerates and compresses towards a vast tide race, extending miles offshore. If you are riding Spring tides (after a full or new moon) this will be a biggie; a huge wave train, often breaking right over your heads! Hero boaters can take it face-on, whilst those of a nervous disposition can hug the shore and dodge the worst of it. Eventually you hit a powerful eddy flowing against you. Paddle against or around this to reach Chapman's Pool, a tiny cove with steep hills towering around. This is a special place; you must stop for lunch or even camp here. Last autumn I carried my playboat 350 feet down the hillside to surf a big swell on a sharp reef here; an outrageous experience in one of Britain's loveliest secret spots.
Leaving Chapman's Pool, a garden of rocks are good for a play…and hidden just behind is a perfect secret camp spot(!). The last six kilometres to Kimmeridge lead you along the shallow fertile reefs which make the area both a famous surf spot and a Marine Reserve. The cliffs on the right are black Kimmeridge shale…rather gloomy and imposing, but the occasional waterfall keeps your attention. When you spot the peculiar Clavell Tower crumbling on the cliffs above, you've reached Kimmeridge Bay. This forms the best surf break on the South Coast; although if it's working well, taking on this sea trip could be seriously detrimental to your health! Carry your boat up to the car park…you've just completed one of the finest day trips the UK's coast can offer.

We wake up late, after an outrageously decadent lie-in. Last night we paddled from Swanage to Chapman's Pool and camped just outside the cove at our regular spot, a ruined cottage just above the water's edge. All we have to do today is paddle the last few miles to Kimmeridge Bay (and perform a complex shuttle involving mountain bikes and steam trains!). Lying in the tent however, we are both aware that something is different. We peek out at the sea.
"You have got to be kidding".
To our disbelief, things have changed beyond recognition from the day before. There is no wind and the sun is shining – as forecast – but out of nowhere, a perfectly clean five foot swell has appeared and is breaking smoothly along the Kimmeridge Ledges. Given that these shallow reefs extend half a mile out to sea for the whole coast to K-Bay, our day has just become much more interesting.
Heather's sea kayak swallows the tent and the sleeping bags. My Rockhopper's rear hatch gets the cooking widgets and we are out on the water.
"What do you think?"
"We could head out to sea past the breaks and avoid it all completely."
We look at each other and both decide at once.
"Nah…"
The trip is a puzzle. Our challenge is to find a dry route through the surf between the breaking shoulders and humping soup. The glassy waves rear surprisingly steeply before breaking, providing moments of weightlessness as we crest them at the last possible moment. Eventually heading in towards the Bay more or less dry, we spot a lone board surfer ripping up the breaks nearest to the car park. I've been well behaved up to now, but can't miss a ride any longer.
I wonder what went through the surfer's mind, when he looked up whilst paddling back out and spotted a loaded RH340 bombing along the shoulder – apparently appearing from thin air!
Further info
'The Official Guide to the Jurassic Coast'
'Inshore Along the Dorset Coast' by Peter Bruce
Bill of Portland to Anvil Point: Admiralty Small Craft Chart SC 2610
Purbeck and South Dorset: 1:25000 Ordnance Survey Outdoor Leisure Map

www.jurassiccoast.com
www.coastlink.org
See this article on the basics of rockhopping, and also this one on Rockhopping Dartmoor
Thanks to Julian Patrick of BLUEsky (check out the new RH340 rockhopping kayak at www.playthesea.co.uk)
Mark Rainsley - 2005
Details

Written by

Chris Bolton
Lyonesse, Where the Sun Sets Last
- A Sea Kayakers Guide to the Isles of Scilly -
By Mark Rainsley
First published in 'Paddles' Magazine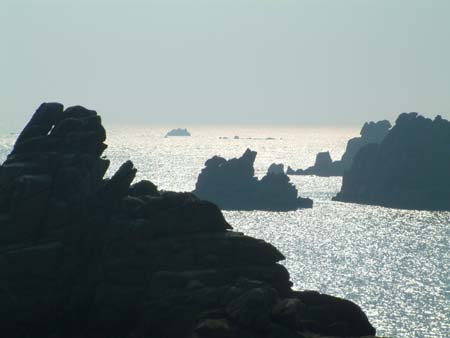 Full Gallery of Scilly photos by Mark Rainsley
We're just coming up on Menawethan Island, the most easterly point of the Scillies. We're keeping our heads and paddles down as there's a stiff wind from the southwest, Force something or other. If I was a better person I would have managed to wake up for the 0555 Shipping Forecast. Or at least, maybe by nine. As it is, we've had to make do with the mumbled guesstimates from Radio Cornwall, far from reassuring…the other evening the weather presenter had fallen asleep on air. We're not worried though. There is a clear view down the Road, the wide channel between the largest of the Scillies. We can see right through to the outer reefs, sharp wedges of granite with whitewater exploding behind them. Beyond that is, well, Brazil. Quite a run-up for the waves. No worries though, the sea is calm inside the reefs and the worst of the wind is soaked up by the islands. On a day when she'd usually be firmly rooted on dry land, my wife is enjoying herself immensely. Her attention is completely absorbed by the surrounding scenery, rather than staying upright. Hailing from northern Scotland, she's entranced by the Hebridean quality of the small isles around us; even though a few miles away there are beaches which would be more at home in the Caribbean. We make out a shape balanced precariously on the rocks ahead, a large amorphous blob of plasticine. Getting closer, it turns out to be a particularly obese seal. Typically, he waits to within a split second of the camera being ready before he ripples his belly off the rock and disappears with an unceremonious snorting dive-bomb. As we round the cliffs of China Point, The noise is deafening as dozens of Black-backed gulls take to the air and screech the bird equivalent of, "Shove off". We have the sense of being followed, and look back over our shoulders. Sure enough, the seal is back, with his equally inquisitive mates. They follow us at a discreet distance, occasionally surfacing right beside us by accident. There is a split second where the seal's eyes meet those of the paddler, then a huge splash as he downs periscope fast.
An hour later we are real people again, wearing dry clothes, drinking beer and scoffing cake from the bakery on St. Martin's. The sun is now blazing and the kit is drying out nicely among the bright garish flowers of the Scillies.
How to use this guide: Take a marker pen and cross out anything which sounds like an opinion. You will be left with a small number of facts to work with, which are quite certainly possibly not inaccurate.
Why: The Scillies are stunning, a truly unique environment which is simply impossible to describe adequately. Partly a piece of England, partly a piece of the Atlantic; but much more than the sum of its parts. Although the area is small, the variety is great. Any kayaker who isn't captivated by this maritime paradise in miniature simply doesn't have a soul. Nice beer and cream teas, too.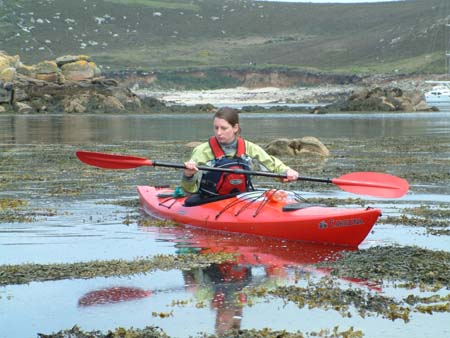 Overview: The name 'Scilly' comes from 'Sully' appropriately meaning the Sun Isles. The islands are located 21 miles WSW of Land's End and measure a tiddly 10 by 7 miles. There are about 100 islands and rocks of which only 6 are inhabited. The total land area is a laughable 6.25 sq miles at high tide and the population numbers just 2000, most of whom live in Hugh Town on the largest island, St. Mary's. The islands belong to the Duchy of Cornwall (lucky Charles), although the uninhabited islands are leased to the Isles of Scilly Environmental Trust. The whole area has been designated a 'Special Area of Conservation', so assume that killing and roasting the flora and fauna will be frowned upon. The islands are literally saturated with ancient sites and archaeological remains. Those who believe in pixies and fairies (quite a few Cornish folk) will tell you that the Isles are the last remains of Lyonesse, an Arthurian Kingdom which sank beneath the sea in a cataclysmic storm. Geologists have a somewhat drier explanation; that the islands are an extension to Cornwall which has been slowly drowned by rising sea levels since the last Ice Age, forming a rocky archipelago; imagine Bodmin Moor or Dartmoor with only the craggy summit tors peeking through the water. With beaches.
Getting there: Three choices; fly, ferry, or paddle. Taking a plane or helicopter is fast and convenient, however you enter a world of pain regarding cost and you will have to make alternative arrangements for your sea kayaks. There is nowhere yet to hire decent equipment on the Islands. The 'Scillionian III' ferry is how most will reach the islands, a stomach-wrenching three hour crossing from Penzance to St Mary's. They are happy to crane (unloaded) kayaks aboard as cargo if told in advance. The car must be left at Penzance and there are a number of long-stay secure compounds for this purpose; your car will accumulate an impressive array of seagull poo. None of this is cheap; assume around £75 pp for the return ferry trip, plus £44 for your kayak (although for reasons unknown, our second kayak was charged at half-price) and about the same again for a week's parking. The final option is to paddle from Land's End. Anyone capable of that won't need this article.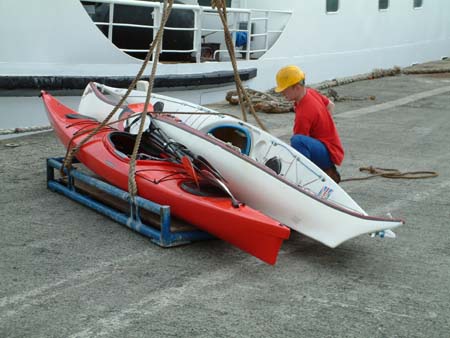 Accommodation: Wild camping is sadly not permitted, you must stay at and shell out for designated campsites. There is logic in this, as although quiet spots are not hard to find (and I know of groups who have made use of them), they are usually left quiet for sound ecological reasons; before shoving your pegs in, take a close look at the surrounding wildlife and assess your impact. The good news is that the official campsites are pleasant enough, are mostly fairly priced and are near the water, with the exception of that on St. Mary's which is a fifteen minute uphill walk. An option for softies is to hire a cottage or similar and use it as a base for day trips; perfectly practical given the relatively small area involved.
Shopping and Food: St. Mary's has plenty of shops and a supermarket. There are twee 'village stores' on most islands, stocking useful things like gobstoppers and tinned peas; the Tresco store even stocking such luxuries as newspapers. The only cash machine is on St. Mary's but the pubs etc. seem happy to accept plastic. Undoubtedly you'd prefer to spend your evenings boiling lentils in a windy corner of a campsite, but there is no harm in knowing that all of the inhabited islands have warm pubs serving good food.
Communications: Radio 4 and Radio Cornwall are readily available on FM radio, the latter giving regular but quirky Scilly weather updates. Mobile phones (Orange, O2, Vodafone, etc.) seem to work well on a 'line of sight from St. Mary's' sort of basis. The coastguard MRCC is Falmouth (01326) 317575.
The Paddling: Does your preferred paddling day involve clocking up epic distances in monstrous seas? Chewing on whale blubber to take your mind off the salt water sore where your beard gets caught in your armpits? If so, the Scillies aren't for you. The paddling is mostly characterised by short relatively sheltered hops between islands. Those prepared to take their time and explore the wonderful environs properly will be richly rewarded, those who merely want to clock up mileage are missing the point. You can either spend your days leisurely relocating from island to island, or you can do longer day trips from a single base. The larger islands effectively form a barrier around a central lagoon so there will always be an option of a sheltered paddle, whatever the weather. The inner rim of the lagoon has many amazing beaches, the outer edge has cliffs, reefs and rugged islands. Paddling on the outer sides of the islands, you are exposed to the full force of the Atlantic swells. Tides are not notably strong among the islands, but on the fringes the flows reach up to 2 knots at springs. The inter-tidal zone is vast; in plain English, huge areas of sand and rock dry out at low tide. This is worth bearing in mind, as channels between islands disappear (don't believe that OS map!) and many trips are more sheltered at low tide when reefs shut out the Atlantic swells. Many expert sea kayakers have sworn adoration for paddling in the Scillies, but the region is perhaps most unusual in that mixed club groups or novice sea kayakers can have a great time, under appropriate guidance.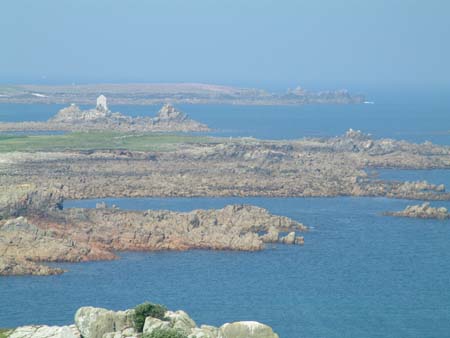 The Islands:
St. Mary's: The largest island also has Hugh Town, the only town. After disembarking from the ferry, many paddlers opt to launch straight away and paddle to other islands; the alternative is to stow the boats somewhere and then slog up the hill to the expensive campsite. If you plan on going there from the ferry, get your luggage labelled for the St Mary's campsite and it appears at the site ahead of you, due to some unseen logistical magic. Be careful in the harbour; the water is chock full of nippy little inter-island ferries, and they don't take prisoners. A circuit of the island is a good day trip however, and leaves the tourist hordes behind quickly. There are a number of impressive burial mounds and chambers worth hopping ashore for on the way around.
St. Martins: There is a good campsite right on the beach, a first stopping point for many paddlers leaving St. Mary's. The 'Seven Stones' pub and a scrumptious bakery cater to all your needs. To the east are the Eastern Isles, a small group of wild islets occupied by numerous seals. On the isle of Norrour, search for a 2500 year old village uncovered by sea erosion in the '60s, and the remains of a former Penzance ferry which tried to take a short cut. To the west of St. Martins are more uninhabited islands, with two particularly impressive rocks; Round Island, with its sheer sides and lighthouse, and the incredible Men-a-vaur, three towering stacks gleaming white with seagull polish.
Tresco: There is nowhere else remotely like this in the UK. The northern tip is craggy moorland, with two castles worth a peek. The east is flanked by wonderful beaches which seem to have been wrested from the Tropics, and the west faces the island of Bryher across a narrow sound. Tresco is famous for its Abbey Gardens, created in the nineteenth century to take advantage of the warm local climate. Described as 'Kew Gardens with the lid off', over 3000 species of weird and wonderful plant literally assault your eyeballs. Pay the excruciating £8.50 entrance fee and go see. Food at the pleasant New Inn.
Bryher: Perhaps the bleakest of the inhabited islands, you could be forgiven for thinking you'd just arrived in the Hebrides. The campsite is a short walk from the water's edge and there is a pub-cum-café, 'Fraggle Rock'. The northern tip of Bryher is Shipman Head, actually a separate island. Rounding this brings you into Hell Bay, where jagged rocks meet the southwest swells head-on. To the west are the Norrard Rocks, giving the impression of a mountain range with just the peaks showing…well worth exploring. South of Bryher is Samson, recognisable by its two facing hills. This now empty island has many sad remains of past communities; in the nineteenth century everybody got hungry and left.
St. Agnes: Easily recognisable by the disused white lighthouse on the highest point. Whilst being close to St. Mary's, St. Agnes is arguably the remotest of the inhabited islands; it faces the open Atlantic and reaching it involves crossing a strong tidal stream. The campsite is beside the water's edge on the western side, a gorgeous location overlooking Annet and the Western Rocks. The coast is a mix of sandy bays and granite stacks, quite unforgettable. St. Agnes is connected at low tide to Gugh, a (barely) inhabited island with similar scenery. The pub is the 'Turk's Head'; arrive early for food as every evening, a boatload of Hoorays arrive to quadruple the local population and to clog up the bar infuriatingly, before embarking back to their hotels in Hugh Town.
Annet and the Western Rocks: Annet is only a short distance from St. Agnes, making for an exposed circuit along with the unsettlingly named Hellweathers Rocks. You will have to be prepared to stay in your boat for the duration though. Landing is not permitted as every inch of the island is occupied by nesting birds. Even from the water you can see every kind of squawking and flapping creature, including Puffins which are becoming rare in the Scillies. Seals abound also. The Western Rocks extend out into the Atlantic in a series of reefs, culminating in the towering Bishop Rock lighthouse. If you reach the tiny rock of Rosevear, spare a thought for the men who lived on it for six years in the 1850s whilst building the lighthouse. Although the distances are not big, tides are strong and the commitment is total; experts only and pick your day carefully. The sea around the Western Rocks is littered with wrecks, most notably four ships of the British Fleet who sank there in 1707 with 2000 deaths. When a sailor had suggested to the Fleet Admiral that the Fleet was on course to hit the Scillies, he'd been instantly hung for mutiny. Oops. In a satisfying bit of irony, the Admiral survived the disaster to crawl ashore on St. Mary's. Where a local woman promptly strangled him for his jewellery.
| | |
| --- | --- |
| | |
Websites:
http://www.islesofscilly-travel.co.uk/
http://www.scillyonline.co.uk
http://www.rosevear.demon.co.uk/
http://www.ukriversguidebook.co.uk > reports
http://www.pzcc.net/nikki/Home%20page.htm
http://community.webshots.com/album/70392031BFVgsN
Maps and Books:
All available from http://www.amazon.co.uk:
Ordnance Survey 1:25000 Explorer 101 - best map of the Isles available.
Admiralty Leisure 1:25000 Small Craft Chart 34 - indispensable for tidal advice.
Isles of Scilly Pilot, published by Imray - for the compleat beardie.
Walking in the Isles of Scilly, published by Cicerone - actually a useful pocket guide to the area.
Scilly's Wildlife Heritage/ Scilly's Archaeological Heritage/ Scilly's Building Heritage, published by Cornwall County Council - three excellent pocket guides to everything that moves or doesn't in the Scillies.
Mark Rainsley.