51°10' North 04°40' West
Paddles Touring Guide – Lundy Island
'There's a feeling I get, when I look to the west and my spirit is crying for leaving.'
Led Zeppelin, 'Stairway to Heaven'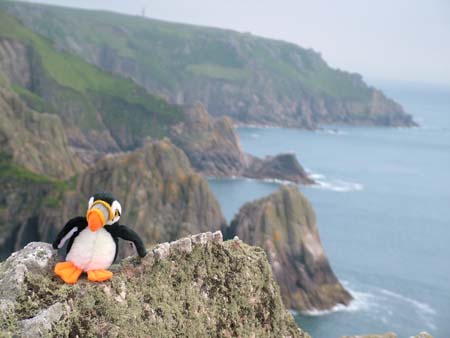 On most days, paddlers surfing at Woolacombe, or exploring the North Devon coast by sea kayak, won't see it. But on the occasional clear day, suddenly it is right before you, impossible to ignore. It fills the horizon, it blocks out the Bristol Channel and it seems improbably, confusingly huge. How is it possible that you didn't spot this before? It is three miles long and four hundred and seventy feet high. It is an enormous block of granite, with lighthouses guarding the northern and southern extremities and a third towering a hundred feet above the highest point. Where did it all appear from? This mysterious propensity to materialise from thin air has lead to identification with the mythical Isle of Avalon, last resting place of King Arthur. We know it as Lundy Island.
A visit to Lundy should be placed high on any sea paddler's wish list. You need to go there. Just trust us on this one.
The Crossing
How are you going to get there? The open crossing from North Devon is an intimidating barrier. Lundy is roughly eighteen miles west of Morte Point and eleven miles north of Hartland Point. These distances are compounded by the very strong tidal flows in the region. Are you up to this trip? Quite possibly you are, as long as you are fully aware of all the factors that need to be taken into account for a safe trip. The main thing to grasp is that a paddle to Lundy requires no heroic paddling ability or outlandish risk-taking, just good planning and common sense. Any group of competent sea kayakers could consider this.
Good weather is obviously a pre-requisite. Look for several days of high pressure and low wind in the forecast, and little or no groundswell (check the surf forecasts). Winds from the east are to be avoided, as they make landing and launching on Lundy awkward. Carry equipment, food and supplies for an extended stay, whatever your plans…the weather can turn on you! Before the crossing and after arrival, you will of course call Swansea Coastguard via VHF or mobile (01792 366534) to notify them of your plans. All of the standard sea kayaking safety equipment will naturally be carried. A GPS with your destination pre-programmed won't get you to Lundy, only your own navigation will achieve that. It may however offer useful reassurance - in those initial hours when you can't yet see the island - that Lundy really is out there somewhere!
The longer of the two crossings is perhaps the simplest to plan and execute. Starting from Lee Bay (or Ilfracombe) the full distance is over twenty miles. With a launch window just after high tide however, the tide flow is almost behind you. You will be slingshot along your course at speeds of two to four knots before you even dip a paddle in the water! The flow drags you slightly south of your destination, so devote a little planning time with tidal flow charts, map and compass to finding the appropriate bearing to compensate. Depending upon the tides and the pace of the group, three to four hours is normal for the crossing time.
The more direct crossing, from Hartland Quay via Hartland Point, is actually a bit trickier to pull off. From serrated Hartland Point and its lighthouse, the tide flows strongly across your path. Although Lundy is closer via this route, a carefully pre-planned ferry glide will be needed to ensure that you don't miss and end up in South Wales! This is clearly a crossing choice for more experienced sea kayakers.
Whatever your chosen crossing, there is only one viable target…the Landing Beach on the Southeast edge of the island. This has a jetty and small sea wall, and is sheltered from westerly and southerly wind and swell.
With either route choice, bear in mind that you will encounter the strongest tides and possibly the most demanding conditions in the tide races (and associated eddies) near the start and finish of your voyage. Your journey back to the mainland? Simple. Reverse the tides, times and bearings. What could go wrong?
A final option is to take the ferry. The MV Oldenburg belongs to Lundy (which, incidentally, belongs to the National Trust), and makes regular crossings from Bideford or Ilfracombe between April and October. Owners of folding or inflatable kayaks could easily transport their craft this way. The Oldenburg doesn't usually carry full-sized kayaks; however they have been known to strap sea kayaks to their decks on the return trip when the weather has unexpectedly turned foul. This will only happen entirely at the discretion and good will of the captain and Island Manager, and after significant money has changed hands.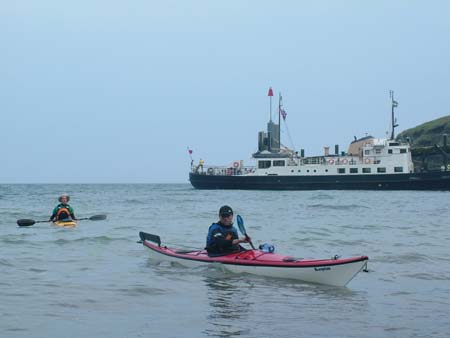 Camping and Exploring
Camping on Lundy needs to be pre-booked (and prepaid) with a limit of around 40 spaces, due to the finite supply of fresh water available at the campsite. Call the Lundy Shore Office (01271 863636) to arrange this. The 2005 costs were £9 a night, plus £3.50 landing fee.
Those wanting more luxury might consider a bit of extravagance…the Landmark Trust (01628 825925) rent out over twenty Historical properties on the Island…why not stay in a lighthouse?
From the Landing Beach on Lundy's east coast, a steep road leads up to the plateau on top of the island. If you are lucky, you and your gear might get a lift to the top from one of the Wardens. If not…it's a long slog uphill when you are weighed down by dry bags. Make sure that you leave your sea kayaks a long way above the high water mark; more than one paddler has sacrificed their boat to the seven metre tides!
Reaching the top of Lundy is like touchdown on another planet. Despite boasting a grand total of twelve permanent residents, Lundy has a small shop and Post Office, a church and possibly the best pub anywhere in the British Isles, the marvellous Marisco Tavern. Lundy even has its own beer… there is no reason to ever leave. Inside the Marisco, seek out the 'Sea Kayaking Book' and record your visit. This tatty tome dates back to the Eighties, and includes many names that you will recognise.
A visit to Lundy isn't complete without a walk around the coast. There is so much to see and explore, it'll take longer than you allow for. Look out for the endemic Lundy Cabbage; it's honestly more exciting than it sounds. Take your binoculars as the wildlife is rampant, from Soay sheep to pygmy shrew to tiger moths, to the ever-screaming seabirds above. If your legs have any strength left, climb to the top of Britain's highest lighthouse. This is long since disused, as it was found that cloud regularly obscured the light from ships at sea level.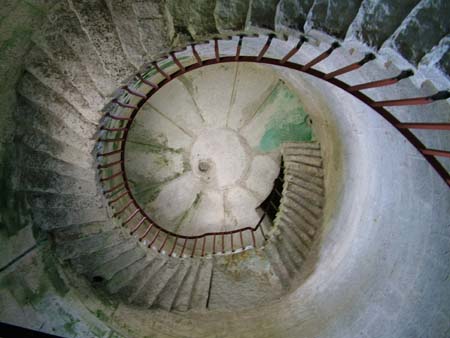 Circumnavigating Lundy
The paddle around the island covers about nine miles if you explore the nooks and crannies. It requires a little forethought for several reasons. Landing is difficult or impossible for most of the trip. The west coast of the island is exposed to the Atlantic swell. The 'Hen and Chickens' tide race forms around the Northern tip of Lundy, whilst, named less ambiguously, 'The Race' guards the Southern edge.
The seas around Lundy are England's only statutory Marine Nature Reserve, with restrictions imposed on fishing and diving. This is because the waters harbour a unique diversity of habitats and inhabitants; Lundy literally teems with life. Encounters with the cetacean folk who feed on this oceanic banquet are commonplace; Lundy's seals are Grey Seals, Britain's largest mammal. Consider taking a diving mask to get the best out of the Reserve…there is an awful lot going on down there.
The bird life is predictably impressive, this being Southwest England's biggest seabird breeding colony and a stopping off point for innumerable migratory species. The very name 'Lundy' derives from Old Norse for 'Puffin Island'. Guillemots, Razorbills and Manx Shearwaters are actually a more common sight as the Puffin population has taken a battering from non-indigenous rats. Puffins are still hanging on in there though and can often be seen swimming and fishing near Jenny's Cove.
It hardly needs pointing out that the coastline itself is something special. A rock by rock description would fill a telephone directory; suffice to say that the smooth granite on the west coast is internationally renowned among rock climbers. Look out for the 'Devil's Slide', a 120 metre high smooth ramp soaring up from the sea…the seal launch from Hell? Lundy has at least thirty-seven sea caves and they are, well, cavernous. One near the north of the island is reputed to extend back more than two hundred metres! Whilst wrapped up in this granite rockhopping wonderland, remember that the seals were here first…explore with care and sensitivity.
The full picture set is here
Further Reading
'Lundy and Irish Sea Pilot' by Imray Norie
Ordnance Survey Explorer 139 – Bideford, Ilfracombe and Barnstaple
'Small Craft Sea Touring Guide: North Devon, Somerset and Avon Coastline' by Nigel Hingston
'The Lundy Companion' by Michael Williams and Peter Rothwell
'Island Studies: Fifty Years of the Lundy Field Society' edited by R.A. Irving
Useful Websites
www.lundyisland.co.uk
www.lundy.org.uk
www.lundy.org.uk/dive/tide.html – indispensible tidal flow charts.
www.crowng.com/lundy - ferries.
www.landmarktrust.org.uk/otherOptions/lundy.htm - accommodation
www.lundybirds.co.uk
www.english-nature.org.uk/virtualtours/Lundy
www.lundyisleofavalon.co.uk/lundy - barking mad, but compelling.
www.ukseakayakguidebook.co.uk
Mark Rainsley - 2005