So what's so special about it? Well, the deck design is the first thing you notice with quite a raise forward of the cockpit. The deck lines are held in place with 'clean' fittings so no screws or bolts. The next thing you notice is the excellent seating position. The seat is low and comfortable. It comes with adjustable hip-pad options. There is a sculpted, full plate footrest on adjustable rails and secure braces for your knees. So rather than having your thighs and legs splayed out like a frog, you sit with your legs slightly raised and much more natural.
But the important thing is how does it handle? This is a boat for the 21st century and it handles like a dream. Spring tides today so Penryn Mawr was running big. The ALAW just wants to move in this kind of water and move with grace. It is responsive and dynamic. You feel it keen to respond with each paddle stroke. Though it has midway chines, there's no twitching effect when you're sitting still. Rescues and rolls are performed with ease.
Aled can feel justifiably proud of bringing this fantastic new boat to the sea kayaking world. I hope he gets the support from our community that he deserves. Each boat is hand made and incorporates some very forward thinking construction methods.
I had a great day in his company and playing with the new boat. I will be saving up to get one but as Aled & Webby's names are on my Romany's design label I'll be keeping that one for posterity.
All the best Aled and I look forward to trying the X1! The Rockpool Kayaks website has more pictures and information.
"Sharky" - October 2004

(Pic - Rockpool)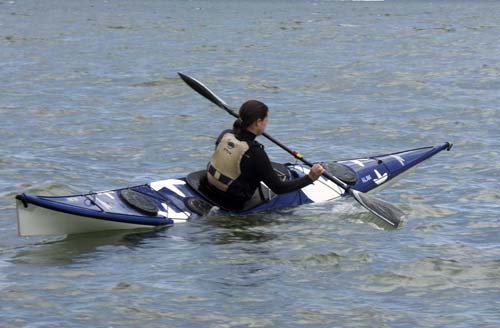 (Pic: Douglas Wilcox.)
---
I recently managed a trip out to the Skerries with Aled using one of his boats the Alaw.( Aled is the the owner of Rockpool Sea Kayaks and the designer of the Alaw ) Having never met Aled, I was opened minded, to if he would be on to a hard sell. Quite the opposite, he was keen for feedback and even more keen to go paddling.
I have very limited knowledge of sea kayaking but have paddled 8 boats in the last 5 months so feel I can offer some views. The Alaw seemed very stable based on my time in an Explorer, Quest, Capella ( not plastic ) and an old Orca ( not plastic ) It seemed more stable than the Quest/Capella and nearly as stable as the Explorer. However, as expected, it was easier to turn, needing less edge to do so than the Explorer but never feeling twitchy.
At first it seemed strange having such a high front deck but this was soon forgotten. The seating position for me seemed more natural and comfortable. However the leg room was a little tight. Now this is based on me being 6ft 4 and having size 13 feet. With this in mind all that needs as with other boats is the bulkhead moving. The wind was quite light and the swell was not that big in the tidal races but the Alaw was fun to paddle, did not seem to slow and had a presence compared to the other boats I had paddled.
I would say that the Alaw is definitely worth a look so drop Aled a line. Would I buy one ? Well I had a boat lined up but thats on hold until I try out one without the bulkhead moved.

Mark Richards - December 2004
---
Click here for Douglas Wilcox's impression of the Alaw Bach and here for the Alaw and Alaw Bach. This discussion also offers a variety of impressions.