A compact, contoured deck bag at a decent price - the Seals peaked deck bag fits neatly on the foredeck and provides ready access to those items needed when afloat. The pricing is competitive as well at around the £40 mark.
The access flap opens wide and hinges along the bottom so you can get your hand in easily. On top there's a rather weird and convoluted arrangement of bungee cord with a tensioner - I'll be changing that a little, but that's just a personal preference.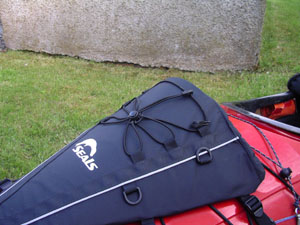 Interesting bungee arrangement
It's not waterproof of course, but then again, even a fully waterproof bag is going to become damp inside as you'll be putting your wet hands into it to get stuff out! The profile is sleek, and the front runs right down to the deck. Internally there's a plastic shaper to keep it in shape and the construction is good and it's generally a quality item.
The bag secures to decklines with plastic hooks, and the tensioner straps are long enough to fit a variety of boats. Trimming them with a hot knife will then tidy them up once you've found how much strap you really need. There's a set of additional D rings to attach extra stuff to.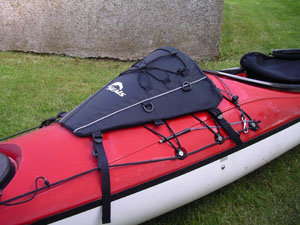 The overall profile is shaped so that the bag doesn't get in the way when paddling, which is more than can be said of the majority of the competition. Well worth considering - An alternative to consider is the North Water version, also a peaked bag with a slightly different design which incorporates mesh pockets on the sides.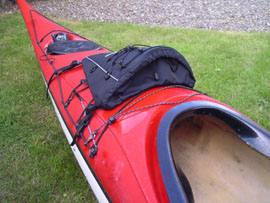 Nicely shaped profile with a wide opening.
Mike Buckley, May 2010