This is a very neat way to carry a strobe or marker light on your BA - it's small, very light and very effective.
The makers say "The Guardian is rugged, easy to use and can be seen for over 5 Km / 3.1 Miles. With its dual function of flashing and steady on modes, the Guardian can offer over 250 hours of use on a single battery pack. Whether on a camping trip or racing through the woods on a bike, the Guardian is the one light to have when you must be seen. Waterproof to 300ft and an operational range from -40° to 50° C, the Guardian is available with either belt clip, wrist strap/arm band, swivel clip key chain attachment, or magnetic base."
By simply turning the battery over you can choose whether it functions as a strobe or as a marker light although this isn't really practical in day-to-day use and I'd not recommend doing it while afloat!
As it's so compact it can easily be mounted on a BA strap, as per the pic on the right. The one I bought came with a clip and I would comment that it's not especially "grippy" so I stuck some heavy duty velcro to the inside of the clip and to the BA's shoulder strap to secure it.
A turn of the lens switches it on and they are available in red, green, yellow and blue as well as white. You could have one set up as a strobe and one as a marker light. You could even have port and starboard lights.
Prices seem to range from about £10 on eBay to around £14 from the majority of dive shops.

(Pic: Adventure Lights)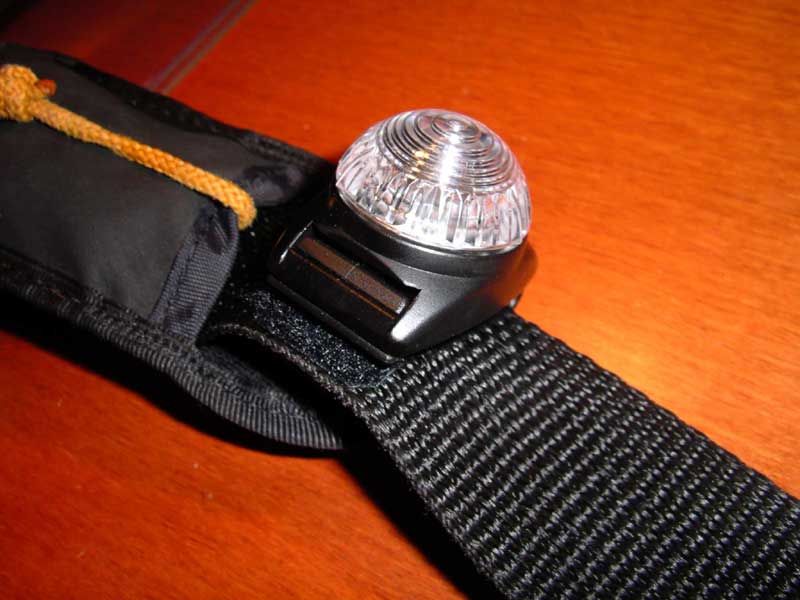 Mike Buckley, September 2010