I bought this just before Easter 2004 - this cag is wonderful - superbly made and solidly constructed, everything is there for a reason and it's functional and practical. It has all the usual stuff like latex cuffs, adjustable over-cuffs, reflective strips on the hood and sleeves and a couple of practical pockets on the sleeves, one of which has a key lanyard attachment. The material is soft and quiet, XCR Goretex, and it works! Very well! A hand-warmer would be nice though.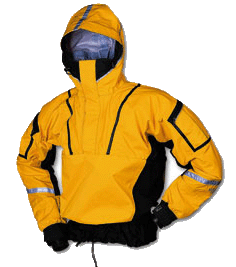 (Pic - Knoydart)
 There is a good double waist seal, and an ample and practical hood which can be rolled and secured with a velcro tab. The neck opens nice and wide so you get good ventilation, and the collar has a soft rubber lining. There's a good neck gusset which keeps you dry and a mandarin collar so you can seal in well without having to have the hood up.
I got an XXL which is generously sized (I'm a 48in chest) for me, but the cut is good and I've more than enough room for fleecy things underneath. Down side? It's such a good cag that it's really a little too warm for summer use, but if you want to stay dry in foul, cold conditions it's one to have. The latex cuffs are a bit on the tight side to start with, but are loosening up as time goes by.
On our Easter 2004 Jura trip we had some seriously nasty conditions coming back, but this cag just "did the job" and I arrived back on land warm and dry, which I would not have been in the cag it replaced.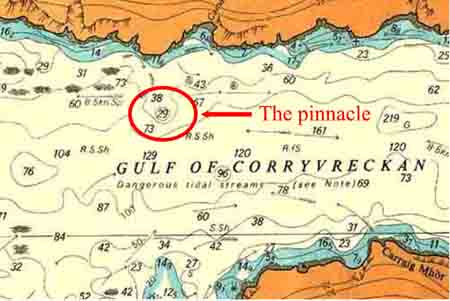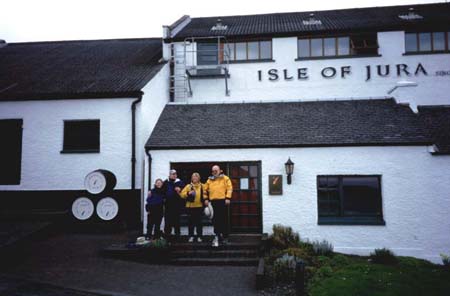 The delights of going round Jura
I finally retired this cag in 2010 as it had almost worn thro in places and was leaking a little. That said, it was still on it's original wrist seals. I replaced it with a Palm Aleution which is a nice cag, somewhat cheaper and well made, but nothing like as breathable and really too warm for the summer. In 2011 I bit the bullet and bought another TecTour! A great all-rounder and recommended. Talk to Sea Kayak Oban for one.
Update: June 2015. The later cag was actuallyworn through in several places (mainly the sleeves, along the seam lines) by June 2015, despite relatvely light use over the period I've had it.
It was returned to SystemX who provided excellent service and patched it, but it would seem that the material isn't as hard-wearing as the original.
Mike Buckley - October 2004 - revised 2015
---
Update - September 2005: There is now also a version in a material called "Tropos", at a more economic price. This from Niall Duncanson from a post on the Forum. "I went through the same thought process as this (Ed. Debate on XCR v Tropos) in May, and ended up with the Tec Tour in Tropos. I couldn't quite bring myself to spend £250 on the XCR version, so Tropos was a good compromise.
Overall build quality is excellent, all the features make sense and work properly, and I am very pleased with it. The XL is just loose enough on me that I can easily don it when afloat in calm(ish) water - although I usually wear it anyway when relevant. The cut is obviously well thought out for paddling and restricts nothing, but without seeming baggy or catching on things.
The hood is an especial strong point, being very effective and adjustable, and moving with your head when well adjusted. When not in use it lies out of the way on your back, as when rolled away it felt more restrictive. The collar and zip is also very good at keeping spray out of your face when the gods start to play, but fold away like lapels when not in use.
The 'adjustable neck seal' is made of soft rubbery material which did not abrade my fairly sensitive neck over 4 days on salt water, which was surprising. When done up tight it is fairly uncomfortable, but a reasonably fast roll will result in only a spoonful of water coming in. When left open it is a very effective vent, opening nearly as far as my sternum.
The wrist gaskets and overseals are simple and effective, although all rubber gaskets are painfully tight to begin with. The double waist seal is more soft rubber with drawcords, not designed to provide a tight seal like a ww drycag is, but is effective enough that more water will come in your neck than waist.
Tropos is a flexible and surprisingly light, 2 layer breathable material, the membrane being the white inner layer. This means that the membrane is exposed to abrasion from your inner layer clothing, and will probably fail due to this, eventually. XCR goretex is trilaminate, with a bonded liner to prevent this, and is therefore much more durable than 2 layer. Tropos appears to be fairly breathable, and still fully waterproof after 4 months (it should be!) including full arm immersion in a high brace.
Overall it was a great buy, although I haven't had it long enough to tell how it will last. I will replace it with the XCR version if I wear it out. My reccomendation is to buy Tropos unless you can justify the XCR, which is likely to last much longer if used heavily.

Hope this helps. Niall Duncanson"