An excellent bit of kit, extremely well made and very comfortable to wear.
Although it's marketed as a "female specific" BA it is unisex and I find it a good fit.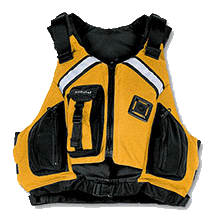 (Pic: Kokatat)
The adjustable shoulder straps and 3 straps on each side allow it to be adjusted nicely to cope with a range of torso lengths and waist sizes. The sides are elasticated mesh so allowing plenty of movement. The arm holes are nicely cut and quite low.
Two side bellows pockets provide enough room for a small camera, snacks or some basic things you might want to keep handy, and the electronics pocket is ideally placed to carry a VHF or a GPS. Some folk feel the pockets should be bigger - why? Then you'll just carry more stuff which, on a BA, may not be all that good an idea!
There's a clever internal pouch located behind the front zip which could carry a small flare - I use it for a multitool and a knife. One of my pals carries his VHF there rather than in the external pocket. Two fastex buckles secure the main body of the BA so the zip can be opened to access it - or indeed to provide some ventilation on a hot day.
Lots of room for loads of stuff.           Internal pouch located behind the front zip.
Kokatat also offer a hydration pouch or pocket which can be attached to the back. All the pockets have handy lash tabs and the zippers seem to resist the corrosive effects of salt water.
A superb bit of kit overall and I can't find anything to fault it - apart from the fact that the zip is "sided" for females. You get used to that. If you want to be able to colour co-ordinate your gear, then Kokatat make most of their gear in matching colours.
Finally - and most importantly - yes, it seems to provide plenty of buoyancy and it's easy to swim in!
Mike Buckley, August 2009