The Kokatat Expedition drysuit in Goretex is quite simply a fantastic suit, but at the price it should be!
That said, you do get what you pay for and with this suit you get functionality, the very best of material (Evolution 3.2oz Nylon 3 layer Gore-Tex¨ Immersion¨ Technology) and excellent build quality. Part of the price comes from the zippers which are proper metal tooth, waterproof Optiseal zippers. And they work very well indeed. I've spent several hours in the water helping a pal with her rolling techniques and was totally dry afterwards. It was rather nice to put the suit on over my day clothes - swim around for a few hours - then just take the suit off and get in the car and drive home with dry clothes.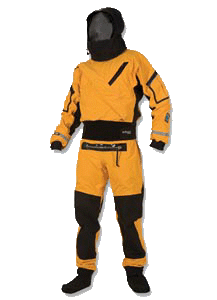 (Pic: Kokatat)
 Entry is via a diagonal front zip, so you can get it on and off or your own - with a bit of practice. Kokatat advise - "left arm, right arm and then put your head through the neck seal". It also helps to pull the suit up your body as much as possible before trying to put your right arm into the sleeve - or remove it! Had I known that when I first got it, I'd not have been trapped in it for 10 mins until I worked it out!
It comes with a relief zip. Well worth having! For women, a "drop seat" option is available instead of the relief zip but I gather Kokatat refuse to provide this option for men for some reason. Put beeswax on the zips - it helps them slide better.
Knees and seat are protected with Cordura patches and the overall cut allows easy movement without restriction to paddling action. The hood can be rolled away when not needed. Neck and wrist seals are latex, the wrist ones also having neoprene overcuffs. All the seals on my suit are comfortable and not too tight. Unlike my cag, which still hurts my wrists a little!
It comes with Goretex socks which (so far) have been fine - I do suggest wearing Mukluks or booties to protect them though and certainly not something like sandals - the slightest damage from a thorn or rock would puncture the material and whatever you do, avoid walking around without the socks being protected as any damage so caused would potentially fall outwith any warranty claim! I detest latex socks and don't like latex ankle seals so the Goretex socks seem like a reasonable compromise. Wearing ordinary socks will help protect the material from wear or damage from toenails. It's fitted with velcro straps to snug the ankles.
The waist has a simple bungee drawcord to snug it in and this seems to work well although I initially thought it would be good to have internal braces. As a kayaking specific suit it comes with an adjustable double waist band so you can seal in nicely. The sleeve pockets have lash tabs and salt water doesn't seem to harm the zips.
Kokatat sizing is on the generous side, so if you need a large suit then this is certainly one to consider. Despite being 6'2", 48 in chest and not especially slim, I can wear the XL size with room to spare and they go up to XXL.
Kokatat say they can do some minor customisation and will increase or decrease the length of the arms, legs, torso (above the waist) or rise (waist to crotch) on most of their dry suit models for a nominal charge. They can't build or alter a suit to a list of body measurements. Talk to the retailer and ask for a "sizing suit".
It's comfortable to wear and the Goretex works very well. That said, as much of you will be covered by non-breathable kit like a BA it's inevitable that you're going to get a little damp around the chest area from perspiration. As with all such suits. That said, the fabric's breathability seems far superior to the Palm Aleutian cag and Sidewinder combination I also now use.
All good things come at a price, and if you want what is arguably amongst the best then this suit is worth considering.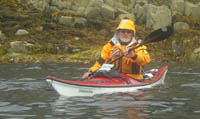 (Pic: Helen McKenna)
Barra - August 2008 - wet, cold and windy. The Expedition kept me snug.
Yes, I did say August - this discussion on suitable clothing for the Scottish summer suggests it can be a fickle thing.
Mull at Whit w/end 2009 was similar!
Any downsides? Apart from the price, no. It's a fantastic bit of kit. Since I got mine last year the hood is now made from Paclite which will allow it to roll away more neatly than mine but I personally prefer the original design which is well cut, allows you to see to the side and works well. I doubt you'd be able to wear a helmet under it though.
Mike Buckley, August 2009