If you enjoy a touch of traditional music, the resonance of a sea cave with a Highland tune being sung in it, and some inspirational photography showing Scotland's superb scenery at it's very best, then this DVD by Gordon Brown, filmed by Simon Willis, is for you. Oh, and you'll learn a wee bit about handling a sea kayak as well!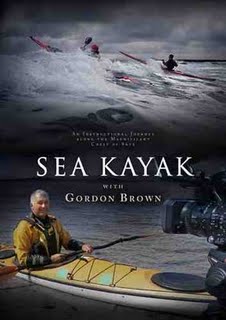 In fact, you'll learn a lot about handling a sea kayak - and you'll learn it against the backdrop of realistic, real-life conditions where you get to see just what the boat does, what you (your body) is doing and what the paddle is doing (boat / body / blade).
Simon's photography and film making skills, combined with Gordon's clear and straightforward teaching style, bring a rich mix of material together in a very watchable format. I guess there were some technical challenges in getting the material used, and if it was challenging, it doesn't show - which is half the trick. Try sitting on a rock with white water crashing around you - that's noisy - yet similar scenes on the video doesn't have intrusive noise, you're still able to hear the explanations of what's happening. Nice.
That said, much will depend on your personal learning style - I was left a little frustrated that the superb visuals and excellent descriptions of what was going on were not necessarily matched by the depth of explanation, or "why" things worked or happened. For example, an excellent verbal and visual description of the dynamics of edging didn't include any explanation of "why" edging turns the boat. So, (for me at least) it was an opportunity to overlay some pictorial support material illustrating the changing dynamics of the hull, and that would have helped me in my understanding if I didn't already know.
The same is true of "why" you have to lean the boat to cope with tidal paddling - if you've come from a river background, or have sea paddled for a while, you'll hopefully know "why" that is important! Again, an opportunity for a technical explanation supported with static images to satisfy the theoreticians and reflectors amongst us.
But I'm being picky - there is much to observe in this video, and even experienced paddlers will pick up some tips - I'd always thought that a stern rudder was just a stern rudder - perhaps I used all four variants intuitively but I'd never categorised them before watching and listening to Gordon describe them.
Even the contentious "cross bow rudder" makes an appearance - well, it would, wouldn't it? - and for the first time, I began to gain a greater understanding of it's potential as a practical, everyday stroke. I'll be working on developing mine.
Gordon demonstrates fundamentals such as forward paddling in a way which sets a standard to aim for - and may well challenge some people's perceptions of just what makes a good forward paddling stroke. Not being a Level 5 Coach, I don't feel qualifed to comment on the technical aspect of such things - I do know it gave me food for thought, and challenged a few of the perceptions and learned approaches I currently use. So that's all good.
Producing a video teaching tool to teach a highly experiential and complex skill is a challenge - and a challenge I've always been highly dubious could be undertaken sucessfully. But it has been. Given that it's going to be challenging to take the video out on a boat in order to mirror the skills, it's still a very good tool to use in setting some of those skills in your mental map to work on replicating them on the water.
Well worth buying - both for the skills tuition, the scenery, and some fascinating wee snippets of history about a coastline which is itself worth a visit. It's not for the complete beginner it has to be said, largely because it assumes a degree of kayaking abilty, but for the intermedidate / improver, it's a great way to learn.
And the singing? Well, I rather liked it.
See also this discussion for more views and reviews. It's £19.95 - want to buy? Click here.
Mike Buckley, November 2009