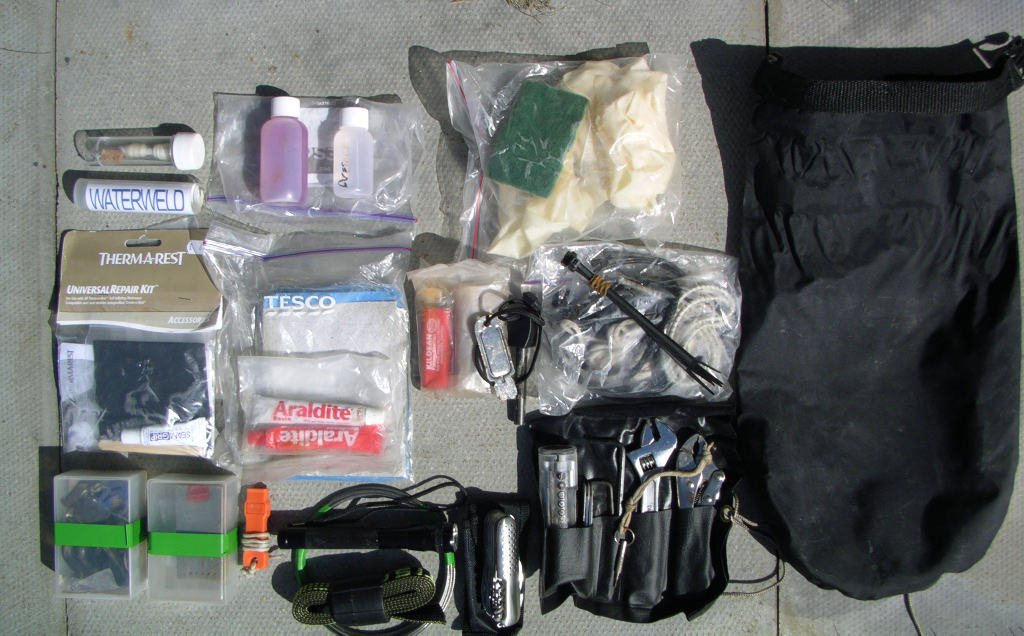 Items

Sail makers needle, threaded with waxed whipping twine. Contained in "specimen bottle" to keep it from rusting.

Small bottles of meths and acetone. For fire starting and/or cleaning off surfaces.

Spare lighter. "Lifeboat matches". Magnesium block. Fire starter steel and flint.

Disposable gloves and scouring pad - useful for cleaning off surfaces, working with glass fibre.

Dry bag to store it all in.

"Waterweld" two part epoxy.

Sheets of plastic, sandpaper - for repairing holes.

Multitool knife - with a variety of tools and blades.

Bag of assorted bits of bungee, cord, cable ties.

.

Thermarest repair kit.

Araldite.

.

Tool roll - cycle multi-tool with various Allen keys, screw and hex bits. Boat specific Allen keys. Screwdriver for the tiny screws on spectacles. Small adjustable wrench. Small mole grips.

.

Assorted nuts, bolts, screws, other hardware. In 35mm slide box.

Spare whistle. Minitorch. Stainless steel wire to repair skeg or rudder cable. Luggage strap (useful as a spare belt, for securing all sorts of things). It's in a spare collar for an Epic paddle.

.

.

.

Ordinary needles & thread, mini screwdrivers, buttons. Superglue. In 35mm slide box.

.

.

.

.

Other Kit

Carried in my

BA

, foredeck hatch or deck bag - roll of repair tape, cheap "Leatherman" type multitool (to give me a set of pliers and wire cutter readily to hand - as it's a cheap copy I'm not too worried of I lose it overboard), emergency knife, pack of pre-cut Denso tape, pack of pre-cut vinyl and bungee for emergency hatch covers. On long trips I'll carry a fibreglass repair kit.
Mike Buckley - April 2008