Introduction
Thoughts on using, stowing and deploying towlines and on making your own boat mounted tow system.
Mike Buckley - 2004 - last revised May 2015.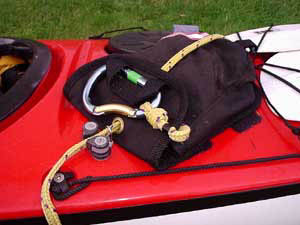 My modified Valley tow-line bag mounted on the rear deck of a Quest.
A tow-line is an essential item of safety-kit for a sea-kayaker, there are numerous variations on the theme and this article aims to give an overview of the concept and provide some food for thought on making, using and deploying them.
It's not intended to be a definitive thesis on towing or tow-lines, but rather some thoughts and personal experiences by the writer – whether they are adopted by you is your decision and you should form your own judgement as to the merits or otherwise of these personal views. Suggestions for alterations, other ideas or improvements are welcome and you can contact me by This email address is being protected from spambots. You need JavaScript enabled to view it..
From personal experience, I believe a sea tow-line should fulfil these requirements:
Simple, safe, foolproof, strong, reliable.
Versatile – if it can serve other purposes such as a washing line, throw line or as a guy rope for a shelter, so much the better. It is however first and foremost an article of safety equipment and should be treated as such.
"One action" deployment – ideally you should be able to release the line from its stowage in one action. Undoing clips and hooks and opening bags is easy in calm, practise conditions – doing the same when the boats are bouncing up and down in big seas is quite another. This was a crucial objective for me.
Why is a line essential? Well, apart from providing an instantly usable drying line for kayak camping, the ability to provide a quick and effective tow to help a paddler who is tired or injured or perhaps in difficulty can make the difference between a safe enjoyable trip and an incident!
Some brief examples:
A tired paddler, in need of a rest or support in getting back to shore.
An injured or ill paddler, in need of help to get to safety.
A swamped boat, which needs to be towed away from a hazard while it's pumped out, either by its paddler or someone else.
In terms of technique, it's not the intention of this article to look at how to tow - virtually all the mainstream textbooks include some reference to technique, as does the BCU "star" system. Online resources include the Australian "New South Wales Sea Kayak Club" which has an excellent article on towing - it goes into some depth and it's well worth a look. This article from Atlantic Kayak Tours on towing techniques [on archive.org] also gives some clear diagrams and descriptions of a variety of tows. There are different ways of attaching the tow hook to the rescuee and these were debated on our Forum a while back and the discussion is well worth looking at. I'd strongly recommend practising the different methods, and also having a good knife to hand just in case it all goes wrong!
The author of the NSWSKC article, Dave Winkworth, makes some interesting points but I have personal reservations about his suggestion that "simple 50 mm stainless snap-links are fine for both ends of the line" – more on this later, but personal experience suggests that it's a very good idea to be able to release the line from the towing boat quickly and easily and I am concerned about being able to do this efficiently with a snap link, especially in a hurry and if it's under tension. An important safety point for you to consider with your personal set-up.
Interestingly, he also suggests that "15 meters of 3 mm cord" is being used by Aussie paddlers, as distinct from the braided, floating rope that most UK paddles use – perhaps worth experimenting with although 3 mms seems a bit thin?
The BCU "Canoeing Handbook" offers some thoughts as well, as do many of the other publications such as Hutchinson's "Sea Kayaking". Additionally, there are numerous coaching and technical articles available on the Web. A search through some of the links to other sites and publications listed in the Almanac will yield lots of ideas and the Safety & Rescue page has links to some other resources.
It's essential to carry a knife if you are going to be using a tow-line - a serrated one will cut wet rope much better than a straight edge. While it's never happened to me, I understand that getting tangled in a tow-line could easily spoil your day!
Tow-lines fall into two distinct categories, some form of "body mounted" system (waist belt or BA/PFD mounted), and "boat mounted" tow-lines. This discussion deals with various boat and body mounted options for tow lines and comes from the practical perspective of one having been needed in a rescue.
Each has its merits and disadvantages (in the context of use with a sea kayak) and a brief summary is as follows:
Line type

For

Against

Waist belt or Buoyancy Aid / Personal Floation Device mounted system

Very quick & easy to deploy.
Easy to restow after use.
Compact.
Commercially available and reasonably inexpensive.
Readily transferable as it goes with you when/if you change boats or paddle different boats on an outing.
Doesn't require boat-mounted hardware.
Quick release buckle allows for safe release if necessary.

Many are too short! Typically only 2 mtrs.
Difficult to adjust length.
The entire load is taken on your body - towing a loaded / swamped boat in big seas will put an enormous strain on you (or even cause serious injury), especially if you are surfed forward against the dead weight behind you!
Not so easy to make your own.
Often come with inadequate or inappropriate hooks - either plastic or aluminium alloy.

Boat mounted tow

Quick & easy to deploy.
Ease of restowing (depending on set-up)
Commercially available or easily homemade.
Relatively inexpensive, especially if you just have a line which isn't stored in a bag.
Versatile, variety of uses.
Any length you like.
Length easily shortened in use.
The boat takes the load, not your body. If you have to tow for 10 kms, that will make a difference!
Quick release, as long as a cam-cleat or some other form of quick release is employed.
Usually come supplied with a stainless steel hook.

Boat needs to be rigged with tow-cleat and "bull's-eye", so less transferable between boats.
Stowage can be awkward after use.
Can be fairly expensive if you buy a complete, commercially produced set-up.
Often come with inadequate or inappropriate hooks - either plastic or aluminium alloy.
If supplied with a stainless steel hook, these are often too small.