Hi Folks,
I think I've exhaustively read all the relevant threads on mounting deck tow lines to boats, but I have some further questions.
I have a Tiderace Xplore S, and being rather "thin", it has some challenges with respect to a deck mounted tow. If you look at the following diagram (original boat picture taken from Tiderace website! - thanks):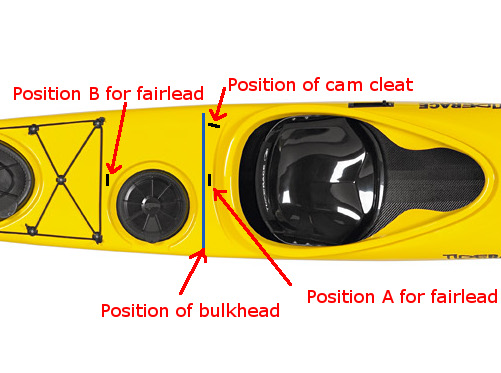 The position of the bulkhead and the fact that the day hatch straddles the centre line of the boat limits the position of a fairlead. I've marked two possible positions for the fairlead - A or B. My preference is position A, but this means the tow rope will be running from the cam cleat to the fairlead and negotiating a 90 degree bend to go towards the rear of the boat.
Position B will reduce this angle, but this is more likely to interfere with rear mounted spare paddles and also I was planning on putting the tow line bag on the boat using velcro in the bare deck area, and if the fairlead was in position B, then the rope would be running underneath the bag.
Any comments or suggestions for alternate positioning?
Also, I've seen different options for the fairlead itself - either U bolts or plastic lower profile fairleads such as
this one
.
To me the U bolt is attractive because it is more versatile being bigger and I could get a security cable through it, but does this have the disadvantage of potential leverage issues or being knocked?