I'm sure you all know this one: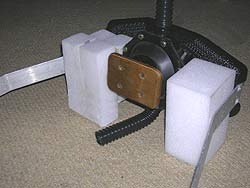 My question is, how does it get to be a foot pump? All I can find on the web (eg. at whalepumps.com, various chandlers' online stores) is the standard hand-operated versions with a lever arm action (like the old deck-mounted chimp pumps).
Somebody, somewhere in fabricating a plywood footplate and fitting a stainless-steel helical spring inside the diaphram to turn it into a kayak foot-pump. It doesn't appear to be Henderson/Whale modification per their catalogue - is it an aftermarket thing?
The reason I ask is I've broken the spring, and don't fancy forking out another £100+ for a complete unit. Also, there are far cheaper (between £25-50) hand-operated branded/generic versions on the market (cheaper for for the diaphrams & spares too) so it's just a case of removing the handle (drift out the pin) and installing a spring and making a foot plate. Easy!
EDIT: sorry, my question - where on earth do I get a spare spring???