I hope you don't mind if I make this posting in instalments, as it was a wonderful trip and there is so much to share. The trip was from 25/06/10 to 02/07/10. Hope you enjoy.
25/26 July 2010.
It was always a toss of the coin if it would be Uist or Islay. For once we made the correct decision: it was to be the Isle of Islay and a kayaking trip to remember.
Ready to board the Ferry: Isle of Arran at Kennacraig on the Kintyre Peninsular.
The weather for the crossing was calm and we spent most of the time on deck watching the wildlife and beautiful scenery. The only complaint about the ferry was the price: £134.80 return, for two passengers and a car!!!!! Still the wildlife spotted on the journey down West Loch Tarbet and North up the Sound of Jura began to make amends for the cost of the ferry. Some of the wildlife spotted on the crossing: Minkie Whale, Seals, numerous Guillemots, Terns and Gannets diving for fish, Eider Ducks, Arctic Skua, Fulmas, Divers, Geese and the usual assortment of Gulls. No doubt I have forgotten a few more.
The Sound of Jura and the Paps in the background.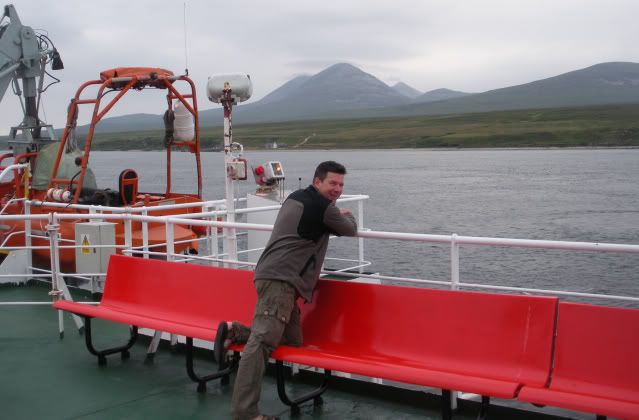 Port Askaig on the East side of Islay.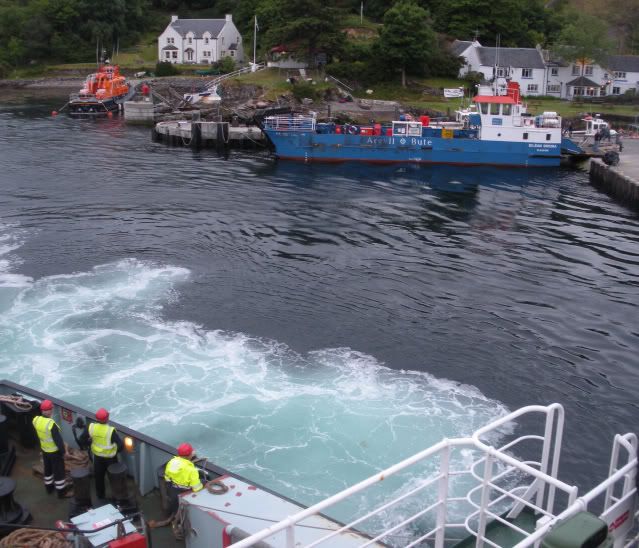 After departing from the ferry we headed to Port Ellen to check our launching site for tomorrow (26/06/10). We then headed towards Claggain Bay to camp over night. After pitching the tents and having a brew-up the day was rounded off by watching an Otter for a few minute. Time to hit the sleeping bags:zzzzzzz.
The launch at Port Ellen
Will all the kit fit in ?
Ready to go.
Heading East of Port Ellen the sea is sprinkled with skerries. (Jim)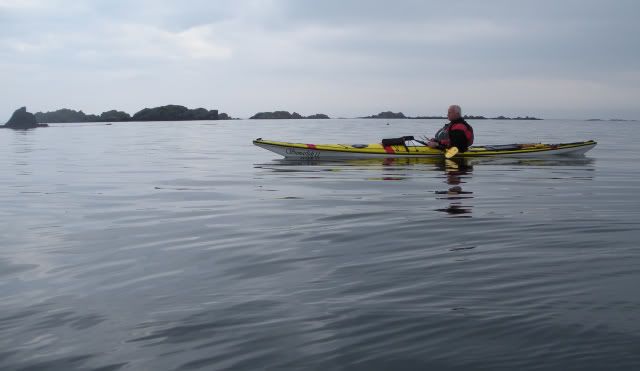 Lunch on Islay near Eilean Mhic Mhaolmhoire
. As we paddled through the channel four Red Deer ran from the Eilean across through the water to Islay mainland. Seals seemed to follow us in from all directions. Small shoals of Grey Mullet swam and fed in the shallow sandy seabed. A perfect place for lunch.
The number of seals in this area, seem to indicate that there is a healthy population. Seal pups at all stages of development were also spotted.
Sad, a dead seal pup.
We were to drawn to the pup as a Black Backed Gull was feeding on it. As we looked at the lifeless seal pup we were again surrounded closely by approximately 10 adult seals. A touching moment for all.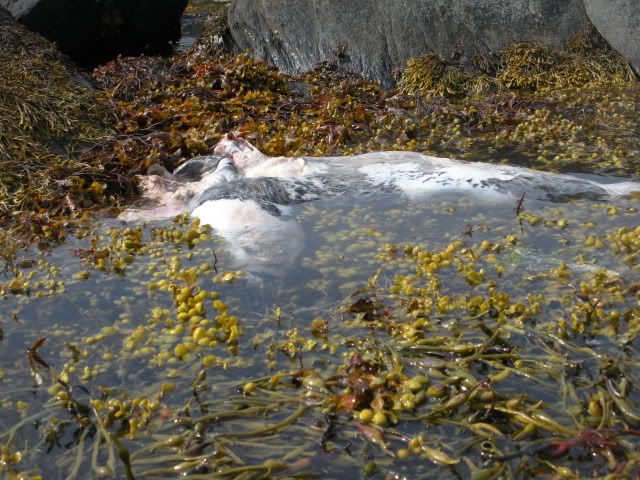 The end of a great days paddle: campsite at Aros Bay on the East side of Islay.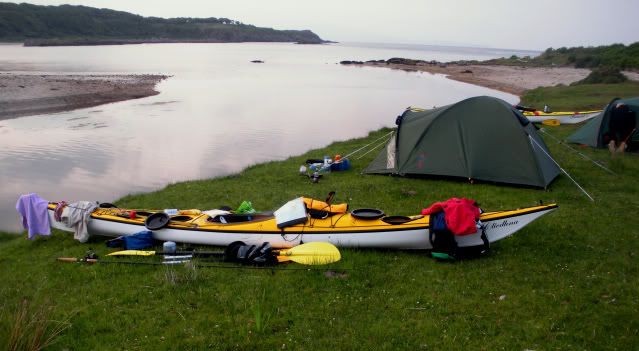 Other instalments will follow on this thread.
Big Wave Dave.