Had I died and gone to heaven? Or was it April fools day? Neither, I had just struck lucky, with some leave to use up at work I had headed up to Scotland and was, along with a lot of other sea kayakers, camped at the Tayvallich campsite, the Scottish outdoor leisure forecast came on the radio and predicted winds variable 3 or less and continuous sunshine. So a solo trip to Islay looked a distinct possibility.
With that in mind I headed of bright and early from Tayvallich on the Sunday morning (31st May).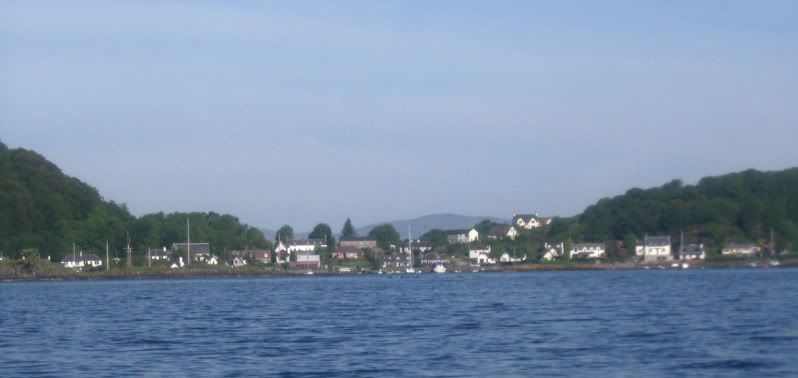 The Sound of Jura was very calm;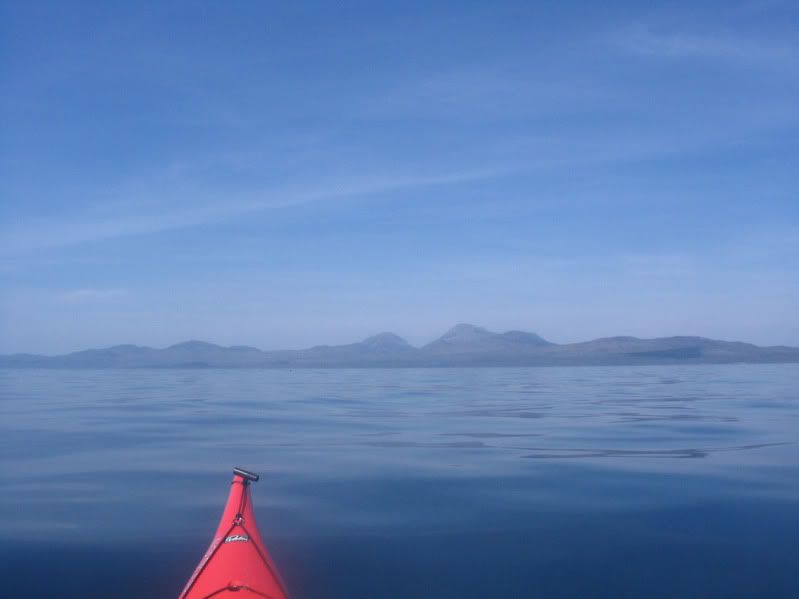 And these conditions enabled me to make good progress right down to the Islands off Ardmore point where I camped for the night;
Then the next morning it was navigation by distillery down Islay's whisky coast;
I stopped off at Port Ellen to send postcards;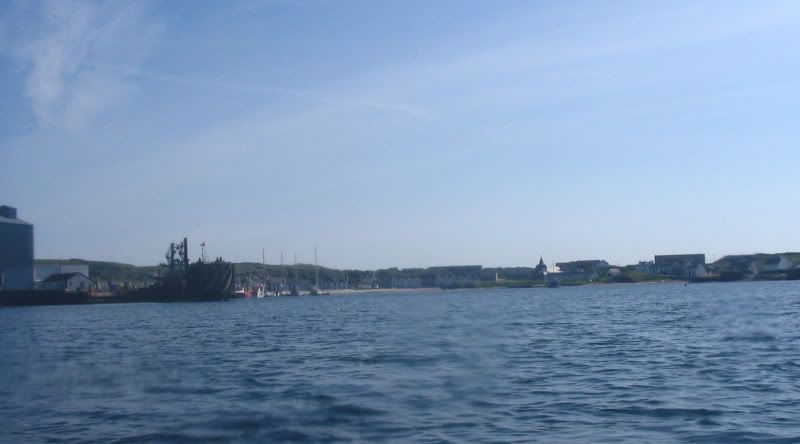 Then it was off round the Mull of Oa, this was the only place on the entire trip where I noticed any appreciable tidal disturbance;
With the weather so good I decided to cross directly over to the Rhinns and head for Islay's west coast, a breeze sprang up for a few hours at lunchtime and I was able to get a bit of wind-paddle assistance with the crossing;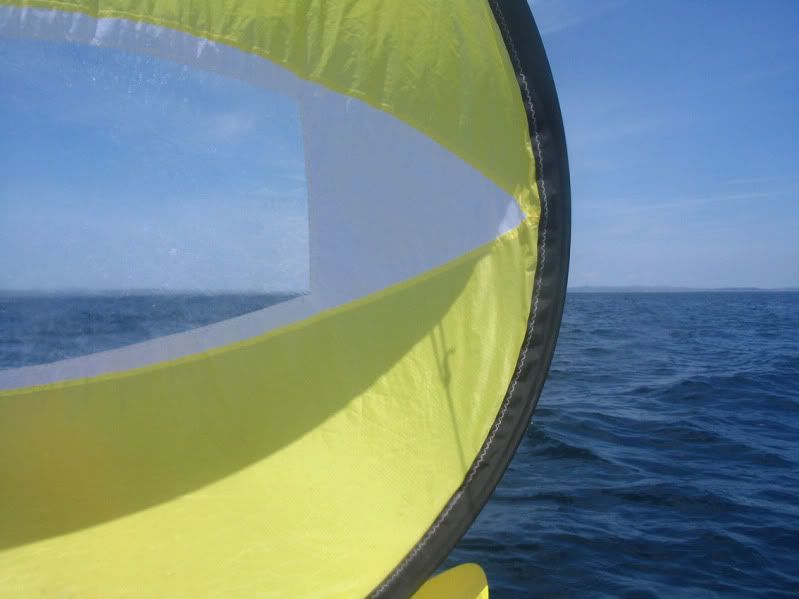 In theory I was too early for the tides to go round the end of the Rhinns but the potential camp-spots on the east of the Rhinns did not look so good so I just poked my nose around the corner, and in fact the current was with me past Portnahaven and at Frenchman's rocks it was very much the sea of tranquillity!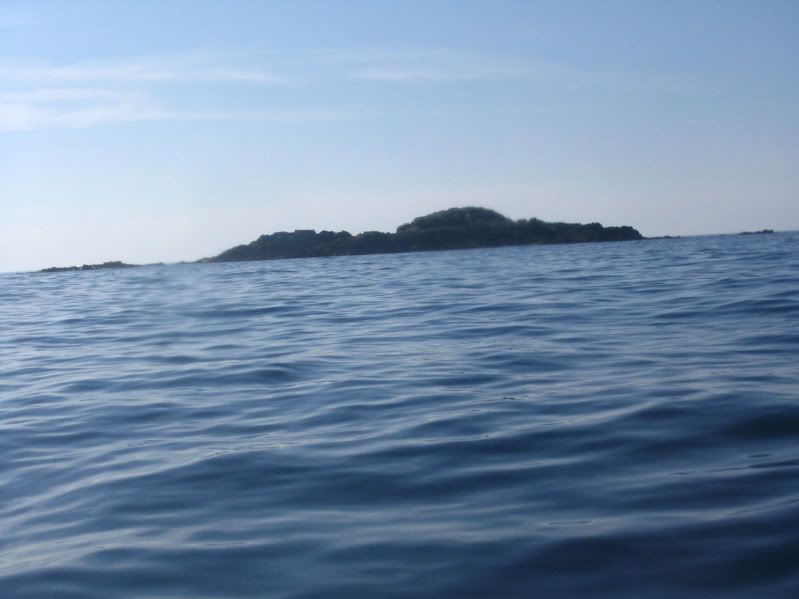 I camped at Lossit Bay and headed off next morning for yet another sunny calm day in paddlers paradise!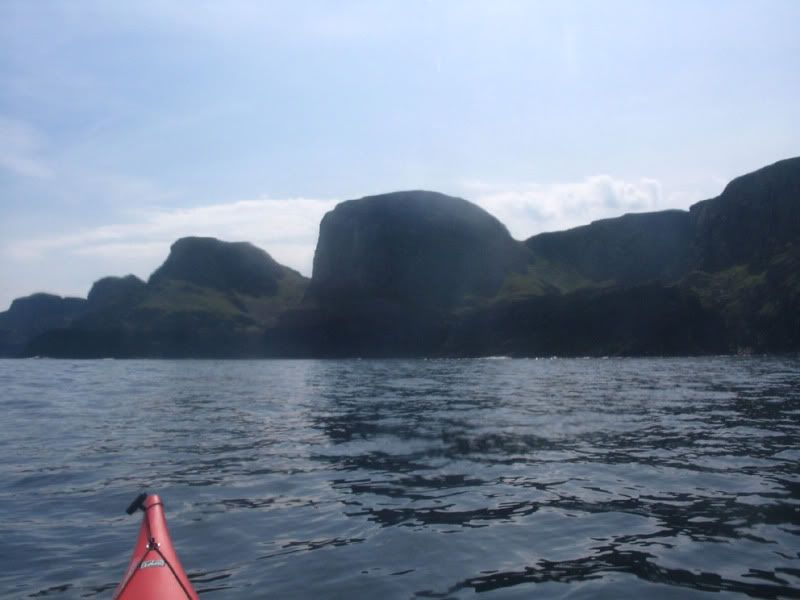 I paddled up to Ardnave Point and then, with calm conditions and a heat haze, decided it was OK for a crossing to Colonsay. I headed up the east side of Oronsay and then through the 'Strand' to the west side of Colonsay and camped at Traigh nam Barc, a lovely spot but a long way to drag your kit when the tide went out!
A slightly chilly breeze sprang up when I set off the next day and for the only time on the trip I actually wore my cag, otherwise it was T-shirt paddling all the way. On one occasion the sun was so strong that even at 7 p.m. it was too hot to go in my tent and I had to go an find some shade!
It was a beautiful paddle round Colonsay;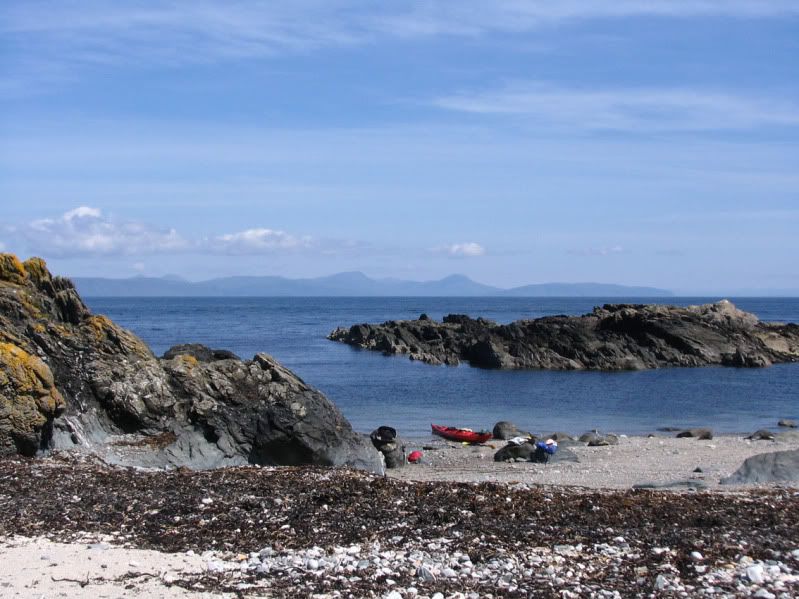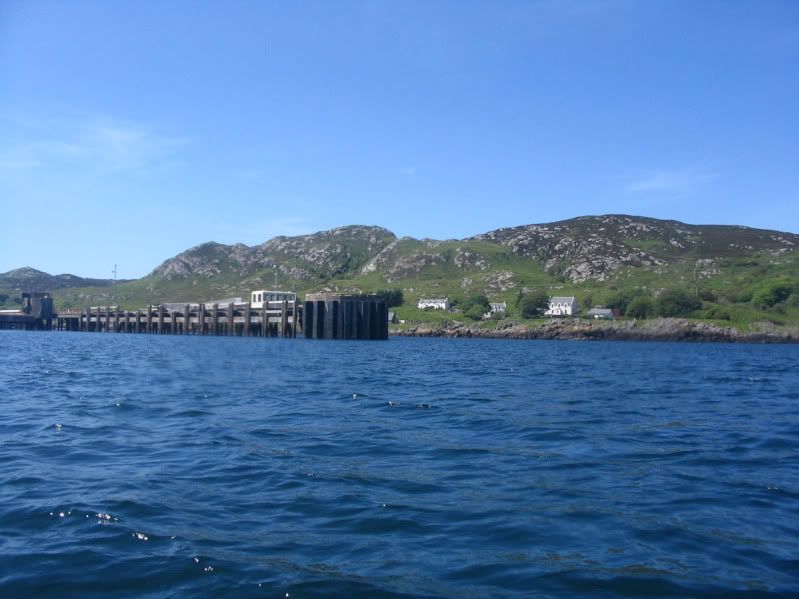 I filled up with fresh water at the Cal-Mac building in Scalasaig Harbour and with such good conditions and the tides in my favour headed straight for the sound of Islay. It was a long haul but the good conditions made it a joy to be out paddling, even if my back is now complaining a little! And I camped out that night on the S/E corner of Jura;
All too soon it was time to head home, the sound of Jura was as calm on the final day as it had been on the first, As illustrated by this picture of Skervuile light-house;
I stopped off at Eilean Mor, a small island at the entance to Loch Sween it proved to be a surprisingly interesting little spot with a natural harbour, a visitors centre and various remains, well worth a visit if you are paddling in that area;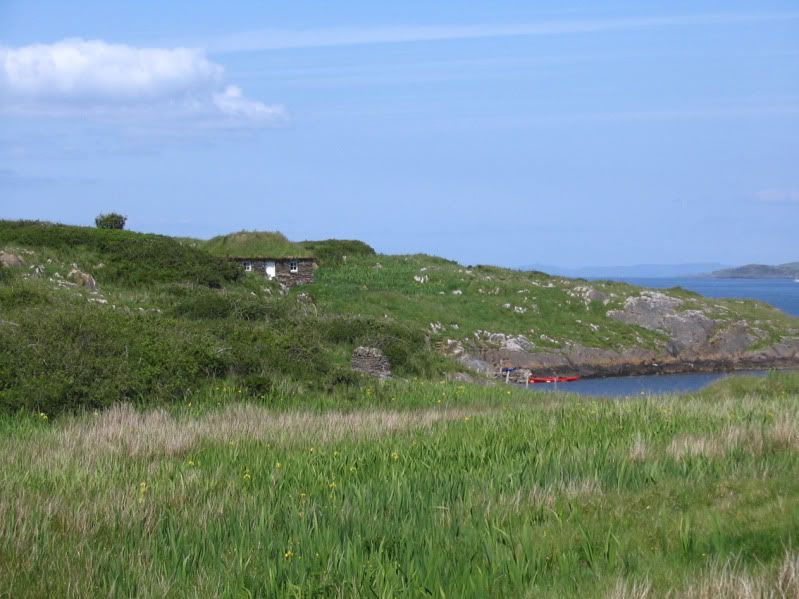 And then up Loch Sween for a much appreciated shower and Fish, Chips and couple of pints in the pub by the campsite.
I need to learn about putting maps on these sort of reports, the best I could manage is;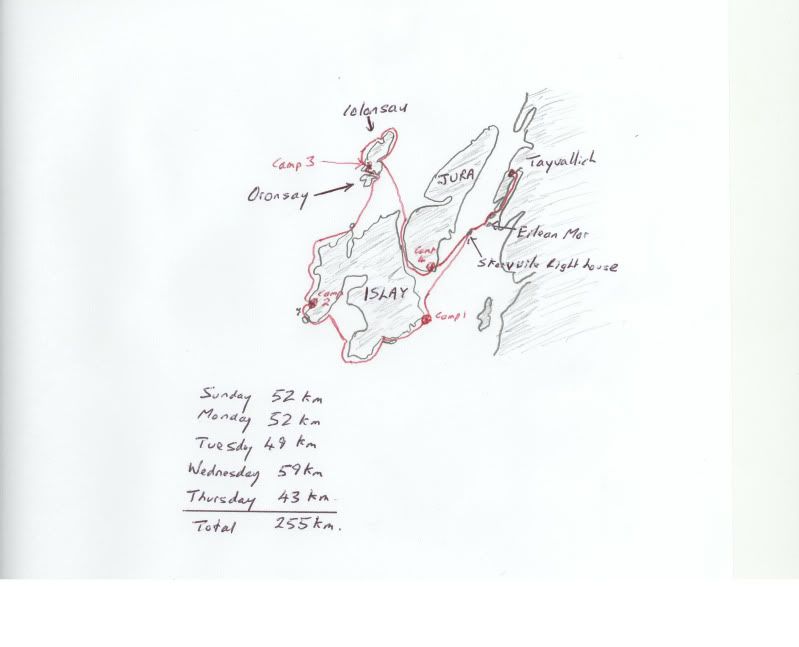 The distances I paddled were very much down to the conditions that made it so good to be out and to continue paddling into the evening. Also, I must acknowledge the part played by the 'expedition' fruit cake that my wife baked me for this trip, a real power food of the Gods to fuel this sort of paddling!