Forecast was looking pleasant. Low wind, okay direction, small swell, ebb tide…Sunday was a go. It wasn't until I left the house full of coffee that I noticed the fog. Oh well…
I'm down at the launch for 06:30. Si is there first, glistening in his dayglo anglersafloat beanie; we're visible. As it happens the visibility is okay here at Hopton. We can't see Gorleston but we can see a long enough way and the lights on the buoys out by the banks. We kit up and launch, the ATC9K on a pole mount at the rear of the Scupper for a different angle on the day's proceedings.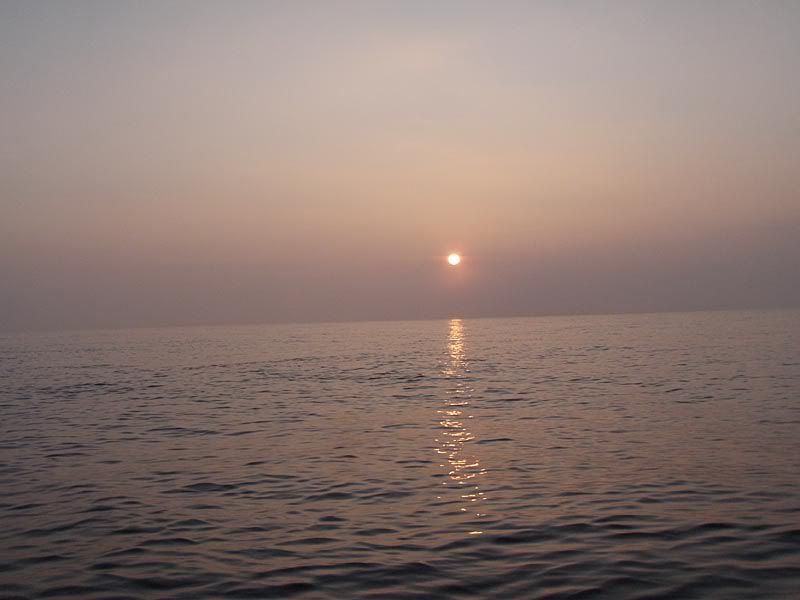 We're approaching the mark when a kayaker comes towards us from the direction of Holland.
I've not met Chris before, he's been out since 1am on his Tarpon 100 and joins us for a while as we anchor up 'somewhere in the vicinity' I went on guesswork today, I really couldn't be arsed ;D
A few minutes and I'm getting bites. A few more and it's my first whiting. It was sporadic, nothing on last week but the occasional double shot. Most of the whiting went back as I have plenty in the freezer and these were generally not that large though in size and worth filleting.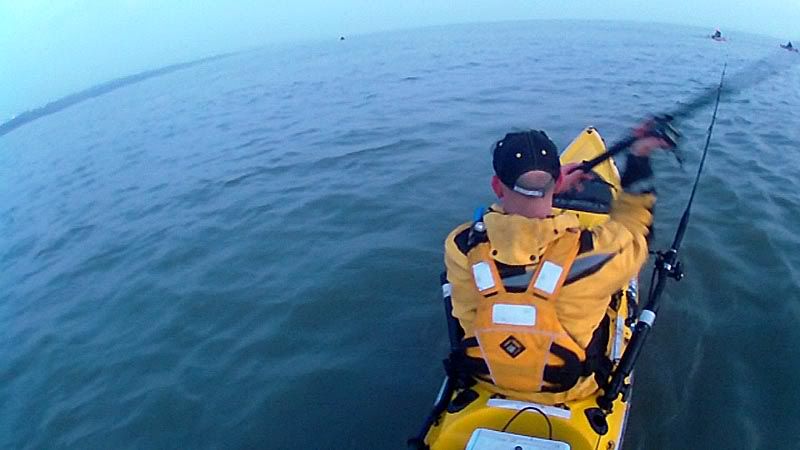 Then a double shot, dab and whiting. Dabs make me smile; I love them!
Lots of tiny trembles and little bites throughout the morning, a flat sea, a bit of a chill in the air and the fish were coming in on both the 4/0 pennel and size 1 wishbone with frozen blacks and/or unwashed squid from Sam Cole and some scrap bits of mackerel belly from the ones I cold smoked last night. Just a gentle, easy and pleasant morning to be afloat.
Come 09:30 and it was time for me to go. Low water was an hour away but I had cooking to do – we had a dinner guest and I was cooking fish. I gave it a bit longer and just before I paddled ashore and ran home. By now there were plenty of charter boats and 'owned' ones milling around and I really fancied staying but alas…
Oh, there was one more. A 25ft red and white netter. He decided to shoot his nets 20-30 metres uptide of Mike, which was nice. Especially when it caught his anchor. So, both traces and anchor cut free to avoid being dragged under and he goes to tell Si who is now being swamped and cutting his own anchor line (retrieved once cut fortunately) and traces. Meanwhile, those on the netter were having a good laugh at the entertainment.
Some video might come in a few days though it doesn't look that exciting (interesting angle though) but for now have a look at lunch ;D
Thai jungle curry (bass) Sri Lankan fisherman's curry (cod) Vietnamese braised fish in spring onion and caramel sauce (smoothound) and a salad including crisped flakes of smoked mackerel…our dinner guest was hugely impressed.