Well I knew it was going to be a big tide. 3 knots at 830. I'd need to be getting off the water by 10 with high water not until an hour after that…we'd not be launching until an hour or more the flood had started anyway what with daylight and this would mean heading out against the current. Still, it's better than having a lie in, can't catch fuck all when I'm asleep.
I had my coffee downstairs and checked the Yacht Club weather station – force 2, lower than predicted. That was alright then. Southwesterly indicated a flattish day. Swell had died over the previous few days and with a few days of easterlies, large seas (and surf!) I expected the cod to be queuing up…the whiting shoals broken up and everything feed hard on a disturbed ground. Drysuit on, bait grabbed from the freezer and I was out the door.
I pulled up at Hopton. Paul had phoned; running late, excellent chub on the Wensum overnight. Scott would no doubt have been drinking so he'd be unlikely too. Si is broken from last week's surf, Tim's playing tomorrow…Mike pitched up soon after though and as we got ready Don pitched up to say hi, look over the yaks and see us off.
It was a bit foggy but we could see to the outer harbour so that was okay, the only drawback was a dull and grainy start to the video, my ATC9K fitted on the bow again for the first time since April. We launched and headed straight out with a bit more effort than normal, dropping anchor on the usual mark.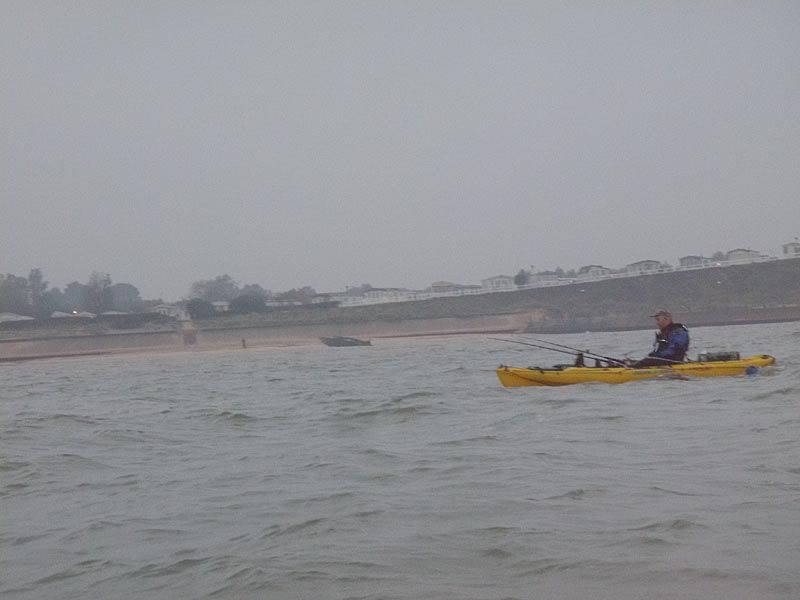 I'd screwed up – No big cod baits today, both rods were rigged with size 1 wishbones for dabs and my spare rigs had been taken out of my PFD for the surf sessions. Oh well, I wanted some dabs anyway; I love 'em. Half a black lugwom and a small ring of squid and with 5oz of lead on the baits went into the water. Plenty of line down, it was running hard already.
I had to wait over ten minutes for a bite, such a change from the last session! Chuffed though, up came a nice plump dab!
Rebaited, cast out, soon after the other rod came up with a whiting on.
Another dab, some more whiting, my feet now over the side as makeshift outriggers – the tide was screaming through and the Scupper was yawing a bit at times so I played it safe. It was far too fast to be swimming against.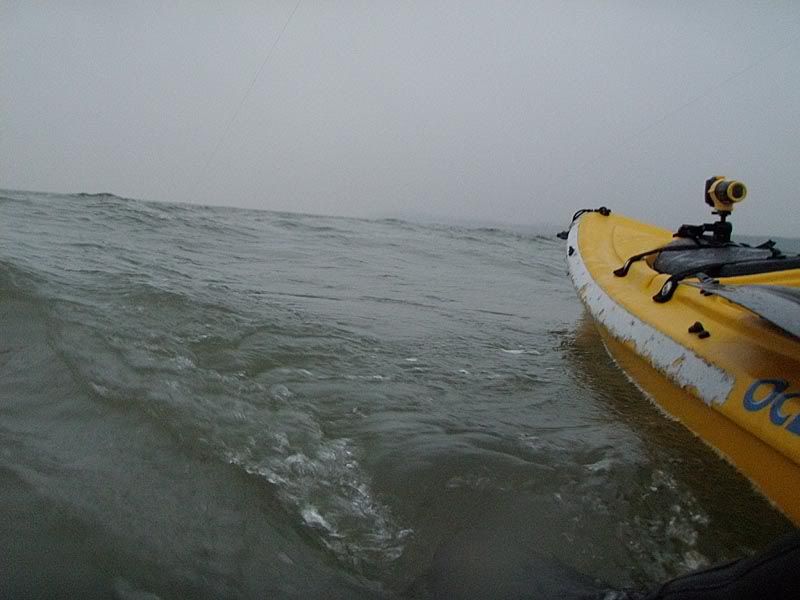 I carried on fishing; bites were sporadic. Occasional whiting impaled themselves on my hooks and then, after a long delay when we got to mid-tide, a sharp knock saw me strike into a heavy fish…maybe. Actually it was a reasonable whiting and a huge tidal flow. Combined, they were enough to snap my weak link and flip the anchor. I was drifting now, quite quickly.
I hauled anchor. I was pleased I wouldn't have to turn and do it mid-tide as this was definitely easier. I began the long and slow slog to get back to Mike, chatting on the phone as I did so…then I heard Don return. He had promised to come see us again in his gyrocopter and get some photo's from the air…and we had our own private airshow as the Red Baron flew in again and again. It was great!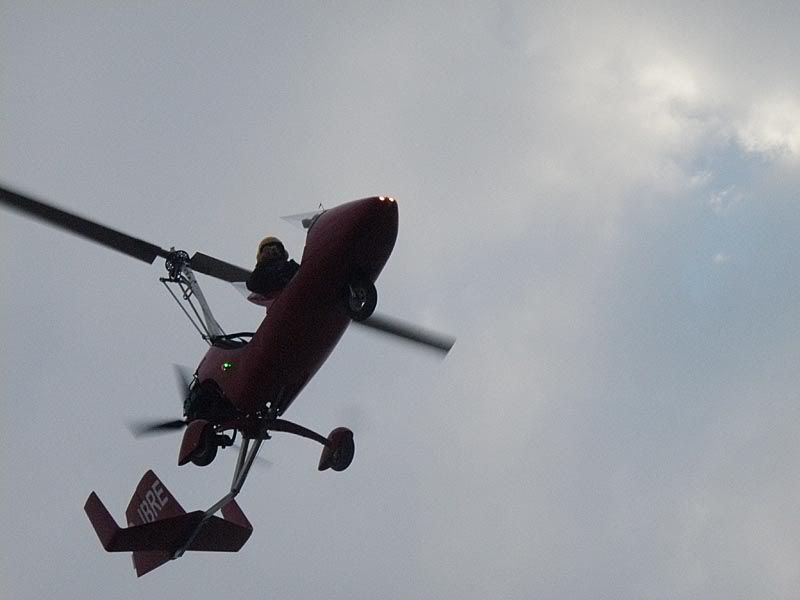 I'll have to take some proper photo's sometime, slow the shutter speed down to get some movement in the blades etc…but these will do for on the water shots.
I rafted up to Mike as Don departed and we hauled his anchor up and came in. We'd both caught in the couple of hours we had on the water but nothing like it was the last time we got out and the whiting were jumping aboard two at a time. No matter, it wasn't a bad session and certainly an interesting one and it gave me a few whiting filets for the cold smoker and a couple of plump dabs for the freezer. River tomorrow for me though.
(Video to follow in the morning once it's uploaded to Youtube)