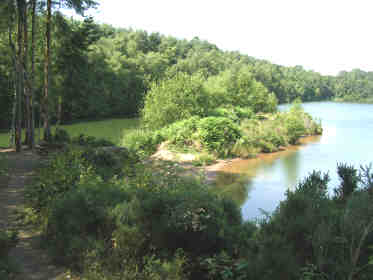 Want the opportunity for some real confrontation? You could try paddling the public part of Nunsmere Lake in Cheshire. For details go here:
http://www.river-swimming.co.uk/cheshire.htm
and scroll down to the Nunsmere bit.
As can be seen, the Forestry Commission own 20m of the lake from the southern bank but despite this I've many time been threatened by goons sent from the Nunsmere Hall Hotel claiming I'm trespassing in their private lake. After a robust exchange they've always left muttering threats that never seemed to materialise.
Although it's quite a narrow strip of water it's long. The water quality is excellent (Nunsmere is a flooded gravel pit) and quite warm - very similar to Hatchmere. There is no fishing. There is however a water-skiing club who will need reminding that motor boats aren't allowed in the FC part of the lake.
Access is easy. There is a free parking area off the A49. Carry your boat around the gate and about 50 yards on the left you'll see a track going down to the FC's irrigation pump. Down by the pump (which is very noisy when running) you'll see where you can access the water. It's a bit of a scramble but I can do it in bare feet and Speedos. The pump's inlet pipe, supported by those two floats, is only 4" so you can't get sucked in!! Make sure you stay within the green bit on the map.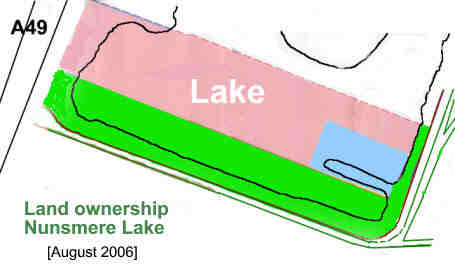 Nunsmere Hall Hotel is under new management and I haven't been in the lake yet this summer. However should someone inform you that you are trespassing show them a copy of this pic (supplied by the Land Registry) and point out you are on Forestry property and request he goes away - as politely as you see fit. Otherwise call the Police as demanding you leave public land constitutes threatening behaviour and if repeated, harassment. Any problems please let me know by PM and I'll give you a contact email for the police officer responsible for the Nunsmere area.
Wildswimmer Pete