This is my first post, so 'Hi', I'm Ed, 29 from Essex/Hertfordshire area.
I went kayaking a couple of times as a kid, on lakes, and as I live next to a canal, I thought I'd try to take it up as a hobby and a good way of exercising.
I've been searching for weeks, possibly months, for a kayak on eBay. I couldn't find that many local, and those that were went for a fair amount. I don't want to throw loads of money at this, as it could end up short lived (although I hope not).
I've struggled trying to find out what kayak I need. It's only for canal use, but I'm heavy built, 6ft2 over 15st, size 14 feet.
What I really fancy is a sit-on kayak, but I have two issues:
-Price, they go for more than I want to spend
-Theft/vandalism, it will be stored at a lockup, but when I'm intending to use it, it will be on the roof of my car, parked in a town. So really an older tatty kayak is a safer bet.
Anyway, I finally bit the bullet and bought a couple of old kayaks on eBay, although I only want one, they came as a 'job lot' and were reasonably local.
This was the eBay description:
These our my old housemates canoes and I know nothing about them apart from his happy for me to sell or give away so please any offers welcome.
These were the eBay photos: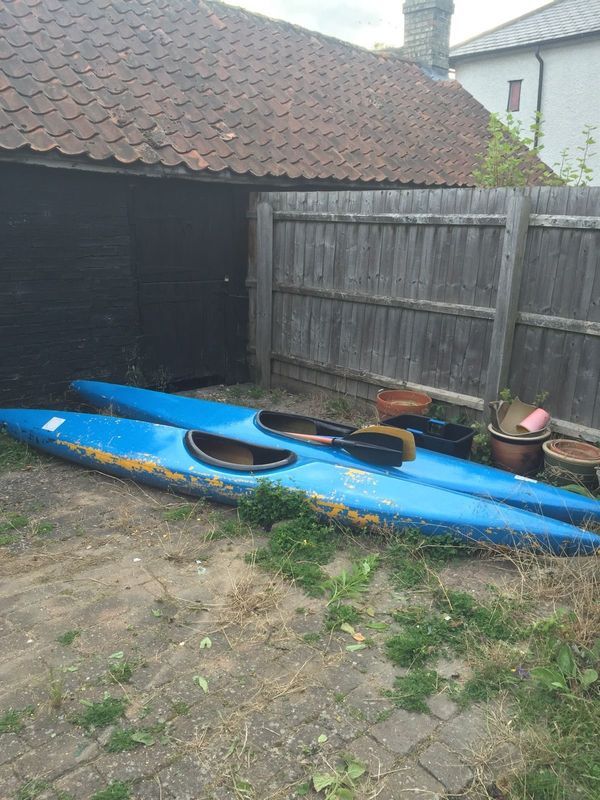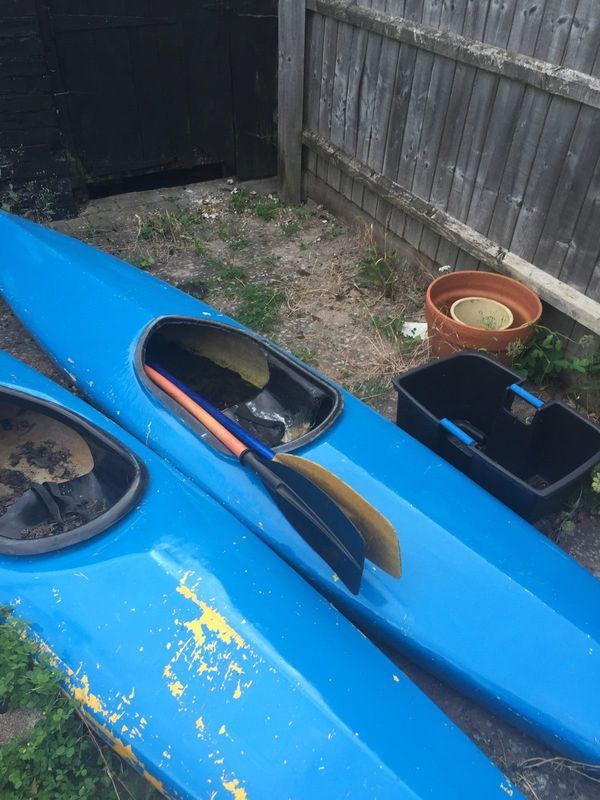 I thought it was worth a gamble. Won for £51
There is two on there, not the best angle photo...
The one with the correct toggle handle things is the 'better' kayak... I'll refer to that as Kayak #1, and the damaged/repaired one as Kayak #2.
I tried a dry run getting in them, the Kayak #1 was a definite no, the cockpit is too narrow for my hips (my fat isn't an issue, its actually the bones that are stopping me!).
Kayak #2 has a bigger cockpit, but the seat narrows to the same width as the other kayak's cockpit.
So I can't get in that either.
I've roughly measured things.
Kayak #1:
Length: 13ft6 / 410cm; Width: 23" / 58cm
Cockpit (inside edges): Length: 24" / 61cm; Width: 14" / 35.5cm
Kayak #2:
Length: 13ft10 / 420cm; Width: 24" / 61cm
Cockpit (inside edges): Length: 27" / 68.5cm; Width: 15" / 38cm
...BUT, on this kayak the edges of the seat come in then down, rather than straight down. So the seat width is actually 13 1/2" / 34cm
I think if the seat on Kayak #2
didn't
taper in, then I might be able to get in that one. If I can replace the seat, then I could have a winner.
These seem quite big kayaks compared to others I've bid on, so if I can't get in these, then I have doubts that I would fit in others...
So... Question/advice time.
I don't intend to mess with Kayak #1, apart from maybe painting it. I'll probably sell it on. Kayak #2 is a repair job anyway.
Would it be a realistic 'project' to cut out and replace the seat?
Can I fit a padded foam seat in there?
As I want to use it on a canal, that means getting in/out in 'deep' water. Can I cut the cockpit longer, so I can sit down and then fold my legs in? Again, this is for flat water use.
It looks like there has been a repair, but there is a large crack in it. Do I fill it with resin, or chip it off and do a fibreglass patch?