Posts: 2076
Joined: Sun May 25, 2003 1:11 am
Location: Glasgow
Contact:
---
Posts: 2076
Joined: Sun May 25, 2003 1:11 am
Location: Glasgow
Contact:
Now posted below:

This is information from the SCA Access committee, given to us from SEPA and kindly extracted from the SEPA document by Charlie Wood. In future years, it is hoped that we will get this information out to paddlers at the beginning of the release cycle, but we are very pleased to have made progress from previous years.

Awe (Awe Barrage)
16th May - 19th Sep, Saturday through Sunday; 21:00 - 09:00

Exceptions:
Sun 20th Sep: 09:00 - 21:00 (replaces 12th Sep)
Sun 18th Oct: 09:00 - 21:00 (replaces 19th Sep)


Garry (Invergarry)
Sat 11th Jul
Wed 15th Jul
Thu 23rd Jul
Sat 25th Jul
Thu 30th Jul
Sun 2nd Aug
Fri 7th Aug
Thu 13th Aug
Thu 20th Aug
Thu 26th Aug
Thu 3rd Sep
Thu 10th Sep
Sun 13th Sep
Fri 18th Sep
Sat 19th Sep
Thu 24th Sep
Thu 1st Oct
Wed 7th Oct
Thu 15th Oct
Thu 22nd Oct
Fri 30th Oct

10:00 - 18:30
(rising, 08:00 - 10:00, falling 18:30 - 04:30)


Tummel (Dunalastair)
Three day releases, either Mon - Wed or Wed - Fri.

Mon 13th Jul
Wed 22nd Jul
Mon 3rd Aug
Wed 12th Aug
Mon 24th Aug
Wed 2nd Sep
Mon 14th Sep
Wed 23rd Sep
Mon 5th Oct
Wed 14th Oct
Mon 26th Oct
Wed 4th Oct

15:30 Day 1 - 14:00 Day 3
(rising 14:00 - 15:30 Day 1, falling 14:00 - 15:30 Day 3)


Tummel (Clunie)
Weekend release, Friday through Monday.

1st Jun - 30th Sep
16:00 Fri - 08:00 Mon.


Morriston (Dundreggan)
Weekly release, Tuesday through Wednesday.

1st May - 18th October
13:00 Tue - 08:30 Wed
(rising 12:00 Tue - 13:00 Tue, falling 0830 Wed - 16:50 Wed)

Exceptions:on 20th Sep: day release (replaces 15/16 Sep)
Neil Farmer.
---
Posts: 195
Joined: Sun Oct 09, 2005 3:32 pm
Location: south west
Could someone please tell me when these rivers normally releases during the summer. I live in the south west and will be looking for a white water fix during the summer. Is it the same as the Gary, relies on the same days untill october.

thank you
simon
---
Posts: 6
Joined: Fri Apr 20, 2007 2:30 pm
Location: North of Scotland
rock ledge left of centre on the Linn of Tummel

Hi guys, not sure if everybody is aware but there appears to be a ledge of bedrock under the water on the left hand side of the bottom fall on the Linn of Tummel - ie not the obvious rocks above water on the far left handside, but a ledge under the surface left of centre ? We wern't aware of the ledge right up to the point that I boofed on to it and suffered two compression fractures of vertebrae L1 and 2 on the 13th June ........ I ran it just to the left of the roosters tail but was heading slightly left. I have run it there before but think the problem was that the loch level was exceptionally low, at normal loch levels the ledge is probably sumberged under a meter or so of water of water I would think.....
---
Posts: 272
Joined: Fri Sep 05, 2008 3:13 pm
---
Ouch, extremely bad luck. I have seen numerous people run this line upside down and escape with only minor injuries.This ledge is generally common knowledge amongst people who regularly paddle this river, At normal loch height it is roughly 6 inches underwater and can still hurt, best avoided at all levels. I have seen this ledge several inches above the waterlevel in very low conditions.
Hope you recover quickly.
---
Posts: 444
Joined: Wed Jan 10, 2007 7:15 pm
Location: The Flatlands of Fife
Contact:
New tree in the Linn: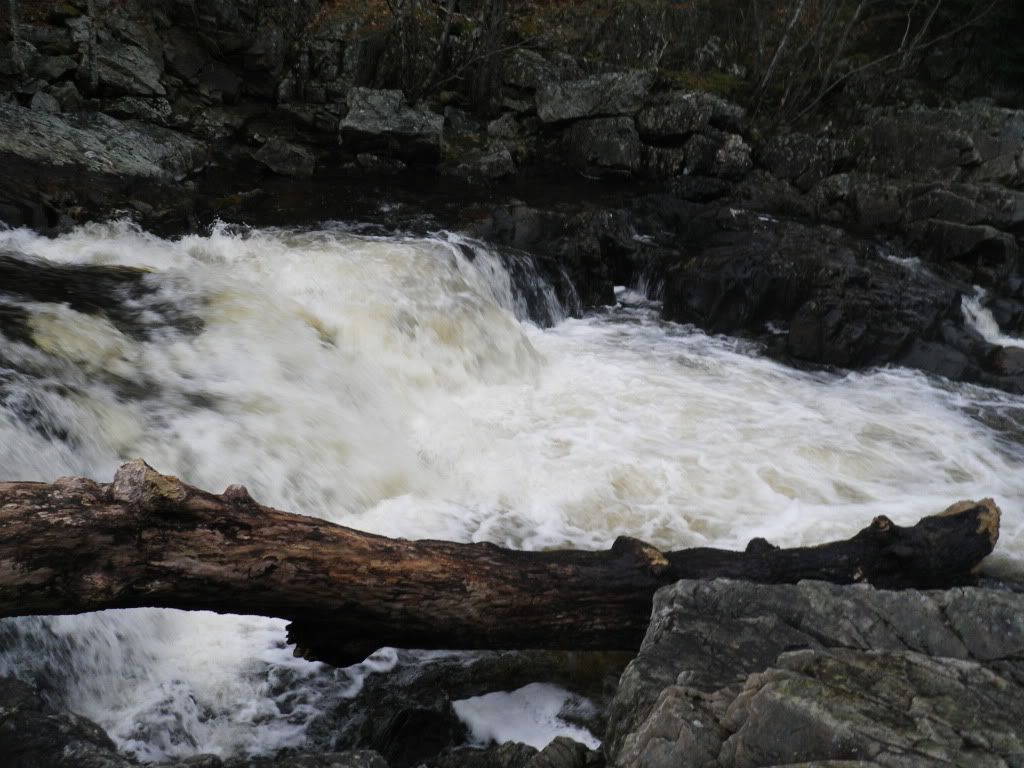 It's not in the way of running the drop but it might give you a fright if you run this blind!
Done a Scottish river not on the site? Message me!
---
Posts: 2875
Joined: Thu Nov 23, 2006 11:42 pm
Location: Innsbruck, Austria
Been thanked: 1 time
Contact:
Tree was pinned across the linn underwater today, but with two tonnes of badass aucc guns, we got it out. Now tethered in an eddy downstream with the line we found attached to it. Managed to boof straight onto the rock shelf after, not a mark on the boat _ zet plastic is bass!
---