Hi All,
For our last talk in 2014 we have a seasonal tale of crossing the ice to the North Pole, it could have easily been called
'In Search of Santa'
but it's not!
Allenburys Adventure Series- Presents:-
Tuesday 9th December 2014 – 8pm - ALL WARMLY WELCOME
TJ Halbertsma
'In the Footsteps of Perry – Walking to the North Pole 100 Years After it was First Acheived'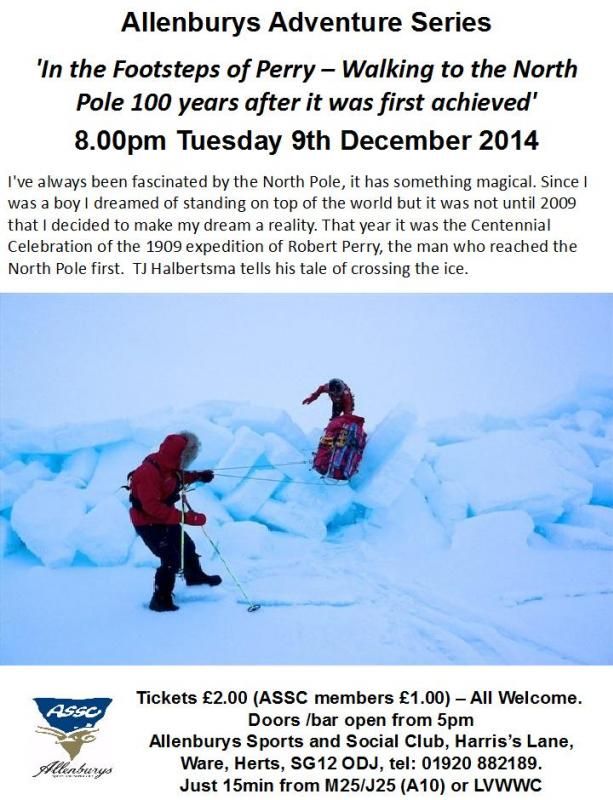 ALL WELCOME
- These talks are open to everyone, not just club members! - Bring your family, friends and colleagues – please pass on to other potentially interested parties.
Talks starts at 8pm sharp
, plan to arrive in good time to grab a drink etc, doors and bar open from 5pm.
Entry fee £2 non-ASSC (£1 ASSC members & under 16's)
Allenburys is the GSK Sports and Social Club, Harris's Lane, Ware, Herts, SG12 0DJ - t: 01920 882189
On Herts/Essex boarder just 15min from the M25/J25 (A10) and the LVWWC – masses of free parking
See you there.
Cheers,
Mark
Request for Speakers
We have a fantastic series of talks and speakers lined up, but there is always room for more, so If you would like to give a talk about your adventures, big or small, or know someone whose arm we could twist to give a talk we would love to hear from you – get in touch- send me a PM.