Hi All,
Allenburys Adventure Series- Presents:-
Tuesday 14th October 2014 – 8pm - ALL WARMLY WELCOME
Jonathan Males
In The Flow - Performance Psychology for Canoeing and Kayaking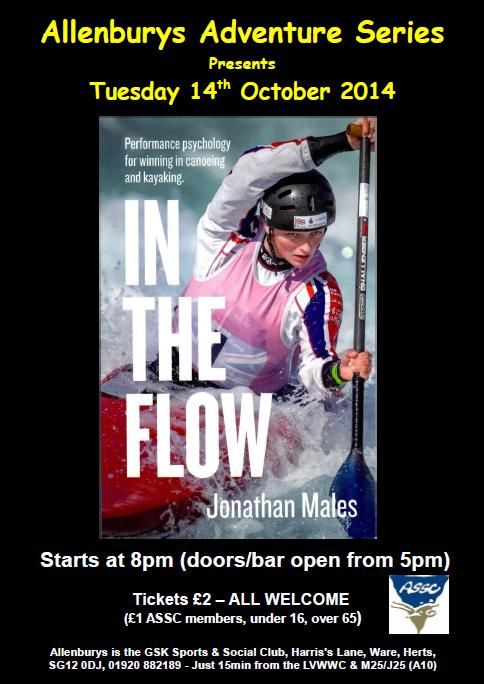 If you want to learn about the right mental approach to feel confident on the water and really enjoy your paddling, this talk is for you. Jonathan Males is a sport psychologist and kayaker who has worked with Olympic teams since 1992. He'll talk about practical ways of developing the fundamental mental skills every paddler needs to excel, whether you're a competitive racer, river runner or just enjoy a gentle cruise. He'll also be able to sign copies of his new book, In the Flow, which will be available at a special price of £15 on the night.
ALL WELCOME
- These talks are open to everyone, not just club members! - Bring your family, friends and colleagues - pass on to other potentially interested parties and members of the general public.
Talks starts at 8pm sharp
, plan to arrive in good time to grab a drink etc, doors and bar open from 5pm.
Entry fee £2 non-ASSC (£1 ASSC members, under 16, over 65)
Allenburys is the GSK Sports and Social Club, Harris's Lane, Ware, Herts, SG12 0DJ - t: 01920 882189
On Herts/Essex boarder just 15min from the LVWWC and M25/J25 (A10) – masses of free parking
Hope to see you there.
Cheers,
Mark
Request for speakers
We have a fantastic series of talks and speakers lined up, but there is always room for more... especially WW speakers, so If you would like to give a talk about your adventures, big or small, or know someone whose arm we could twist to give a talk we would love to hear from you – get in touch- send me a PM.