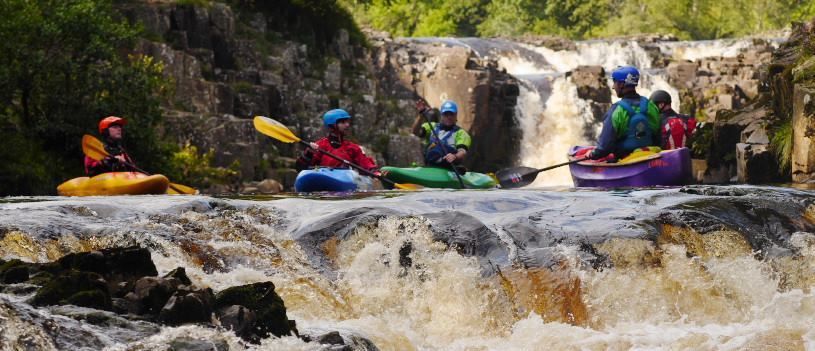 Advanced White Water Leader Courses
Advanced White Water Leader Training and Participation in an Assessment as a Led Group Member (4 Days)
We will cover the critical leadership principles for advanced water and make sure your skills are profiled against the requirements of the award so you can best develop towards an assessment. You will leave the course with a comprehensive understanding of what an advanced water leader is and what is required of you as a paddler, with a clear action plan for further improvement.
To put your training into context we then offer you a great opportunity to be led during the subsequent AWWL Assessment (at no extra cost to you). This sets you up to fully contextualise the standards necessary to meet the requirements of the syllabus when you present yourself for assessment.
Advanced WWSR is available too, but is not a pre-requisite for Training. All details are available on request. We usually offer this just before the AWWL Training, that way you get 4 days.
Advanced WWSR and Advanced White Water Leader Training 6th to 9th May

Advanced WWSR and Advanced White Water Leader Training 21st to 24th October
Advanced White Water Leader Refresher and Assessment

"The very best way to prepare for Assessment"

Getting to know the other candidates to eliminate the cold feeling when you arrive and meaning you are surrounded by people who are friendly and supporting you, finding out how the assessment will be conducted and exactly what is expected of you, becoming comfortable with the assessment team by working with them through the training elements, getting up to speed with all aspects of the syllabus so you are slick and paddling-ready, receiving specific and very focused feedback and getting that last little bit of leadership/skill​s coaching to boost your chances.
Expect to be in exactly the right place as you move seamlessly into our relaxed and supportive assessment.
"I would never ever consider doing an assessment without the refresher; if one is available it is definitely the best way to prepare"

Assessment

"Relaxed and supportive"
We make sure you get as much information as possible before you arrive. Maps of rivers, breakdown of the syllabus in detail, what to expect, who will be assessing you, who you will be leading, the opportunity to ask any questions and what the assessment plan is.
It is a considerable skill to assess leadership on advanced water and we have been doing it for over a decade. You will have put considerable effort into your preparations; it is our job to create the opportunity for you to be able to show us what you can do.
Advanced White Water Leader Refresher 8th and 9th May

Advanced White Water Leader Assessment 10th and 11th May

Advanced White Water Leader Refresher 23rd an 24th October

Advanced White Water Leader Assessment 25th and 26th October

Email for more details
kenhughescourses@aol.com
Best wishes,
Ken
www.kenhughescourses.com