Posts: 481
Joined: Mon Jan 14, 2008 10:28 pm
Location: Merseyside
---
Used one today on lake Ullswater from glenridding to pooley bridge great fun and pretty fast we easily over took other kayaks. The only problem is getting them down if the wind gets too strong with big waves.
Posts: 264
Joined: Wed Oct 19, 2011 5:14 pm
---
No I haven't tried one, but I don't think I will be in a hurry to swap it for the Flat Earth.
http://www.youtube.com/watch?v=GB255F1gppU
It looks a bit like a parachute, okay downwind but does it work well enough in any other wind direction ? From all the videos I have seen, I get the feeling that you have to stop paddling when you have it deployed. Now that to me is a major inconvenience !
Phil
Posts: 256
Joined: Mon Oct 18, 2010 12:51 pm
---
Your right phil the flat earth sail is way better - I would put the wind paddle in the bit of fun on a windy day category. Your also right in that you need to be going downwind for it to be any good, it will work with the wind a little off but can easily end up round your ears!!

You can use your paddle if you put the control line behind your head - there is no way I would use it hands off as gusts can flip you and you need to get a support stroke in quick. The real problem I have with it is that it is very difficult to get down in a strong wind (the videos all show calm ish conditions) you must let go your paddle and get it folded when all it wants to do is whack you in the face.

I have used it rafted up in a force 7 on loch ness and we were flying.

If your aim is to use it as a serious sail then I would look elsewhere but it's cheap and easy to keep in the kayak for when the conditions are right. Of all the sails I have looked at the flat earth does look the best.
Posts: 264
Joined: Wed Oct 19, 2011 5:14 pm
---
I made my own......cost about £80 I think and recently helped me do a 30 mile trip in 8 hrs on my SOT....went from Warsash to Hurst Castle.
It performs well, allowing me to go about 4mph (GPS speed) against the tide, and 45 degrees INTO the wind....don;t know why you would want anything else!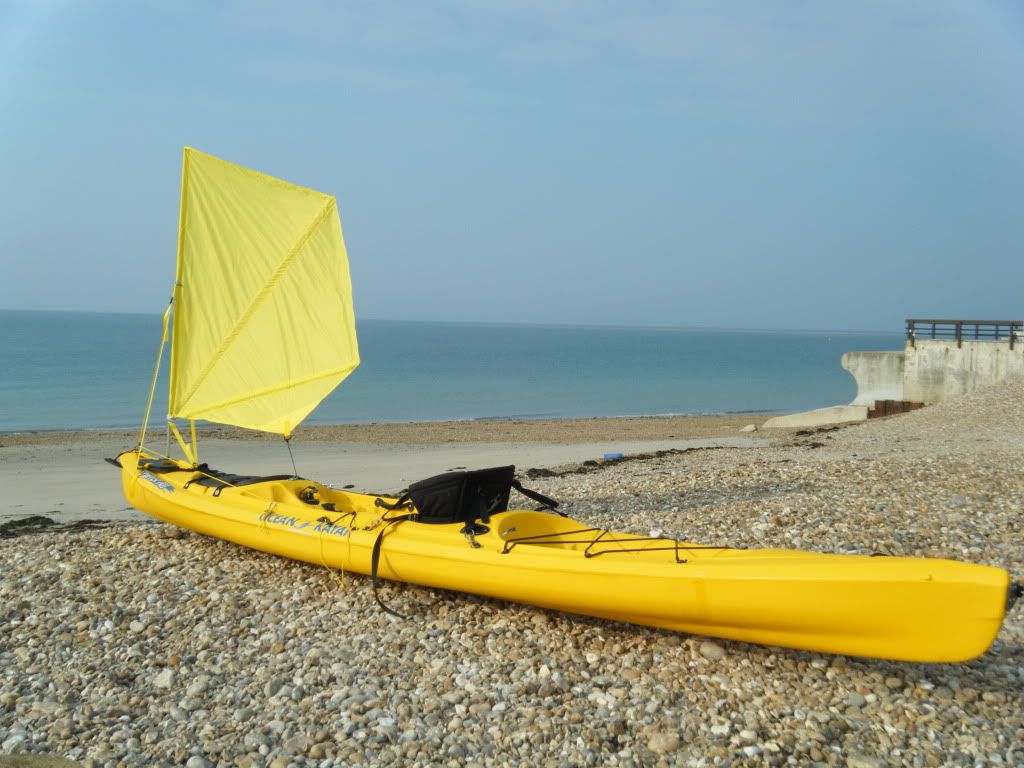 Here's the best place to make one - yakdiver who is on here ;-)
http://yakdiver.blog.co.uk/
Necky Chatham 17 / Scupper Pro
Posts: 49
Joined: Sun Jan 22, 2012 6:41 pm
Location: Locks Heath / Warsash
---
Hi all,

Tried one yesterday.

Plus points, easy to deploy. Caught the wind well!!

However,

First wave that hit me on the way out, I ended up wearing it!! Once the purple and white mist had cleared, tried re-packing, stowing under decklines etc.

It needs a decent amount of wind to hold it up. As soon as wind died a bit, the sail fell down.

Tried sailing across the wind, not that effective.

I didn't cut the sheets and put cleats on the side of the boat, so had to put sheet behind my head so that I could hold my paddle.

Paddling back upwind, the wind was doing its very best to blow it back in my face!!

Having said that, it was great fun, but my large umbrella was just as effective and only 2.99 from Lidil.

We will have all of the major sea kayak sails at the Sea Kayak Expedition Gathering (see events page), where there will be sailing workshops and opportunities to try the different sails.

Hope this helps

Steve
Posts: 64
Joined: Mon Feb 13, 2006 2:56 pm
---
Looks like it has C-quad style packing, make sure you practise that before you get on the water - trying to read the instructions and work out how to pack the sail afloat when conditions have already got too windy for it is not going to be nice!
Posts: 11107
Joined: Sun Apr 21, 2002 2:14 pm
Location: Dumbarton
---
I tried using one once, but mostly that day there wasn't enough wind to keep it filled.

One point - if you want to fold it up, and you start by letting it fall on to the front deck, be careful if it drops off to one side. It will scoop up a lot of water, and suddenly you have a one-sided sea anchor.

Mary
Not in Oxford any more...
Posts: 1125
Joined: Thu Dec 02, 2004 5:02 pm
Location: Dumfries
---
---
Who is online
Users browsing this forum: No registered users and 7 guests