It was great on Thursday but blew up and got rough again on Friday. With Remembrance Sunday being a day off from fishing, especially this year, that left Saturday morning and by the look of the forecast it really did look like a good window with only the tide being against us on the way out…so once again my weekend began at 05:30; shouldn't the weekend begin later than a weekday?
I got near to the roundabout at Hopton when I saw mike with Mick Dundee's old scupper on the roof; christening day! I pulled up behind him at beach road and went to have a look at how bad things were. Now, that was actually the case as I could hear the sea. I could hear it at home too. That of course meant that waves were dumping on the beach. Now I love it when there's a big easterly blow because I can lie in bed and hear the sea but not when I want to launch for a fishing session. It looked doable though, just a question of timing to avoid the sets and go out on the breaks.
Down we went and I got out okay. Mike wasn't so lucky; he was going great, leaping his newly-acquired Scupper over the first couple but then one came in that rolled him over. Shit. I waited for a break and headed back in and tried to assist with his launch. Si was down by now and I thought he was going to run away very fast, especially after another hairy launch but with Mike out and me out he went and got dressed.
We got Mike's anchor down and he was really aware of the difference of his new boat having changed from a Big Game. It was pretty lumpy out there and the tide was running but he seemed okay and I dropped mine. It was only a few minutes before I could tell that he was on a slow drift. Bugger. Soon after he decided to pull up and made the sensible but regretted choice to leave it for another day, meeting Si on the way out.
I was catching now though it was sporadic.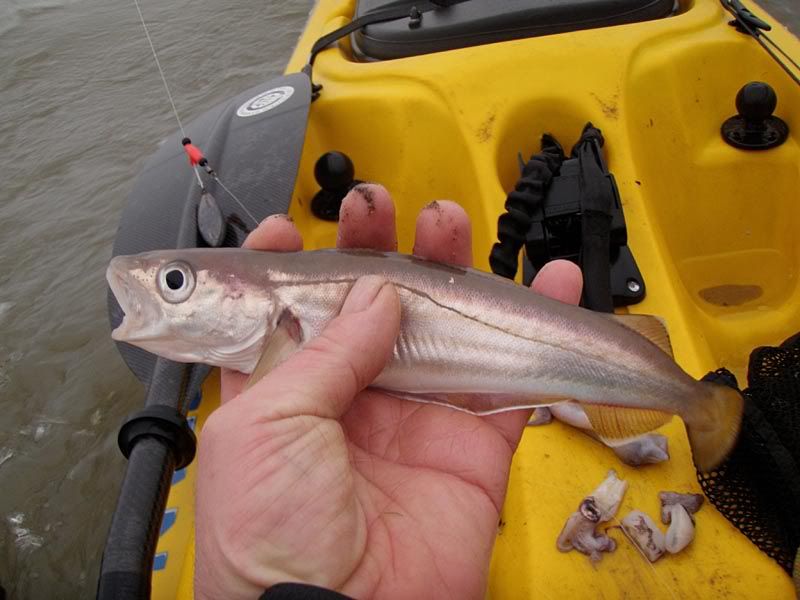 Si dropped down and commenced fishing. He also commenced his slow tours of the East Coast once again as his anchor dragged. Now I said it was lumpy and it was but it wasn't chop and I wasn't taking water over the side so that was okay, I felt quite happy. The water was pretty clear again and got better as the tide slowed and there wasn't much weed about at all. But we weren't on the mark, being at least a groyne south of it, fishing on a clean bottom and it showed. Whiting only and irregularly at that. The swell started to reduce as the tide slowed too so by the time we decided to head in it wasn't much at all but the shore dump was still powerful and fairly tall. Mike was on the beach waiting for us and Si landed before I got in so of course they both had their cameras out to watch me get rolled ;D There was a bit of beach either side of the ramp and I aimed right. I thought about waiting for a gap but decided I fancied a bit of excitement anyway and went for it, surfing in and enjoying it until I spotted the ramp coming out to meet me; I was being pulled off course. Best I stick the brakes on then ;D Lean, brace, bongo slide in…not too embarrassing even if I did need to pull my fish bag and anchor reel back in after I stepped out!
Hehe, I even got home early. That gave me brownie points and I gained more by making a quick lunch from ungutted to served up in less than an hour so she could go out all afternoon on time earning further points…wonder when I can cash them in?!
Mango, carrot and peanut salad with crispy smoked whiting flakes alongside fried whiting fillets with a garlic and ginger palm sugar sauce. Tasty. That's how you get to go fishing as much as me ;)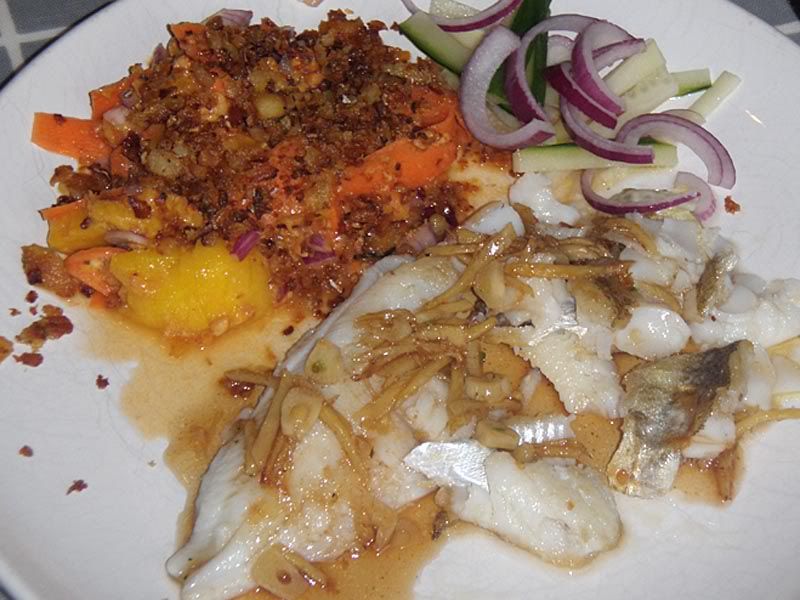 Chatham 17-Scupper Pro-RRRapido
2011 Launches 102
---
Posts: 1560
Joined: Sat Nov 12, 2005 6:11 pm
Location: Lives in a Pineapple but NOT under the sea, Prestatyn, North Wales
Contact:
Do you deliver ;-)
Dave

Rockpool GT
---
Yes, but usually to Llanelli ;D
Chatham 17-Scupper Pro-RRRapido
2011 Launches 102
---
---
Who is online
Users browsing this forum: No registered users and 1 guest